Group Brings Stimulus To Local Businesses Along Gulf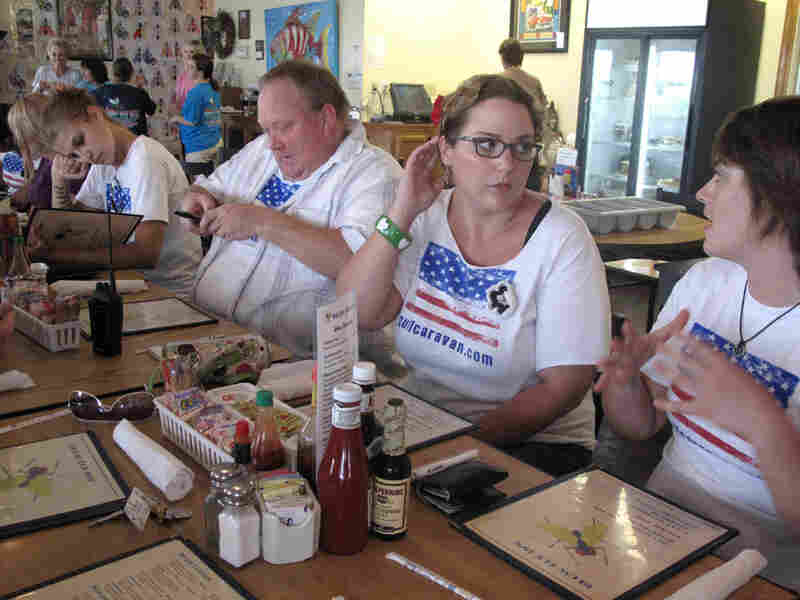 Friday morning marks the end of an unusual mission for a dozen travelers along the Gulf Coast. A group from St. Louis calling itself the Gulf Caravan has been on the road for four days. Its members raised $15,000 and then spent it at businesses along their trip as a kind of oil spill economic stimulus.
The man behind this project is Dennis Gorg, a St. Louis coffee shop owner. On a whim, he decided to raise funds and then spend the money at locally owned Gulf businesses like his.
Linda Berkowitz loved the concept.
"We've gone to Gulf Shores [Alabama] for 23 years, my whole family; we rent a house on the beach, and this was the first year we couldn't go," Berkowitz says. "I saw this article in the paper, and I thought it was a great opportunity because I wanted to come down and see what was going on and do something to help, but I can't get out on the ocean and clean oil."
But she does know how to shop. And this is capitalism with an altruistic twist: It's not for me; it's for the economy!
First Stop
After a long drive to Mississippi, the Gulf Caravan officially kicked off at The Buttercup restaurant in Bay St. Louis.
The town is eerily silent. Two blocks away, stretches of white sandy beach are empty, though there are no signs of oil.
The caravan, with its five cars and RV, seems to double the town's population.
Restaurant owner Jamie Temple seems delighted to be busy. "In general, since this oil [spill], it's been horrible," Temple says.
The residents here fete this modest group like kings. The mayor and Chamber of Commerce give speeches. A woman from the senior center hands out copies of her posters as gifts. The caravan makes the front page of the newspaper.
After breakfast, it's business time.
Walkie-talkies keep the caravan from splitting up at red lights or falling behind schedule. At each stop, the caravaners fan out, dropping cash everywhere they go.
Toodie Marshall, a college student, bought a cowboy boot, among other souvenirs. When she's not throwing her cash behind the cause, she gazes from the car window at her first-ever look at a beach. It's too bad there's no time for the beach, she says, and that no one's out there except for a few cleanup crews.
"When I get out of college, I'm definitely coming to Bay St. Louis," Marshall says. "I'm going to get a house down here."
And there is no shortage of homes to choose from. Dozens of "for sale" signs line the street. Marshall eyes a huge estate. Her thoughts turn, again, to the task at hand
"We should buy a beach house down here!" she says.
'A Huge Help'
Instead, it's on to an antiques dealer in Long Beach. Then to Southern Grounds Coffeehouse in Gulfport, where the crew spends $225 in 15 minutes. The shop owners tell a similar tale: Rebuilding after Katrina, hoping this might be the first normal year, only to face the oil spill.
But what good do a few extra dollars do for economic harm done by the storm, a recession and an oil spill?
"If they spend $10, that's a huge amount for us right now," says Bath Junkie co-owner Brooke Odom. "We run really tight. So ... a $100 day is good for us ... and if that's what they hit, that's great. It's a huge help."
After the caravan pulls into Daphne, Ala., Gorg leans against a rack of snacks at a gas station. "Who thought shopping would be so tiring!" he says.
In Daphne, as everywhere, their arrival is big news. The mayor serves them fried chicken. Local news reporters scramble for interviews.
"I didn't realize it would become something more than just spending money," Gorg says. "But in some ways the hope that we're bringing is really taking that over. It's doing so much more now."