NATO Slack Forces U.S. To Send Afghanistan Trainers
NATO Slack Forces U.S. To Send Afghanistan Trainers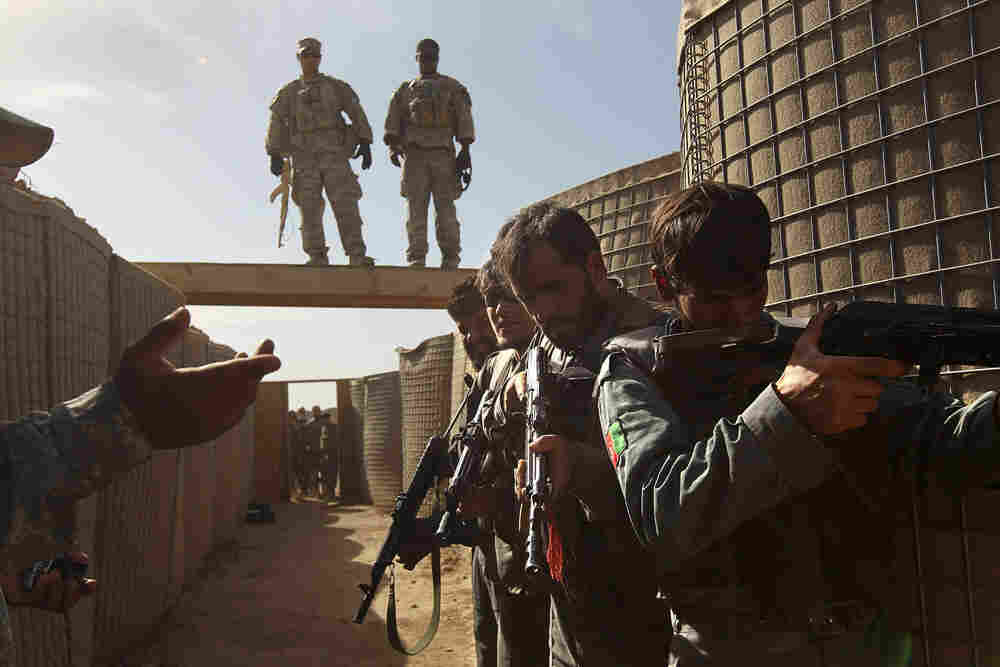 American soldiers -- and even private contractors -- are spearheading the effort to build an Afghan army and police force, so American and NATO troops can one day leave. But Pentagon officials and military officers say NATO nations still aren't doing enough.
A few weeks ago, hundreds of artillery troops and air defense artillery soldiers from Fort Sill in Oklahoma and Fort Campbell in Kentucky started heading over to Afghanistan. They weren't part of the so-called surge in combat troops. Instead, Defense Secretary Robert Gates signed orders for them to work as trainers because European nations were too slow in helping out.
"We're still not getting NATO able to force-generate and deploy forces in the numbers that we need," says Army Lt. Gen. William Caldwell, who leads the training effort in Afghanistan. "So Gates said, 'OK then, I'm going to give you another unit.' "
It was the second time this year Gates said OK to more American trainers because NATO wasn't picking up the slack. An 800-soldier battalion from the 82nd Airborne Division just got back from Afghanistan on a three-month training mission, designed to serve as a "bridge" to more NATO troops.
But with the NATO troops still not arriving, the troops from Oklahoma and Kentucky were sent -- for a year.
That's annoying some members of Congress.
"NATO members who for whatever reason do not send additional combat troops or who intend to reduce their combat troop presence in the near future should at least be willing to provide trainers who operate away from the heavy fighting," Sen. Carl Levin, a Michigan Democrat who heads the Armed Services Committee, said at a recent hearing.
NATO is willing -- to a point. It has sent about 900 trainers to work with Afghan soldiers and police. The U.S. has sent more than twice that number. American private contractors have sent 2,000.
Slow To Deploy
Gates told reporters this week that NATO is still short hundreds of promised trainers. "The primary shortfall is about 750 trainers, and we're continuing to work on that," he said.
The reason for the delay, says Caldwell, is that NATO is not as agile at deploying forces as the United States is. "Some nations are taking six to nine [months] to a year to be able to tell me before they can get their forces up and moving and coming here to be trainers," he says.
The alliance's military committee must first approve a troop request, then the call goes out to the 28 member nations. "Then individual nations have to sign up to contribute to that obligation," says retired Maj. Gen. Jim Dubik, who worked with NATO countries on training Iraqi forces. "So this is an issue of diplomacy between the United States and other NATO nations."
That's a tough diplomatic issue, since opposition to the war is on the rise among NATO members like Canada, Britain and Germany.
Need Grows
Despite all the NATO delays, there is some good news. With the boost of American trainers, Caldwell just reached his goal of training 134,000 Afghan soldiers -- two months early.
But Caldwell says the need for trainers will continue to increase by the hundreds, right through March 2012. That's because he's now looking to open more specialized schools for the Afghan troops that will one day turn them into a truly independent force.
He expects some of the trainers for those schools to come from NATO by year's end. If that doesn't happen, some officials say, the Pentagon may once again be asked to fill the gap.