Gourmet Food Trucks Racing To Serve You Lunch
Gourmet Food Trucks Racing To Serve You Lunch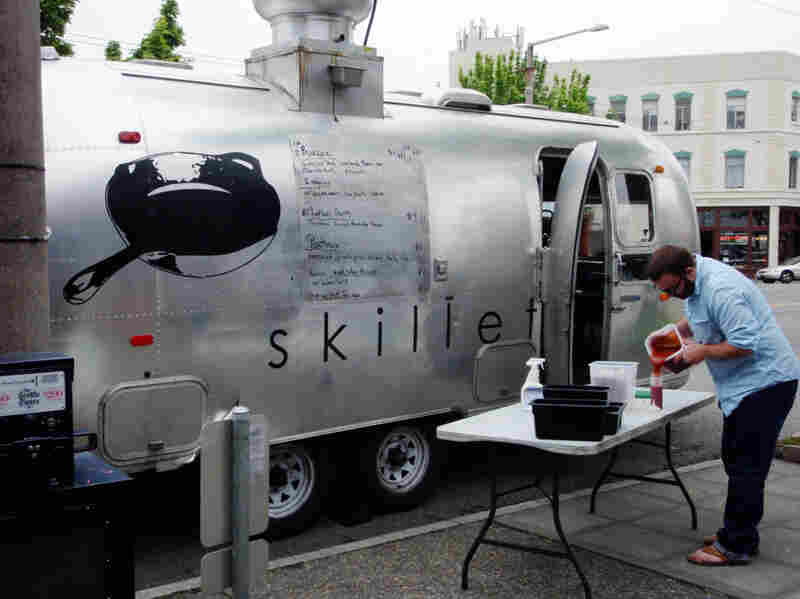 Aspiring chefs usually have to prove their chops in the backs of kitchens. Now, some have found a fast track to culinary stardom. They're starting up food trucks.
If you stretch your arms out, you can just about touch the walls of Skillet. The mobile kitchen is crammed into a shiny, 1962 silver Airstream trailer. It heats up like an oven as three chefs scramble during the lunch rush in Seattle.
It looks like an episode of Iron Chef in a sardine can. Not exactly where you picture a graduate of the Culinary Institute of America. Yet this is exactly what Josh Henderson had in mind when he conceived Skillet.
A Different Kind Of Fine Dining
"I was tired of working at restaurants," he says. "I kind of wanted to do something that was a little bit more my style, which was a little chaotic. And I enjoy being outside. Some days we're next to a mountain, and other days we're in the urban downtown, you know, homeless people asking us for free food."
Good thing for Henderson, foodies are willing to shell out $11 for one of his burgers.
He starts with grass-fed beef and slathers it with buttery French cheese. His fresh linguini is topped with reggiano, asparagus and pine nuts.
"With cooking, there's so many different ways -- you can cook on a boat, you can cook in an Airstream trailer, you can cook in a Michelin-starred restaurant," he says. "It really doesn't matter, as long as what goes in that box is something we can be proud of."
Henderson isn't the only chef making mouthwatering cuisine in a trailer. Cooks in New York, Portland, Ore., and Los Angeles have led the way in mobile gastronomy. Now gourmet vendors are rolling out from Austin, Texas, to Washington, D.C. And they're serving everything from appetizers to desserts.
A Bakery On Wheels
When customers walk up to the peach-and-brown Parfait ice cream truck, Chef Adria Shimada gives them a sample and a spiel.
"Have you guys had my ice cream before? You haven't?" she tells them. "I make everything from scratch. I'm 100-percent organic."
She says that otherwise, they might expect her mint to be green and candy-cane flavored.
"I infuse my ice cream custard with fresh spearmint leaves," she explains. "And then at the end, when I churn it, I drizzle in a warm chocolate stream into the cold custard, and it breaks up into these little, flaky, light chocolate chips."
The trained pastry chef says she holds her ice cream to the same standards as a high-end French bakery. She just couldn't afford the bakery part.
"The primary concern for me was the quality of the product I'm making," she says. "Having a mobile truck has really allowed me to keep that quality very high."
She says now that Parfait has built up a following in Seattle, she could go the more conventional brick-and-mortar route. Other food cart chefs have recently gone down that road. But the trucks themselves aren't leaving town anytime soon. Chefs say it's a great way to put the word on the street.