American Freed By N. Korea Back In U.S.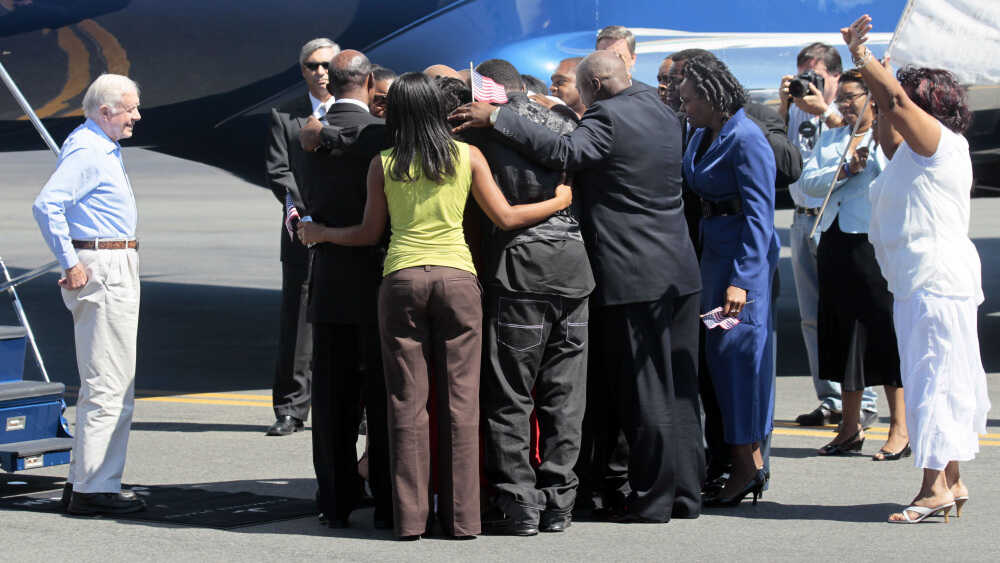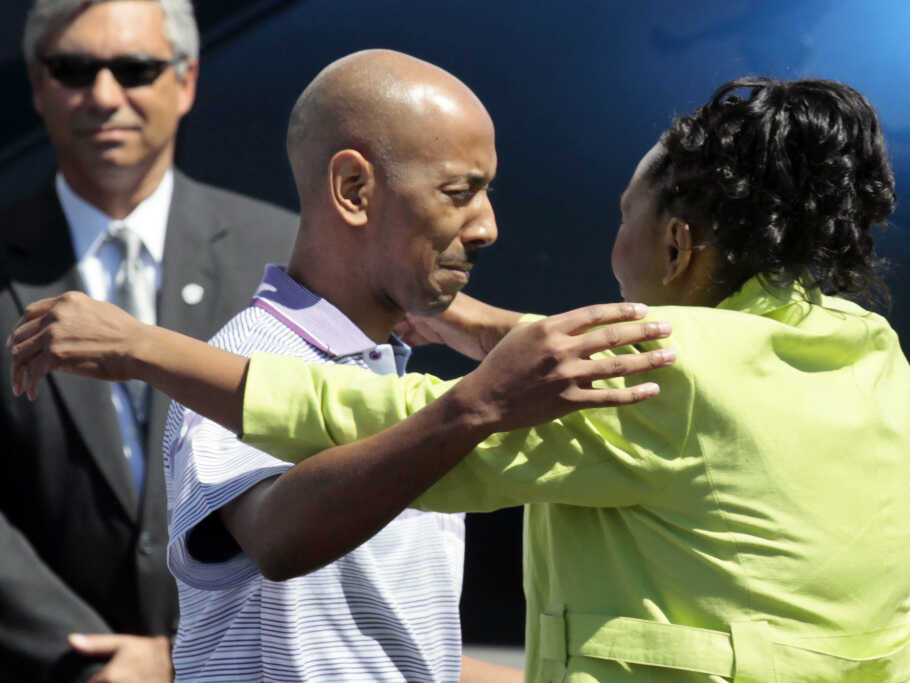 Aijalon Gomes -- held for seven months for illegally crossing into North Korea -- was greeted by joyful family members Friday on the tarmac in Boston hours after landing in a private plane with former President Jimmy Carter, who helped secure his release in Pyongyang.
Carter and Gomes, a 31-year-old teacher who had lived in South Korea for two years, stepped off the plane shortly after 2 p.m. EDT. Gomes was quickly embraced by his mother and other friends and family before entering an airport building for a private reception. Neither he nor Carter immediately spoke to the media.
On his departure from Pyongyang, Korean media reports had shown Gomes looking thin but relieved, hugging Carter, who had flown to the North Korean capital three days earlier.
Humanitarian Trip, With Unofficial Diplomacy

A spokeswoman at the Atlanta-based Carter Center said Gomes was granted amnesty at Carter's request by North Korean leader Kim Jong-il. The Norths' official Korean Central News Agency said Carter "courteously requested" a special pardon, and that Kim had granted it.
Heard On 'Morning Edition'
Asia
NPR's Doualy Xaykaothao Reports On Gomes' Release
Carter Wins Jailed American Gomes' Freedom
KCNA said Carter had met with North Korea's No. 2 official, Kim Yong Nam, who relayed Pyongyang's interest in resuming the six-nation disarmament talks — stalled since North Korea walked away from the table last year — and reiterated the regime's commitment to denuclearization. There were no indications that Kim Jong-il, who was making a surprise trip to China this week, had spoken directly with Carter.
Carter is well-regarded in North Korea since making a groundbreaking trip to Pyongyang in 1994 to meet with Kim's father, the late President Kim Il-sung. Those friendly talks led to a landmark nuclear disarmament pact.
Passionate About Human Rights
Friends of Gomes said he was passionate about the lack of freedom and human rights in North Korea and he apparently crossed into North Korea in hopes of highlighting the concerns. Close friend Marius van Broekhuizen said he is relieved by Gomes' release. He last saw Gomes just a week before he was detained.
"He was talking about more personal issues that he had, things that he struggled with in his personal life, but in no way did I think that he would go to North Korea — there was no indication that he would do that," van Broekhuizen said.
In Washington, the State Department welcomed the news of Gomes' release. We "are relieved that he will soon be safely reunited with his family," spokesman P.J. Crowley said.
String Of American Arrests In North Korea
Gomes was the fourth American in a year arrested for trespassing in North Korea, a communist nation that fought against the U.S. during the 1950-53 Korean War and does not have diplomatic relations with Washington.
Related NPR Stories
Journalists Laura Ling and Euna Lee were arrested last March and released only after former President Bill Clinton made a similar trip to Pyongyang to plead for their freedom.
Activist Robert Park deliberately crossed into the country from China in December but was expelled some 40 days later after issuing an apology carried by North Korean state media. Gomes, who had been teaching English in South Korea, attended rallies in Seoul in January calling for Park's release. He was arrested in North Korea just two weeks later.
In April, he was sentenced to eight years of hard labor and fined 70 million won -- more than $600,000 -- for sneaking into the country illegally and committing a "hostile act."
Securing Gomes' Release
North Korean media reported last month that Gomes had tried to kill himself, "driven by his strong guilty conscience, disappointment and despair at the U.S. government that has not taken any measure for his freedom," and was hospitalized.
A U.S. delegation, including a consular official, two doctors and a translator, made a secret visit to Pyongyang earlier this month to try to secure Gomes' release. The group visited Gomes at the hospital but were unable to negotiate his release then, the State Department's Crowley said last week.
Tall and muscular when he appeared at the anti-North Korean rallies in Seoul in January, Gomes looked markedly thinner Friday. He was dressed in a white striped polo shirt and dark slacks, news footage showed.
The Carter Center and U.S. officials have emphasized that the ex-president's trip was a private humanitarian mission. However, such visits have in the past provided an opportunity for unofficial diplomacy.
KCNA said the Americans held "an open-hearted discussion" with North Korea's foreign minister and vice foreign minister for U.S. affairs on their countries' relations as well as nuclear disarmament.
Contributing: NPR's Doualy Xaykaothao, Michael Rhee and Louisa Lim; The Associated Press