Athlete's 'Nope To Dope' Became 'No To Sports'
Athlete's 'Nope To Dope' Became 'No To Sports'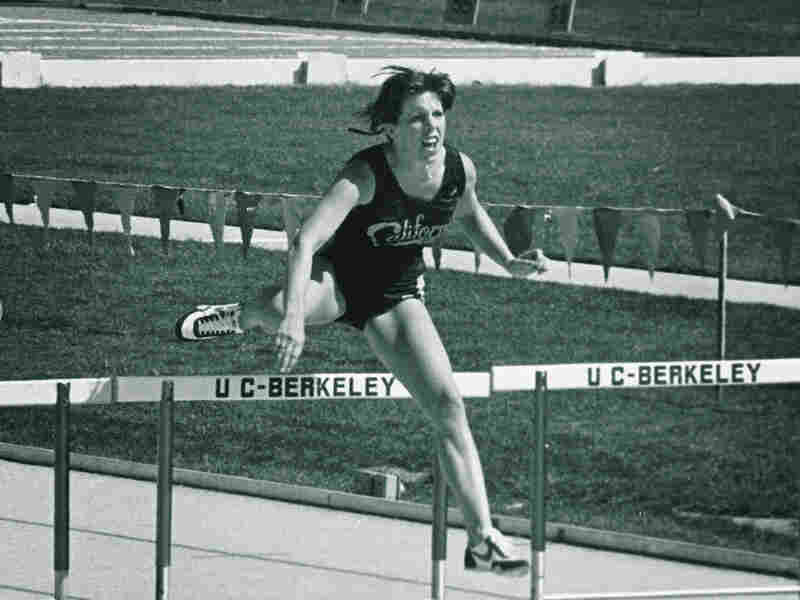 Courtesy of Martha Edwards
Retired star pitcher Roger Clemens' arraignment Monday on charges that he lied to Congress when he denied taking banned performance-enhancing drugs is perhaps most startling for this: It's not all that startling.
Drugs in sport have become a constant. We've witnessed a steady stream of the most famous athletes in the news for the wrong reasons. From Clemens to fellow baseball stars Mark McGwire and Alex Rodriguez, to former Olympic champion Marion Jones. In October 2007, Jones publicly and tearfully confessed to lying about drug use.
"I want you to know that I have been dishonest," Jones said into a bank of microphones, "and you have the right to be angry with me."
One former athlete has been angry -- angry about the attention given to Jones and other star athletes ensnared in doping cases rather than those whose lives change dramatically and anonymously because of a very different decision about drugs.
A Caller On The Line
Sometimes, the story comes to you. "Katherine from Larkspur, Calif." called into NPR's Talk of the Nation nearly three years ago. It was a few days after Jones made her public admission, and the topic for discussion was why athletes dope, and why they think they can get away with it.
The caller said that was missing the point.
"There is an untold story," she said, "about all the thousands ... who make a conscious decision, that are really great athletes doing the right thing, working really hard -- and they just drop out because they're just not willing to do the things to your body and to go down that road."
In other words, athletes who don't just say no to drugs, but no to sport -- athletes, it turns out, like that caller: Katherine Hamilton.
Tantalizing Athletic Promise
Today, Hamilton lives in Moraga, Calif., a small town east of Oakland. In the main room of her two-room condo, there's a statue on a bookshelf of Tara, a Buddhist goddess of universal compassion. That's fitting given that Hamilton, 49, has spent a lifetime in health care. Currently, she puts on a stab-proof vest every weekday and goes to work as a nurse at San Quentin prison.
Up against one of the condo walls, a racing bicycle and bike racing gear are the only evidence of Hamilton's competitive side.
There is a framed photo collection of Hamilton as a high school track and field star. That collection normally sits in the closet collecting dust, but on this day, she's taken it out for a visitor.
"That's me approaching the high jump," she says pointing to one photo, "and that's me actually jumping a [personal record] of 5 feet 10 inches.
Also in the framed collection, a plaque and a ribbon honor a jump of 5 feet 11 inches -- a jump that made Hamilton the 1979 junior national high-jump champion. Hamilton used to watch the Olympics on black and white TV. She remembers 1979 and the tantalizing feeling of real athletic promise.
"When I won nationals, there was a glimpse of, 'Oh my God, maybe this is not just something that I could just dream. Maybe this could actually happen,' " Hamilton says.
Hope ... And Reality
Her national championship created opportunities. She toured with a junior national track and field team that competed against a team from the Soviet Union. And colleges came calling. It was less than a decade since enactment of Title IX, the federal anti-gender discrimination law that, among other provisions, opened the way for girls and women in sports.
Riding the crest of that wave, Hamilton accepted a four-year scholarship to the University of California, Berkeley, making her the first woman to ever receive a full ride to the school for track and field. Hamilton was a heptathlete; with seven running, jumping and throwing events to master, heptathletes often don't peak until their late 20s or early 30s.
"In my mind," says Hamilton, "I was going to be doing this until I was 30, 32."
But Hamilton really never got out of the gate. She missed her freshman year of competition because of an injured hip. When she came back and started competing as a sophomore, it was a disappointing experience. She felt less camaraderie with teammates than she did in high school. And at the collegiate level, Hamilton says, her sport was more of a business.
And drugs were part of that business.
Big Decision
Hamilton began at Cal in 1979. It would be at least another decade before track and field had out-of-competition drug testing. Anti-doping experts agree that that type of year-round, round-the-clock, unannounced screening is the only way to control banned drug use. In 1979, there was little, if any, control.
"I became involved in a larger community where everybody knew that this is what you do," Hamilton says. She started to recognize the athletes aided by steroids and those who were not.
"They're softer," she says of athletes who don't dope. "They're not as cut. They can't last as long in training."
It went beyond her immediate world. "You start looking at pictures of what your competition would be if you were on the world stage," she says, "and it's like, hmmmm."
And doping hit close to home. At Cal, Hamilton lived with a man -- a track and field athlete -- and she says he took anabolic steroids in her presence.
So Hamilton reached a crossroads -- one, she says, all the athletes she knew reached -- to dope or not. Her decision to stay drug-free was pretty easy. Doping violated her purist ideal of sport.
"You train and you compete on your own merits," she says.
But then, Hamilton's awareness about doping, coupled with her general dissatisfaction with the track team, prompted her to take an even bigger step, one that changed the course of her life.
"I was not willing at that point to settle for being 20th and 30th," she says, "working my a - - off, with no steroids, and watching everybody else go forward, year after year after year."
At 19, in May 1981, Hamilton walked into the athletic director's office at Cal. She signed away her scholarship and withdrew from school.
Nearly 30 years later, the memory makes her cry.
"I'm thinking of myself at that age," she says in tears. "I kinda feel sorry for that person. I feel badly for that person to have made that decision so young."
Watching Sports From Afar
"I think Katherine felt that she got robbed, even before the prime of her life," says Gale Grover, Hamilton's best friend.
They met at Cal 30 years ago. They were kind of an odd couple: Hamilton, the hyper-heptathlete, and Grover, a no-nonsense discus thrower. But after Hamilton turned away from sport, Grover kept going. She almost made the 1984 U.S. Olympic team. After that, she moved to Canada, where she became a national discus champion.
From afar, Hamilton watched her friend succeed -- without drugs.
"We made a pact," recalls Hamilton. "We're not goin' down that road."
Her conversations with Grover were Hamilton's only connection to sport. Hamilton had, in her words, cut herself off from her body. She started smoking -- a pack a day for six years. She ballooned to 185 pounds on her 5-foot-8-inch frame. She married, had a son, got divorced, and launched her career in health care.
And in 1990, nearly a decade after Hamilton made her decision, she watched Grover do the same.
At 6 feet tall and 180 pounds, Gale Grover says she's always had a "big person's complex." But, she says laughing, she looked skinny compared to the massive women in her sport who were winning the medals at major events -- women from Cuba, the Soviet Union and East Germany.
"That's when it really hit me," says Grover. "It was like, there is no way I will ever be able to win a medal in this event. Maybe not even place top six at the Olympics unless I decide to make that choice. And there was no way I was going to do it."
Grover and Hamilton also were not willing to compromise their health by doping. Says Grover, "For females, it's life-altering chemically and physiologically. I didn't want to take the risk considering what can potentially happen to you."
Even though Grover's competitive career ended early, she loved the experience -- the travel, the competition, the friendships.
Hamilton missed out on that by deciding to call it quits when she did, but she isn't tortured by regret. There was no guarantee of success even if she took banned drugs. And with doping an even more daunting issue today, Hamilton says, "I'm even more resolved that I made the right decision."
But it turns out these two former athletes are not quite done with sports.
An Athletic Life ... Again
On a late July morning, Hamilton and Grover have just driven into Sacramento, and as is often the case when they're together, they're cracking jokes and laughing. Grover rolls down her window on the passenger side to check the outdoor temperature.
"Still cold enough to pull something," she jokes. Hamilton laughs. "Words to live by!"
Pulling muscles is a distinct possibility for Hamilton, 49, and Grover, 50, especially considering what they're about to do. They're at Sacramento State University for the USA Masters Outdoor Track and Field Championships at Sacramento State University. It was Grover's idea -- she'd already competed in some Masters events. Hamilton took up bicycle racing four years ago and considers it a seminal moment in her life -- she lost a lot of weight and rediscovered the competitive athlete within, an important part of her that had been stuffed away since her decision back in 1981.
Hamilton has developed a high level of fitness, but it is bicycling fitness. It's been 30 years since Hamilton has experienced the speed and pounding and explosive movement required for high jumping and long jumping -- the two events she entered in Sacramento.
Hamilton long-jumped over 17 feet in her teenage heyday -- in Sacramento, her best jump was a little over 9 1/2 feet. And she paid the price at the event the next day, when a sore Achilles tendon shut her down in the high jump. Still, Hamilton loved taking part in the meet. And thanks to the Masters event, she rediscovered the camaraderie she always enjoyed so much in high school but lost in college.
And referring to the specter of doping that drove her away from competitive sports, she says, "The playing field finally is level."
Maybe.
The Past Is Present
Doping in sport may not be the Wild West it was when Hamilton was in college, but it's certainly a major part of the sports landscape at all levels. Earlier this year, a 52-year-old Masters sprinter -- one of the best in the world for his age group -- was suspended for doping. There have been other cases, as well. A U.S. anti-doping official says Masters competition is fertile ground for banned drug use. Athletes at that level still have big egos and are highly competitive, and the drug testing is not as stringent as it is at the elite levels.
It's a reminder to Hamilton and Grover as they step back into competitive sport, and their attitudes about doping now are revealing.
"I don't vilify athletes who use drugs -- at all," says Hamilton. "I understand why they do it. I actually have a little compassion for them. But I don't support it. I don't condone it. When they get caught, they should get the full extent of the law -- sanctioning, taking away medals, whatever."
She and Grover say one of the worst aspects of doping is how it clouds the public's perception of great athletes. The public, says Hamilton, only sees drugs, not talent.
"Marion Jones was still an incredible athlete, but no one wants to talk about that," says Grover.
When Grover lived and competed in Canada, she was a teammate of Ben Johnson. His name became synonymous with doping when he tested positive for steroids at the 1988 Seoul Summer Olympics and was stripped of his gold medal in the 100 meters. Johnson, says Grover, also was an incredible talent. "We can't invalidate everything the person's done," she says.
Adds Hamilton: "You're never going to take a person off the couch, give them banned drugs, and watch them become a champion. You can't take a B-grade athlete, put them on steroids and have them win a gold medal. It's not going to happen."
Neither Hamilton nor Grover are anti-doping crusaders. Experience has put them smack into a wide, gray area on the subject, in which there seem to be many contradictions.
Says Hamilton, that's just where we are as a culture in dealing with doping right now.
"We're in the middle of a process, as a culture and a body of human beings, trying to figure out, 'What are we going to do with this?' The reality of a pill is right up against our morality, right in front of each other. We're at a stalemate -- the legal system against a public that wants to have superhuman beings performing superhuman feats."
Hamilton and Grover aren't worried they'll have to make another decision about doping, as they once did in their athletic primes. Doping may be present in Masters competition, but not enough to cause Hamilton and Grover any anxiety -- certainly not like in the old days. For now, they're both training for future meets -- and thoroughly enjoying their return, back on the track.