A Breath Of Fresh Air At The Latin Grammys
Alt.Latino Checks Out 10 Exciting New Artists Nominated This Year
Listen To This Week's Show
The Latin Grammys are often accused of excessive conservatism; for a tendency to reward the same artists year after year. But part of the beauty of the Grammys lies in digging through the 48 categories and finding new artists who are doing incredible work.
Of course, we don't expect you to do that, which is why this week's show finds us sitting down with a thick stack of nominations and discussing the musicians who most excite us.
A rising Spanish singer jumps into the ring for Album of the Year. A Cuban Canadian croons his way into the picking for Best New Artist, but he'll have to contend against a young Brazilian who's as sweet as she is strong. A Guatemalan rock group who's broken up and gotten back together more often than a telenovela romance vies for the Best Rock Album, but it'll be up against an Argentine rock icon whose tragedy shocked the world of Latin music earlier this year.
Of course, there are so many artists and categories that we weren't able to fit everyone into our show. So we're counting on you to tell us who's exciting you this year, and whom you think the Grammys forgot to acknowledge.
A Breath Of Fresh Air At The Latin Grammys
Pa Mi Casa
There's a lot of heavy hitters in the running for Album of the Year, including Alejandro Sanz and one of our favorite artists, Juan Luis Guerra. But one newer artist we're pretty excited about is Bebe from Spain. Bebe jumped out of nowhere in 2005, and with her sexy voice and provocative lyrics won the Latin Grammy Artist of the Year award. After that, she kind of retreated for a bit, but now is back with an album we've played on our show before, called Y. This album is so good, it's earned her several nominations. Check out the gorgeous music video for "Pa Mi Casa" (To My Home), which is like a countryside vacation.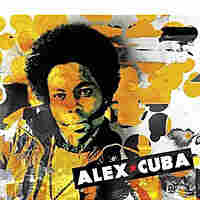 If You Give Me Love
from Alex Cuba
by Alex Cuba
Alex Cuba is nominated for several awards this year, among them Best New Artist. Back in 2006, this Cuban-Canadian musician released his amazing debut album, Humo de Tabaco, or Tobacco Smoke. Since that debut album, he has just been writing music non-stop; his latest work, Alex Cuba, is just a lovely, playful album full of funk, jazz, pop and Caribbean influences. His guitar work is gorgeous, his voice is like raw honey and his lyrics range from emotional to playful. If we had to place a bet, we'd say he's going to win in this category.
Baba
from Maria Gadú
by Maria Gadú
We're so glad this Brazilian singer is getting the recognition she deserves. Although her music and vocals are incredibly mellow, this Sao Paulo native has such a strong identity, both musically and lyrically, and that's really something to admire in someone who released her first album last year at age 22.
No Pidas Perdon
from Dirty Bailarina
by Mala Rodriguez
We're happy that Spanish MC Mala Rodriguez's album Dirty Bailarina is nominated for Best Urban Music album, and "No Pidas Perdon" is nominated for Best Urban Song. Of all the artists in this category, we think she's the freshest and most innovative. This is also a category traditionally dominated by men, and while Rodriguez has been nominated in the past along with reggaeton artist Ivy Queen, she deserves the prize.
Cuando Me Hablas
from Bohemia Suburbana
by Bohemia Suburbana
This Guatemalan band has broken up and gotten back together more times than we can count. And while Bohemia Suburbana faces stiff competition against big names like Andres Calamaro and Gustavo Cerati, it's great news to see the group in the running.
Déjà Vu
from Fuerza Natural
by Gustavo Cerati
This year's categories of Best Rock Album and Best Rock Song are bittersweet, due to the double-nomination of Latin rock icon Gustavo Cerati. His album Fuerza Natural is nominated, as is "Déjà Vu." For those who don't know, Cerati was a member of the popular Argentine band Soda Stereo during the '80s and '90s. He later embarked on a successful solo career. In May, he suffered a stroke while on tour in Venezuela. News reports say he has suffered major brain damage, and he remains in a coma back in Buenos Aires. Fuerza Natural is Cerati's fifth solo album, and it marks a turn toward a more acoustic folk sound. Cerati won two Latin Grammys in 2006 for Best Rock Album and Best Rock Song. We expect him to receive a lot of recognition this year. If Bebe's video for "Pa Mi Casa" is like a trip through the countryside, then the video for "Déjà Vu" is like a drug-infused trip down a desert highway.
El País De La Mentira
from Canciones Populares Contestatarias
by Perro Zompopo
Looking at the nominees for Best Alternative Music Album, we were particularly taken aback by one artist from Nicaragua: Perrozompopo. He's a political singer-songwriter from Nicaragua, and the title of this track is an indication of his political views: "El País De La Mentira" (The Country of Lies). In this cut, he raps and sings about the country's past; it's a lament for the things that have made his countrymen suffer. But it's also a song of hope and a reflection of the country's resilience.
Criminal
from Bestia
by Hello Seahorse!
This song is in the Best Alternative Song category. Hello Seahorse always dazzles with its lead singer's ethereal vocals and lyrics, which have a depth to them that borders on cryptic. Like watching a good movie, listening to a Hello Seahorse song keeps you thinking long after you're done. For example, the chorus to this song goes something like this: "We all have a beast inside of us / It lives off of our tears and failures / But you can put this inner beast to sleep if you know / that its power lies in existing without insisting."
Oro
Song: De Donde Vengo Yo
by Chocquibtown
Colombian group Choc Quib Town is nominated for Best Alternative Song, for "De donde vengo yo" (Where I come from). This rap group hails from the Pacific coast of Colombia, a region known as Chocó. In this song, the group pays tribute to where it's from: the hardships and the beauty. The chorus goes: "Where I come from, things are not easy, but we always survive. Where I come from, we fight so much but always get away with it. Where I come from, we don't talk well but things are better here. Where I come from, we have rain, we have cold, we have heat."

Resistencia Indigena
from Sig Ragga
by Sig Ragga
Sig Ragga has actually been around since the late '90s, but this is its first album. For those of you who work in a stressful job, please, do yourself a favor and buy a Sig Ragga album. It's like a vacation to a beautiful beach. Not only do we love the vocals in this song and its super-laid-back vibe, but we also like that it's a song about indigenous oppression, a topic that doesn't always get the attention it deserves.