Mideast Peace Negotiations Delve Into 'Core Issues'
Israeli and Palestinian leaders met face to face Tuesday in Egypt for a new round of peace negotiations in which they touched on some of the key issues that have scuttled past summits.
Israeli Prime Minister Benjamin Netanyahu and Palestinian President Mahmoud Abbas met with U.S. Secretary of State Hillary Clinton for almost two hours in the Red Sea resort of Sharm El-Sheikh.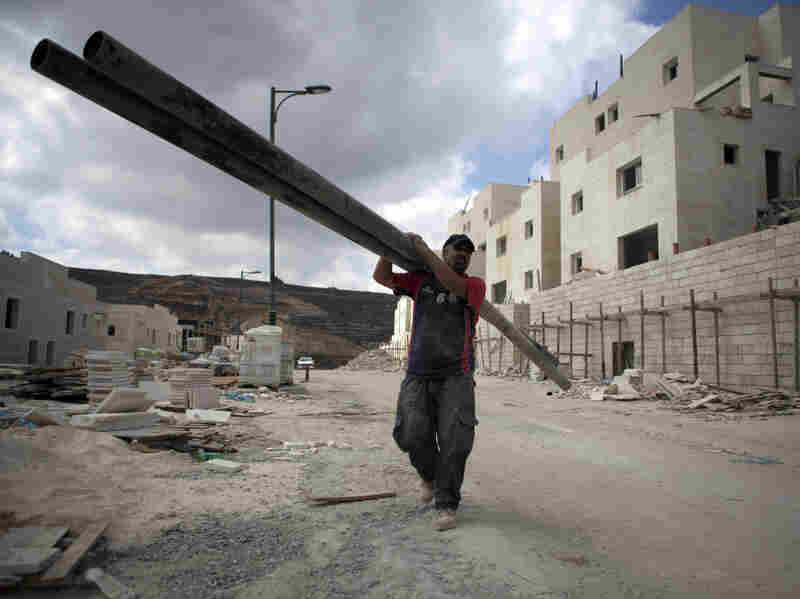 While there was no visible progress on the most immediate hurdle -- a dispute over an Israeli settlement moratorium -- U.S. Special Envoy George Mitchell said the parties "have begun serious discussion on core issues."
"We continue our efforts to make progress and we believe we are moving in the right direction, overall," Mitchell said. He added: "All of us reaffirmed our commitment to reaching a shared goal of a just, lasting and secure peace. Our common goal remains two states for two peoples."
The negotiations now shift to Jerusalem on Wednesday.
Clinton, who is brokering the talks, said the "time is ripe" for a Mideast peace deal.
She has asked Israel to extend its moratorium on settlements in the West Bank, which expires Sept. 26, but also seems to think there is room for compromise if both sides show some flexibility. Palestinians want a halt to all settlement construction on Palestinian land, while Israel's prime minister has offered a partial freeze at best.
Heard On 'Morning Edition'
Middle East
NPR's Michele Kelemen Discusses The Latest Round Of Talks
Clinton On Mideast Talks: Pursue Peace This Year
"The goal is to work toward agreement on core issues like border and territory, which if agreed on would eliminate the debate about settlements, because some areas will be inside Israel and some will be outside," she said Monday, talking to reporters during the flight to Egypt.
All sides have been careful to keep expectations in check, but the Obama administration is clearly hoping for a major foreign policy success. Although past presidents such as Jimmy Carter and Bill Clinton have made halting progress toward a lasting peace, the most divisive issues -- settlements and the status of Jerusalem -- remain unresolved.
In the days leading up to the talks, Israeli and Palestinian leaders had staked out positions that seemed impossible to bridge.
A Palestinian spokesman said his delegation would quit the negotiations if any more building takes place in Jewish settlements. But Netanyahu, under pressure from hard-liners in Israel's government, said he would not commit to extending the moratorium.
"We will not freeze the lives of the residents," said Netanyahu, adding that Israel will not build thousands of planned homes.
Key Issues
Borders and Settlements: Israel has imposed a 10-month moratorium on most new Jewish settlements in the West Bank, which expires Sept. 26. Palestinians want a complete ban and for Israel to withdraw to borders that existed prior to the 1967 war.
Status of Jerusalem: Palestinians want Jerusalem as the capital of a future state, but Israelis have repeatedly said that the whole city — including parts of mostly Arab east Jerusalem captured in 1967 — are an integral part of Israel.
Refugees: Palestinians want those who fled or were expelled by Israeli after the Jewish state's creation in 1948 to be allowed to return. In the past, Israel has said no.
A senior Abbas aide, Mohammed Ishtayeh, told reporters Tuesday that "the freeze on settlements is not a topic in the negotiations. Removing settlements is."
NPR's Michele Kelemen, who is traveling with Clinton, said that what the Israeli leader wants is "for Palestinians to recognize Israel as a homeland for the Jewish people just as the Palestinian state would be a homeland for the Palestinian people. Palestinians have been unwilling to do that because they don't want to be seen as giving up on the Palestinian refugee issue, which is one of the core issues."
The settlement freeze isn't the only stumbling block. The agenda also includes the status of Jerusalem, borders, refugees and prisoners, and both sides had squabbled over what to discuss first.
"If you want to pick the right path, borders should come first. If you don't want to reach [an agreement], pick some other paths," Palestinian negotiator Saeb Erekat told reporters late Monday.
In a sign of deep pessimism, a poll published Tuesday in Israel's Yediot Ahronot daily showed that 71 percent of 501 Israelis polled said they doubted the latest round of talks would lead to an agreement. In the same survey, 51 percent said restraints on West Bank construction should be lifted, while 39 percent said the slowdown should continue.
NPR's Michele Kelemen and Deborah Amos in Jerusalem contributed to this report, which contains material from The Associated Press