U.N. Seeks To Re-Energize Fight Against Poverty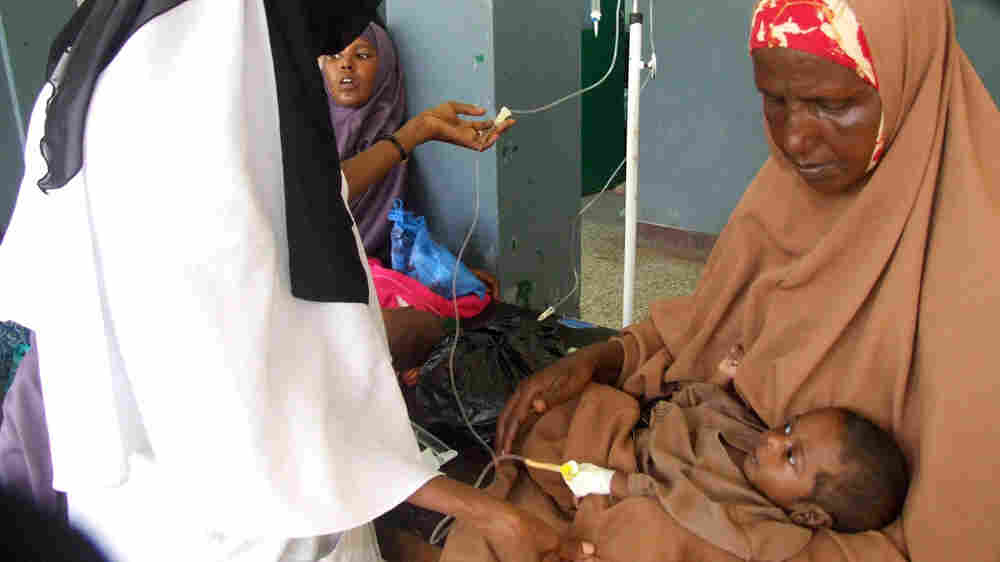 The United Nations is looking for a way to revitalize its effort to solve some of mankind's most fundamental problems, and the goals that many were optimistic about 10 years ago are starting to look increasingly difficult.
The centerpiece of this year's United Nations General Assembly is the summit on the Millennium Development Goals. World leaders are meeting for the second day Tuesday of a three-day summit to review progress on eight targets that range from ending extreme poverty to improving the health of women and children.
At his first U.N. speech after taking office last year, President Obama said the United States has "fully embraced" the goals.
But experts say there are two major problems: a lack of money and uneven development in different regions of the world.
The U.N. says the only goal that is on track to be met by 2015 is the goal of cutting extreme poverty by half.
Only five years are left until the world body's self-imposed deadline to meet the goals, but U.N. Secretary-General Ban Ki-moon says they are achievable if the international community "redoubles" its efforts.
That need is reinforced by the latest U.N. report on the goals, which says donor countries haven't kept their promises to increase aid.
Stan Honda/AFP/Getty Images
It's About Money
As long ago as 1970, the world's richest countries have agreed to give 7/10ths of 1 percent of their Gross National Income in development aid. Right now, only five countries have met or exceeded that goal -- Sweden, Norway, Luxembourg, Denmark and the Netherlands.
Although the United States is the world's largest donor of humanitarian aid money, it still gives only slightly more than 3/10ths of 1 percent of its income in foreign aid. And nearly a third of all U.S. foreign aid is spent on military assistance to countries such as Israel and Egypt.
The U.N. task force set up to address the gap in meeting the goals estimates that if every donor country gave 7/10ths of a percent of its income, the world could raise more than $300 billion per year for development.
The global recession has made it a lot harder for countries to increase their giving.  Spanish Prime Minister Jose Luis Rodriguez Zapatero told the U.N. assembly on Monday that there has to be another way to raise development money.
Spain, which is in the midst of a debt crisis, has cut its international development aid. Zapatero joined French President Nicolas Sarkozy in calling for a tax on international financial transactions to raise the money.  It's not clear how such a tax could be enforced, and many international bankers and financial institutions, including the International Monetary Fund, don't like the idea.
Powerhouse Economies Skew Statistics
Laurence Chandy, an economist at the Brookings Institution, says there is good news in the fact that most industrial nations kept their development aid flowing, despite the global recession.
Another positive element, Chandy says, is that some developing countries, such as India and China, proved to be resilient during the economic crisis, and now help drive the world's economic growth.
They also help make the world's development statistics look better than they would otherwise.
The world body says the number of people living in extreme poverty dropped from 1.8 billion in 1990 to 1.5 billion in 2005, but that was largely because of a surge in development in China and India. The number of people in direst poverty actually increased by 100 million in sub-Saharan Africa and western Asia over the same period.
Chandy says the bad news about the Millennium Development Goals is that there are areas where almost no progress has been made.
That includes countries in conflict, such as Somalia and Congo, and countries where poor governance has impeded development, such as Zimbabwe and Angola.
The U.N. report notes that aid distribution is extremely uneven, and that much of it goes to war zones.  In 2008, "the largest recipient of aid, Iraq, received twice the aid received by Afghanistan, whose aid, in turn, was almost 50 percent more than that of the third largest recipient, Ethiopia," the report says.
There are signs that a concerted world effort can make a difference. Chandy and other experts cite good progress in controlling the spread of HIV/AIDS, because of targeted interventions by groups such as the Bill & Melinda Gates Foundation and PEPFAR, the U.S. President's Emergency Plan for AIDS Relief.
Rajiv Shah, the head of the U.S. Agency for International Development, said the Obama administration is committed to raising the U.S. foreign-aid budget from around $25 billion now to $52 billion by 2015.
In return, Shah said the United States will press the U.N. to adopt policies that support economic growth, accountability and fighting corruption.
He said the U.S. also wants to see greater use of new scientific and technological innovations in promoting development.