Rx Art For Hospitals: Just What The Curator Ordered
Rx Art For Hospitals: Just What The Curator Ordered
For most people, hospitals can be pretty frightening places -- even if you're going there to get well.
The fluorescent lighting, gray hallways and sterile examination rooms don't do much to inspire hopefulness. And while hospitals have become more physically welcoming in recent years, with new buildings designed by famous architects and lobbies filled with art, those changes rarely find their way to some of the hospital's most difficult spaces -- the rooms filled with machinery where treatment actually happens.
Diane Brown is trying to change that. She's the founder of Rx Art, a nonprofit group dedicated to bringing art into the examination room and giving patients a way to escape their bodies' sickness through their minds' imagination.
Fighting Fear In The Infirmary
Ten years ago, Brown had a CT scan that changed her life, not because she was sick, but because she was frightened.
"I was on a gurney, strapped in with an IV in my arm, and the only way I could get out was in my imagination," she says. "I just spontaneously imagined a painting going up the side wall and across the ceiling, and I really went into that painting.  And [then] the scan was over and I felt like I hadn't been there.  It was amazing, so I thought, 'I want to do that for other people.' "
Having worked as an art curator, gallery owner and private art dealer, Brown decided she was going to try to put serious art where treatment actually takes place in hospitals. So she set up Rx Art and raised more than $100,000 in the first several months.
The art comes at no cost to the institutions, but even so, Brown says it was initially difficult to get hospitals to participate.
"I bought all this art," she says, "art that I thought would be appropriate for hospitals. It was really good art, but I couldn't get a hospital to take a chance."
Finally, Rockefeller University Hospital in New York agreed to take one of her projects. Then another hospital decided to chance it, and then another.
Mark Swanson, an artist who has been working with Brown to find a hospital for his work, says Brown has taken on quite the challenge.  She has to be an art dealer, philanthropist, curator and organizer all at once.
"Diane gets approached by hospitals, talks with them about their needs, pitches an artist to them and then talks to the artist," he says.  "It's an incredible amount of work."
And that work has paid off.  Rx Art has completed 18 projects so far and is currently working on new projects in Texas, Louisiana, Illinois, California and New York.
'Bringing Nature Into The Ward'
In Boston, artist John Monti has covered the walls of a children's hospital with flower-like 3-D patterns.
In Oak Lawn, Ill., pop artist Jeff Koons has put monkey faces on a CT scanner.
And in New York, artist Jason Middlebrook has painted a glorious abundance of flowers and seeds in the Bone Marrow Transplant Unit at Mount Sinai Hospital.  Known for his use of environmental themes, Middlebrook's paintings are filled with flowers that germinate and float with the wind on the hospital's walls and columns.
Diane Brown says the dandelions and their airborne seeds are her favorites.
"I love the little wishes blowing," she says, "because I always thought of them as wishes, and heaven knows everybody here is wishing to be well, so it's very resonant for me."
Nurses and doctors say that when the artist first came in to paint, people were a little nervous -- but they eventually grew quite fond of him.
"The addition that RX Art has made to our walls is just amazing," says Dr. Luis Isola, head of Mount Sinai's Bone Marrow Transplantation service.
Isola says that because a bone marrow transplant unit's decor is limited by sterility concerns and the types of materials that can be used, it tends to be quite stark -- but not anymore.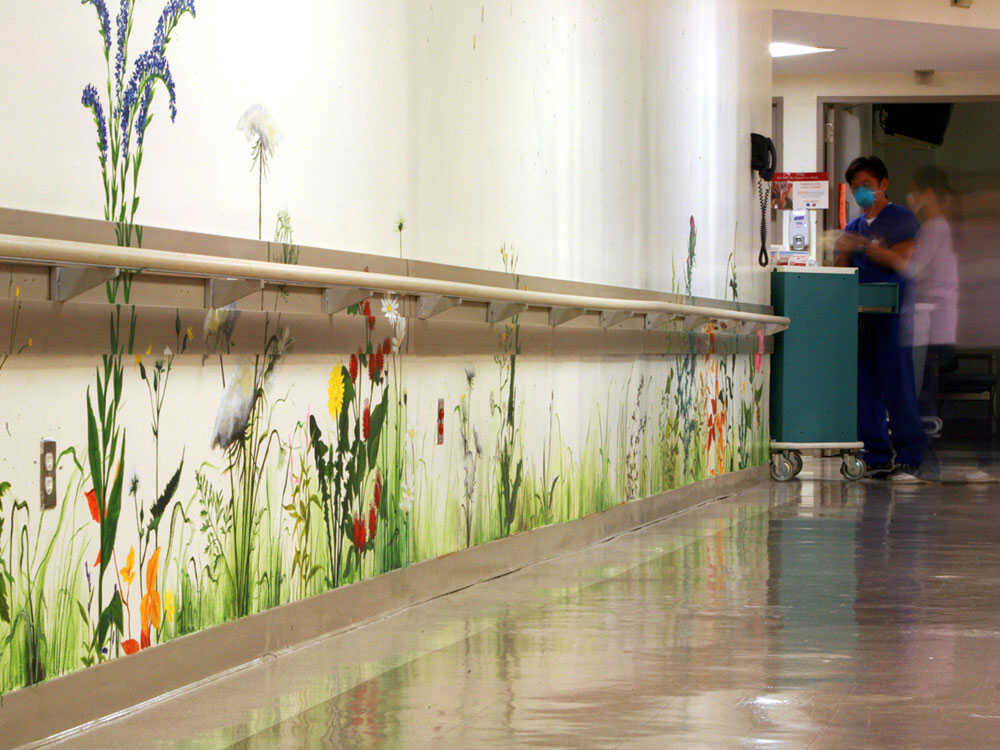 "This is real art," he says. "This is beautiful stuff. This is like bringing nature into the ward."
Joan Sorich, the unit's nurse manager, recalls one of the nurses telling her that the paintings just made her feel happy.  But for Sorich, the paintings are just another part of the healing process.
"We get so close to the patients and their families, it really tugs at you," she says, "but I think having the [paintings] here … really represents our mission: life giving.  We try to help people heal and not only physically and physiologically heal and recover, but also emotionally, spiritually -- everything.  I think the paintings touch on so many parts for people."
For Middlebrook, the idea of bone marrow giving new life to patients and that of seeds germinating seem to come together in a near-perfect metaphor. He says that in nature, seeds become airborne for a reason.
"They are airborne to go make more life," he says, "and the environment needed -- those hospitals need -- an injection of life."