In Brazil, Lula Stumps For His Hand-Picked Successor
When President Obama met Brazilian President Luiz Inacio Lula da Silva, he called him "the most popular politician on Earth."
Now, Lula -- as he's known in his country -- is on the campaign trail ahead of Sunday's presidential election, stumping for Dilma Rousseff, his hand-picked successor.
Polls show she will probably be elected to lead one of the world's up-and-coming nations as Brazil's first female president.
On a narrow street in a poor district of Sao Paulo on a recent day, the crowd cried out for Rousseff, 62, a member of da Silva's cabinet and a former radical leftist. They may not know her well, but they do know that she is da Silva's choice to be president of Latin America's biggest country.
Supporter Jair Fernandes says da Silva was in office eight years and Rousseff would continue his policies that have made the government highly popular.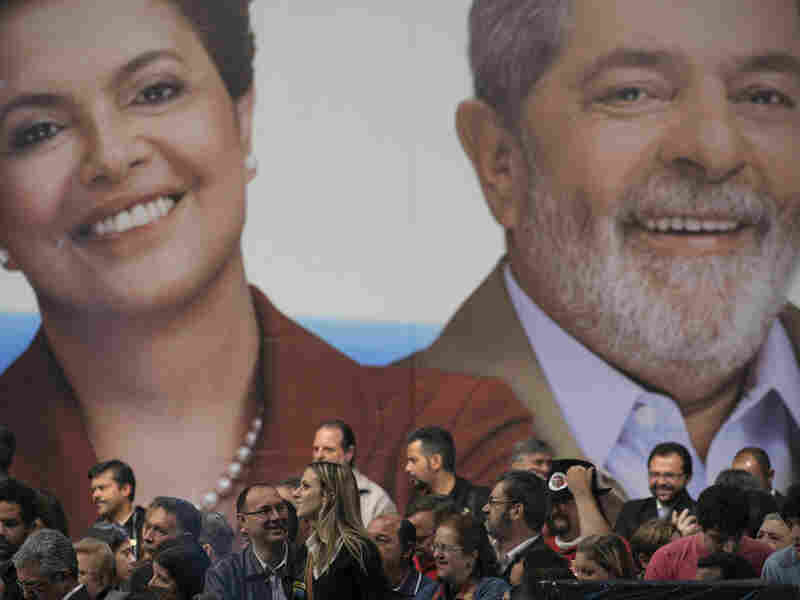 Mauricio Lima/AFP/Getty Images
In da Silva's two four-year terms, Brazil's economy grew and 30 million poor Brazilians -- like Fernandes, who's a carpenter -- joined the middle class.
Lula is beloved for his generous social programs and his folksy style. It's the kind of charisma that Rousseff doesn't have, says political scientist David Fleischer.
"The Dilma that people know was a very upfront, can-do taskmaster woman who was a very good administrator and manager," he says.
Fleischer says Rousseff distinguished herself as da Silva's energy minister. She also has been his chief of staff, a powerful perch from which she oversaw some of the president's most ambitious programs.
But across Brazil, many knew her simply as the "Iron Lady" -- a former Marxist guerrilla who was imprisoned in the 1970s under Brazil's military dictatorship.
She had never run for office, Fleischer says, and lacks the common touch. So after da Silva picked her, the campaign handlers went to work.
They turned to hair stylist Celso Kamura. His fashionable shop is located in one of Sao Paulo's toniest neighborhoods.
Kamura gave her a new, more modern style -- shorter hair, with a reddish tint. The idea was to soften up what he calls her hard image, he says.
Now, she is wearing trendier clothes, and the campaign hired speech coaches to get her to stop talking like a bureaucrat.
What has helped her the most, though, is that the president has been by her side throughout the campaign.
In 10-minute campaign ads, da Silva explains how he saw great promise in her in 2002. That's why he brought her into his inner circle.
Polls show she is now 25 points ahead of her nearest rival, Jose Serra, a former governor. That means she may avoid a runoff and win the presidency outright, becoming Brazil's first female president.
In one campaign event after another, she always makes sure to mention Lula. The greatest accomplishment of his government, she said during a recent debate, was to oversee big economic growth while improving the lives of ordinary Brazilians.
And she said she'd deliver more of the same.