A Cabernet, Ma'am? Will That Be Bottle, Or Tap?
A Cabernet, Ma'am? Will That Be Bottle, Or Tap?
At Out the Door, a mini-chain of Asian fusion restaurants in San Francisco, wine director Gus Vahlkamp serves plenty of wine by the bottle. But he also sells four wines drawn from taps behind the bar.
That's right: wine served from taps. Just like beer. And Vahlkamp says he has sound ecological and financial reasons for the setup.
"It's better to reuse than recycle," he says. "Our recycling has been reduced by at least half."
Plus, it's cost-effective: "The producers aren't adding on the cost of the bottle, the cork, the carton and the transportation it comes in," Vahlkamp says. "I'm able to buy these wines at 25 percent off the wholesale bottle cost, and I can offer the consumer a discount and still make money. Everyone wins on it."
There's another benefit: The wine always tastes fresh. Restaurants often pour their by-the-glass selections from bottles that sit for days, until the contents inside have staled. Tap systems, by contrast, use an inert gas like argon or nitrogen to push the wine through the lines. Being inert, the gas doesn't react with the wine; in fact, it protects the wine for weeks or months against oxidation. (Wineries blanket their wines with the same gases for the same reason during the tank-storage phase of the production process.)
Out the Door is one of a growing number of restaurants and wine bars --  mainly in the San Francisco Bay Area -- serving wine on tap. It's a return to traditions from Europe and America just after Prohibition, when wineries often supplied restaurants with wooden casks instead of bottles. Beer giant Anheuser Busch tried and failed to make keg wine popular again in the '80s, but consumers didn't embrace the idea. (And maybe the wine wasn't very good either.)
"What's funny about keg wine is, it's an old idea made new again," says Matt Licklider, co-owner of Santa Rosa's Lioco Winery, one of Out the Door's suppliers.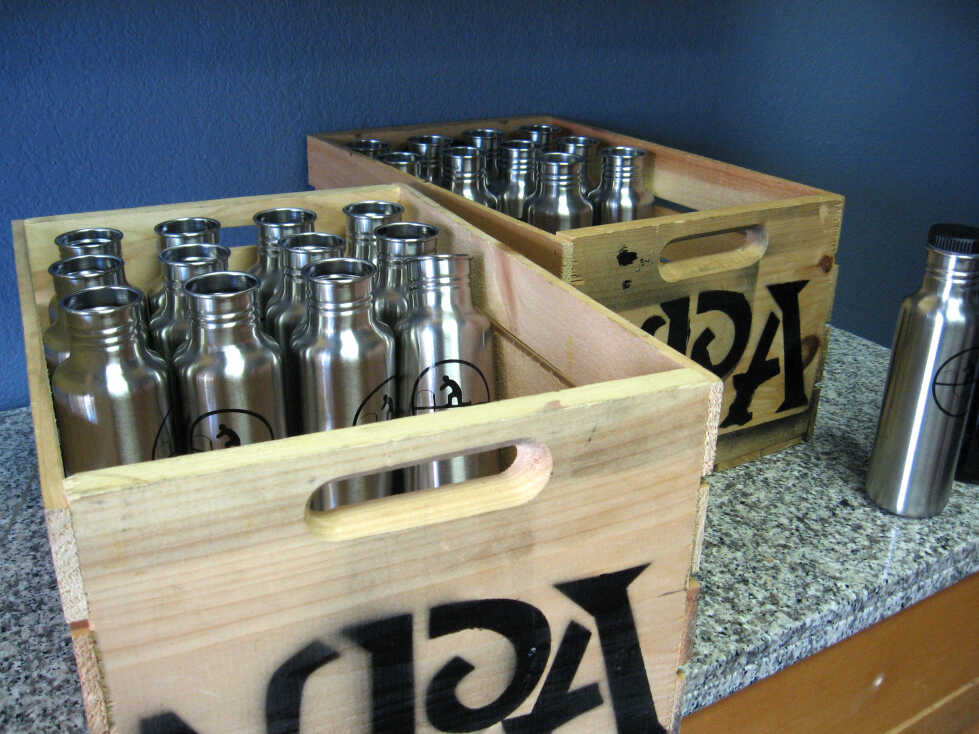 "My partners and I loved this idea that there was no ceremony about wine in Europe," Licklider says. "You can take an empty jug to lots of regional co-ops in France and fill it up for pennies an ounce. So even when we wrote the business plan, we had always talked about alternative packaging."
Lioco crafts lightly oaked chardonnays and pinot noirs to sell in bottles and by the keg. It shares space with NPA, the Natural Process Alliance, a winery that takes the eco-concept up another notch. NPA sells its wines only in kegs and 3/4-liter steel canteens.
"A lot of people talk about the romantic sound of pulling a cork," jokes NPA's Hardy Wallace as he clanks some canteens together, "but what's more romantic than steel on steel, baby?"
NPA buys mostly organic grapes, and because its wines are made with native yeasts and minimal handling, they're meant to be drunk young and don't travel well. So NPA only sells its wine within a 100-mile radius. Wallace makes the deliveries, like a dairy man from America's past.
"Every week I load up milk crates of wine, and I pick up the empties and take them back to be sterilized," he says. "The real thing here is to keep the philosophy of our winemaking and farming going in our packaging and delivery. And the goal is to have zero waste."
Other wineries are entering the keg wine market at least partly because the industry is coming out of a historic recession. Michael Ouelette, a former restaurateur, is building a keg wine empire, marketing batches from some of Napa's top estates.
"There's a surplus of quality inventory," Ouelette says, "and because of that, wineries are opening their marketing strategy to other formats.  But once they start and see how smart and green it is, they're embracing the concept."
Still, wine on tap remains a niche market, too small to measure, according to industry analyst Jon Fredrikson. One limitation is the hassle factor: The kegs have to be cleaned and filled by hand. The day I talked to him, Out the Door's  Gus Vahlkamp had just made a keg run to three wineries that left him grubby and exhausted.
"Calling all engineers," says Lioco's Matt Licklider. "We need a keg wine summit to work out all the complexities."
And yet tap wine is catching on in other parts of the country. A New York Finger Lakes winery is kegging up wine for the New York City market. And the largest keg program in the country is at the restaurant Two Urban Licks in Atlanta.