Tips For Picnics On The Tailgate
Last fall, I got a call from someone wanting to know if I was willing to be auctioned off as a prize for a charity. The idea was that I would cater a tailgate party at a football game for the winner. I haven't been to a football game (or watched one) since I was in the high school marching band. I love picnics, though, and that's essentially what a tailgate party is. I readily agreed.
Picnics were a common feature of my childhood. Whenever we took a road trip, whether for a day or, in one case, three weeks, at lunch we'd stop, pull down the tailgate on the station wagon, and my mother would unpack sandwich fixings, paper plates and napkins. The tailgate is a perfect buffet table.
Around that time, the 1950s and '60s, people began taking meals to ballgames. Parking was limited, so you had to arrive early to get a good parking spot. Why not take advantage of that early arrival and eat while waiting for the game to start? The idea caught on. Although picnics are often family affairs, tailgating has become very much a social activity.
Joe Cahn is the self-declared Commissioner of Tailgating and possibly the only person in the world who makes a living traveling from game to game around the country promoting tailgating. Cahn calls a parking lot full of tailgaters "the last American neighborhood" and refers to the parties as "the new American community."
The character of the event seems to vary somewhat from locale to locale depending on the city and team. In some places, there's a great deal of food sharing and tasting; in others, the meal itself is more private. Whatever the case, it's a party.
About The Author
Although grilling isn't required (sandwiches and cold fried chicken remain popular), it is common. A few companies specialize in tailgating equipment, including grills that are mounted on an SUV's trailer hitch and swing out to the side for use. You can also buy flags, tablecloths and other paraphernalia with team logos. My favorite tailgate gadget is a cooler that doubles as an electric scooter.
Even if you plan on grilling, the bulk of the meal needs to be made and packed in advance, and this strongly influences food choices. For fall games, when it's likely to be chilly, a thermos or two of hot soup is a great way to take the edge off your appetite and stay warm while waiting for the food to be ready. I recommend smooth soups that can be sipped from a Styrofoam cup. They're more convenient when you don't have a table and less likely than a plastic bowl to spill.
When grilling, choose foods that don't require a knife. Having to cut a steak on a paper plate balanced on your lap is an invitation for a spill. Hotdogs and hamburgers are good, if predictable, choices.
Kebabs are my favorite. You can do chicken, beef, lamb and pork with a wide variety of seasonings, and the meat is already bite-sized so it cooks quickly and is easy to eat with just a fork or fingers.
If you're grilling, you can always toss a few vegetables such as sweet onions, winter squash or potatoes on the grill, but they should be prepped in advance. For winter squash and potatoes, it's helpful to parboil at home then finish cooking on the grill. Make sure the vegetables are already bite-sized.
Salads -- green, potato, pasta -- are always a good addition. Early in the football season, local tomatoes and cucumbers are often still available. Drizzle with a bit of olive oil, lemon juice and salt, and you have a wonderful side. I also like having a bowl of marinated mushrooms and artichoke hearts, and some pickles and olives just for munching on.
Cookies are a popular dessert and another finger food. The best dessert I ever had on a picnic/tailgate was homemade fried peach pies, but that's a lot of work. Cake is also a good choice, though it requires a fork.
Whether you're a sports fan or just someone who enjoys eating al fresco, think advance prep, think bite-size, think knife-free -- and go team!
Garlic-Tomato Soup
My favorite tomato soup is gazpacho, the chilled Spanish soup of summer. But a few years back I ran across a tomato soup recipe just as tomato season was ending. It called for canned tomatoes, but I thought a light but hot soup that takes advantage of the final tomato crop -- and is delicious straight out of a thermos -- would be welcome. Garlic is added twice, once for mellow flavor and then a touch more for bite. This is adapted from a recipe by Barbara Kafka's Soup: A Way of Life (Artisan 1998).
Makes 6 starter servings
2 pounds fresh tomatoes
10 to 12 cloves garlic, smashed, peeled and coarsely chopped
1 medium red bell pepper, seeded and diced
1/2 cup olive oil
2 tablespoons fresh thyme leaves
3 tablespoons finely chopped fresh basil
2 teaspoons coarse salt, or to taste
2 cups chicken stock
Freshly ground black pepper, to taste
Peel and quarter tomatoes then scoop pulp into a container and reserve.  Coarsely chop the tomatoes.
In a large saucepan, saute 2/3 of the garlic and bell pepper in the olive oil over medium heat for 5 minutes. Add chopped tomatoes, increase heat to medium-high and cook 5 minutes longer, stirring to prevent burning.
Transfer cooked tomatoes and peppers to a food processor with herbs, remaining garlic and reserved tomato pulp. Pulse several times until slightly coarse.
Return tomato mix to the saucepan, add chicken stock, salt and pepper, and simmer for 10 minutes.
Pinchos Morunos (Pork Kebabs)
Pinchos morunos is a Spanish dish and means "Moorish thorns." The Spanish love pork. They even rival Southerners such as myself in their regard for that ugly beast and its noble flesh. The Moors (who occupied Spain for 500 years) didn't eat pork because they were Muslim. So these kebabs combine Spanish pork with Moorish spices on a skewer (the "thorn") to produce a heady blend of flavors that rivals the best Southern barbecue. Although best grilled just before eating, they're traditionally served as a tapa at room temperature, so there's no need to haul the grill to the game.
Makes 6 servings
1/2 cup olive oil
3 tablespoons ground cumin
2 tablespoons ground coriander
1 tablespoons sweet paprika
1 teaspoon cayenne pepper
1 teaspoon ground turmeric
1 teaspoon dried oregano
1 teaspoon salt, plus more to taste
1/2 teaspoon freshly ground black pepper
2 pounds pork sirloin, cut into 1-inch cubes
2 tablespoons minced garlic
1/4 cup chopped fresh flat-leaf parsley
1/4 cup fresh lemon juice
Combine the olive oil, cumin, coriander, paprika, cayenne pepper, turmeric, oregano, salt and pepper in a small skillet over low heat. Cook until warmed through and fragrant, about 3 minutes. Remove from the heat and let cool to room temperature.
Add pork to a 1-gallon zippered bag and pour in spice mixture, then add garlic, parsley and lemon juice. Massage thoroughly to coat. Seal and refrigerate overnight.
Prepare a hot fire in the grill.
Thread the meat onto skewers and season with salt. Grill on all sides until just cooked through, 12 to 15 minutes total.
Pickled Beets With Feta
This is an easy salad. I generally use fresh beets, but I've used canned beets and it was still delicious. It should be assembled just before serving because the beets will stain everything; and for that reason, it's best to pack each of the ingredients in separate bowls. On the other hand, even stained pink, its cool, tangy sweetness is a perfect complement to the pork kebabs.
Makes 6 servings
4 large beets, trimmed, peeled and cut into rounds, or 1 (15-ounce) can
1/2 cup olive oil
3 tablespoons red wine vinegar
1 clove garlic, minced
1/2 teaspoon ground allspice
Salt and pepper
1/2 cup chopped mint
1 small red onion, thinly sliced into rounds
6 cups arugula, watercress or spinach
1 cup feta cheese, crumbled
If using raw beets, trim greens from beets, but do not peel or cut into beet itself to minimize bleeding. Cover whole beets with water in a saucepan and bring to a boil. Reduce heat to a simmer and cook until tender, 30 to 40 minutes. Transfer beets to an ice bath to stop cooking. For canned beets, simply drain well.
In a small bowl whisk together olive oil, vinegar, garlic, allspice, salt and pepper to taste and 1/4 cup of the mint. Place onion in a bowl, coat with some of the vinaigrette and allow to sit for 15 minutes to soften the onion's bite.
Just before serving, toss all ingredients together in a bowl.
Yogurt Cake With Blueberry Sauce
I love this cake. It's not too sweet and gets a delicious tang from the yogurt. The yogurt also makes the cake wonderfully moist, so you can make it in advance and it will still be great on game day. This is a traditional French dessert that I tweak with almond flour or semolina (both of which give it a slightly coarse texture that I like) and a touch of Amaretto.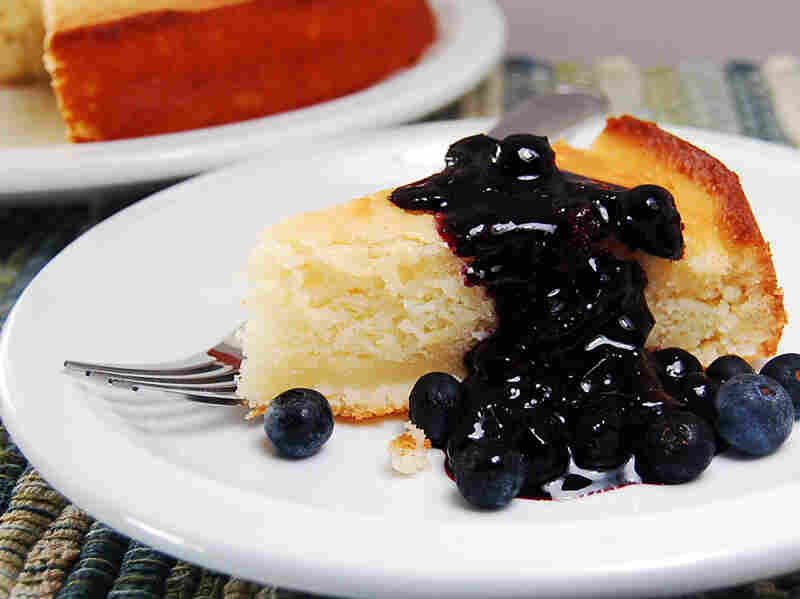 Makes 1 9-inch cake
Unsalted butter for pan
1 1/2 cups all-purpose flour
1/2 cup almond flour, semolina flour or additional all-purpose flour
2 teaspoons baking powder
Pinch of salt
3/4 cup sugar
Grated zest of 1 lemon
1 cup plain whole-milk yogurt
3 large eggs
2 tablespoons Amaretto (optional)
1/4 teaspoon vanilla extract
1/4 teaspoon almond extract
1/2 cup canola oil
Blueberry Sauce for serving (recipe below)
Heat the oven to 350 degrees and generously butter a 9-inch cake pan lined with a buttered parchment circle.
Mix together the all-purpose flour, additional flour, baking powder and salt in a bowl.
Put the sugar and zest in a large bowl and rub the zest into the sugar using the palms of your hands until the sugar is moist and aromatic. Add the yogurt, eggs, Amaretto and vanilla to the bowl and whisk until the mixture is smooth and liquid.
Stir in the dry ingredients, then switch to a large rubber spatula and fold in the oil. You'll have a thick, smooth batter with a slight sheen. Scrape the batter into the pan and smooth the top.
Bake for 35 to 40 minutes until the cake begins to come away from the sides of the pan, the top is golden brown and a toothpick inserted into the center of the cake comes out clean.
Cool the pan on a rack for 5 minutes, then remove cake from pan, peel off parchment and cool to room temperature right-side up.
Blueberry Sauce
12 ounces fresh or frozen (unsweetened) blueberries
2 tablespoons plus 1 teaspoon (separated) cognac, brandy or water
3 to 4 tablespoons sugar (taste berries to decide on sugar; you can always add a bit more later)
Zest of 1/2 lemon
1/4 teaspoon ground ginger
1/2 teaspoon arrowroot (available in the supermarket spice aisle)*
Pick over blueberries, discarding any mushy or green ones and removing any stems. Scoop berries into a small saucepan and add remaining ingredients.
Bring to a boil over medium-high heat, then reduce heat and simmer 10 minutes. Make a slurry by stirring together the remaining cognac, brandy or water and the arrowroot. Stir into blueberry mixture until slightly thickened.
*Arrowroot is my favorite thickener and should be available in the supermarket spice section. Unlike flour it works almost instantly; unlike cornstarch, it doesn't have a gloppy texture. It does its job even after freezing, and it's completely tasteless.