A Fast Fall For Once Mighty Megachurch
A Fast Fall For Once Mighty Megachurch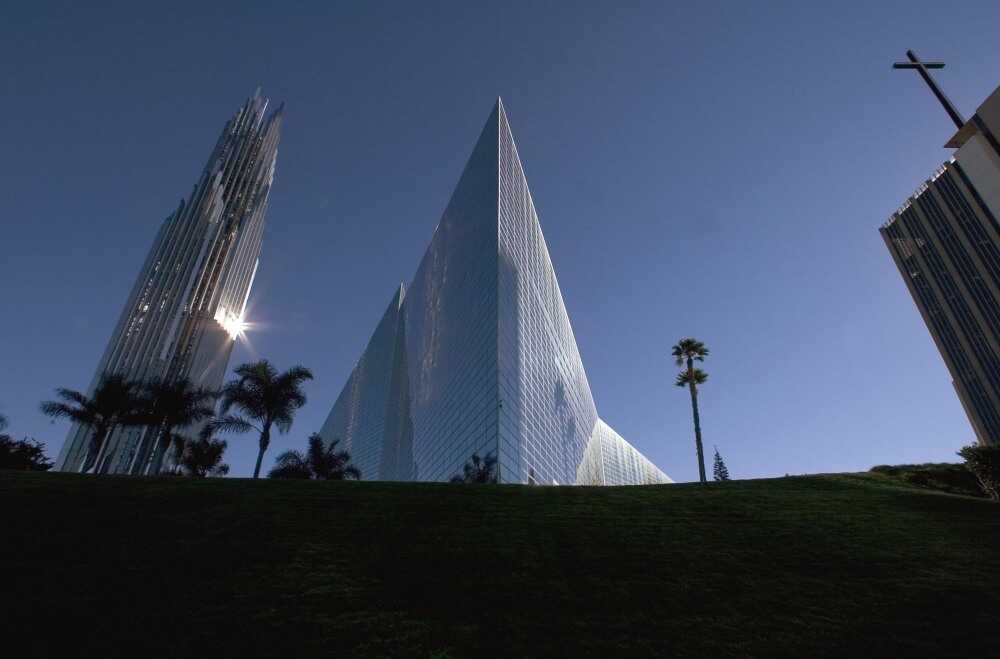 Long before Robert H. Schuller built Crystal Cathedral, the symbol of megachurch wealth, he was a farm boy in Iowa with very big dreams. Shortly after becoming a minister in the Reformed Church in America, he set out for Orange County, Calif., with his wife and $500 in his pocket.
"We had no money," Schuller told NPR in a 1983 interview. "I was told there were no places to rent in town. I picked up a napkin … and on an impulse, I wrote down 1 to 10: 1, let's rent a school building; 2, let's rent the Masonic hall."
No. 10 on the list was a drive-in movie theater. The year was 1955, and Schuller went door to door looking for congregants. According to Dennis Voskuil, a professor of church history at Western Theological Seminary and author of a book about the Crystal Cathedral, Schuller hit pay dirt when he invited Norman Vincent Peale, the father of the theory of positive thinking, to preach.
"Dr. Peale came out and spoke. The roads were clogged, and Dr. Schuller got launched effectively in Southern California because of that," Voskuil says.
The Middle Road
Schuller developed his own positive theology, telling people they could live their dreams by following Jesus: "I am somebody," he preached in a typical sermon. "I can do something. I will do something. Only when you do that do you really bring glory to God."
Yet Schuller's message remained Orthodox. He steered clear of the prosperity gospel and the conservative politics of evangelical Christianity. Voskuil says that middle road attracted people who would never come to church.
"It appealed to people's needs, their desires," he says. "In a sense, he preached in such a way that people would want to come into the tent, like a show barker. He used that word at one time."
As Schuller's church grew, his friend Billy Graham suggested he put his sermons on television. Hour of Power began airing in 1970, drawing some 10,000 people to his church and millions more who watched on television around the world. Flush with cash, in 1980, Schuller hired the famous architect Philip Johnson to build a glass and steel sanctuary. Voskuil remembers when he first walked into the Crystal Cathedral.
"I was rather dumbstruck," he recalls. "I've been in a lot of buildings around the world, and that one was one that really was awe-inspiring. It accomplished his purpose of bringing God and nature, the world around us, closer together in worship setting."
Tide Turns
The cathedral came to symbolize the megachurch movement, with its elaborate musical productions and pageants featuring live animals. But in the past few years, the tide turned. Jonathan Walton of Harvard Divinity School says everything fell apart at once.
"On the one hand, you had an aging congregation that was largely devoted to [Schuller's] charisma" and had been followers since the church was housed in the movie theater.
But the church needed younger viewers, and in 2006, Schuller elevated his son, Robert, to senior pastor. Walton says the son's style didn't appeal.
"Some thought he was too professorial," Walton says. "He seemed more willing to engage in theological debates and biblical exegesis from the pulpit, and that's in stark contrast to his father's positivist pop psychology."
The son was removed from his position, but the downward spiral continued. Donations dropped by 30 percent, even as the church was carrying a huge mortgage and its expensive television ministry. The 2008 recession was enough to give even Schuller pause.
"Here we are in a different time than we've ever lived through in the United States of America," he says in a 2008 broadcast, "and I detect a spreading pessimism."
In the past two years, the church pulled the Hour of Power off many TV stations and slashed dozens of jobs. But it wasn't enough. The church had amassed a debt topping $43 million. And on Monday, it filed for Chapter 11 bankruptcy protection.
Yet church spokesman John Charles is — not surprisingly — upbeat.
"This is a positive ministry built on Dr. Schuller's words of positive thinking," he says. "Even though this is not good news, we don't dwell on the negative, and we will build on this and go forward."
Whether that's enough will be up to Providence — and the economy.