French Police Smash Protesters' Fuel Depot Blockades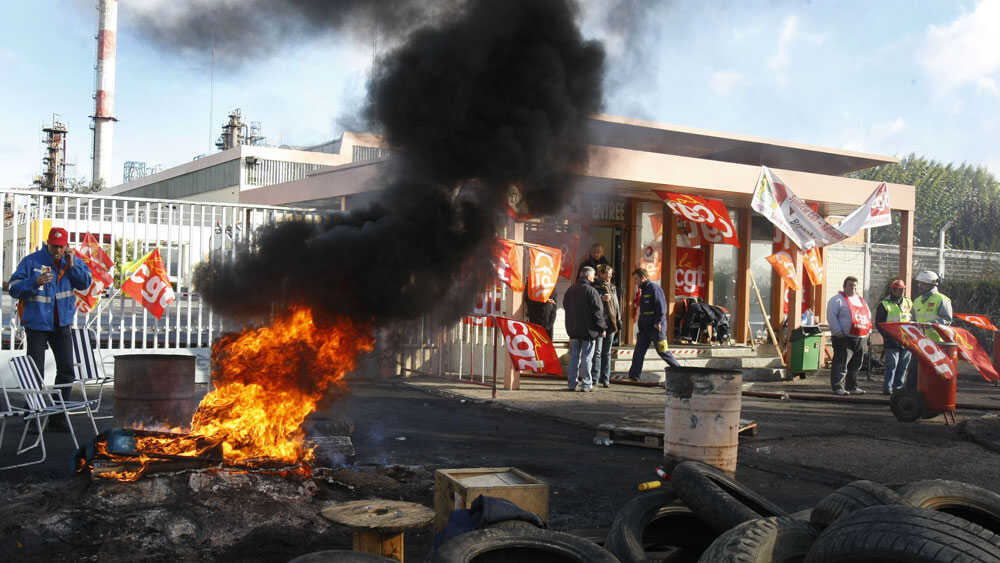 Gerard Julien/AFP/Getty Images
French President Nicholas Sarkozy ordered police to force open blockaded fuel depots as he struggled to contain massive protests over plans to change the pension system.
Riot police in black body armor cleared striking workers away from depots in western France overnight Wednesday, allowing gasoline supplies to be restored to thousands of gas stations that had run dry.
With nearly a third of France's gas stations empty, authorities stepped in without incident. The three fuel depots had been blocked by striking workers for days, Interior Minister Brice Hortefeux said.
At one site in the western town of Donges, police formed a corridor along the road leading to the depot to allow trucks to pass in and out. Video footage showed officers peacefully herding striking workers away from one depot.
Hortefeux warned that the blockades threatened emergency services and could have grave consequences for the entire French economy and public health and safety. He warned rioters that "the right to protest is not the right to break things, the right to set things on fire, the right to assault, the right to pillage."
"We will use all means necessary to get these delinquents," including the GIGN paramilitary police, he said. The police deployed so far have been CRS riot police, helmeted and wielding shields, sometimes firing tear gas or rubber bullets.
The fuel blockades were part of a nationwide protest over legislation that would raise the minimum age for state retirement benefits from 60 to 62. The move, which the government says is necessary to keep the state pension system from going bankrupt, is deeply unpopular and has sparked violence across France.
Despite the backlash, Sarkozy has vowed to "carry the retirement reform through to the end" and not to allow the French economy to be held hostage by strikers. The Senate is expected to hold a vote this week that could enact it into law.
Other European nations have either initiated or are considering similar measures meant to tame ballooning budget deficits.
On Wednesday, British Treasury chief George Osborne unveiled a five-year austerity plan that slashes benefits and public-sector jobs in the largest public spending cuts since World War II. He said the state pension age for men and women will reach 66 by the year 2020, four years earlier than planned.
After months of largely peaceful disruptions in France, many protests erupted into violence this week.
On Wednesday, protesters again disrupted access to the nation's airports, including the Charles DeGaulle International and Orly hubs in Paris. At DeGaulle, protesters sang the French national anthem before pushing through a police barricade.
In the Paris suburb of Nanterre, hooded youths smashed store windows amid clouds of tear gas. Police also fired tear gas into a protest that turned violent in the southeastern city of Lyon.
Bertrand Guay/AFP/Getty Images
Many protesters think raising the retirement age would be a first step toward scaling back France's social benefits, which include long vacations, strong protections for workers and a state-subsidized health care system.
Despite France's tolerance for a long tradition of strikes and protest, official patience appeared to be waning after weeks of snarled traffic, canceled flights, dwindling gasoline supplies and the increase in urban violence.
Nearly 1,500 people have been detained for protest-related violence in the past week, and 123 of them are facing legal action, said Hortefeux, the interior minister. He said police have been ordered to study surveillance video to identify additional perpetrators.
More than 60 police officers have been injured in the violence.
Students were planning to stage a fresh wave of protests Thursday, with a demonstration in Paris scheduled hours before the Senate is expected to approve the retirement measure.
NPR's Eleanor Beardsley reported from Paris for this story, which contains material from The Associated Press.