Home Foreclosures Continue Despite Delays
Home Foreclosures Continue Despite Delays
Mortgage lenders now face no fewer than five federal investigations into the way they have handled, or mishandled, foreclosures. Two major lenders that had suspended foreclosures have announced they planned to resume taking back homes as soon as possible.
Representatives from the Treasury and Justice departments, as well as at least eight other agencies, have gathered to talk strategy. Housing and Urban Development Secretary Shaun Donovan told reporters the government will hold banks accountable for the mistakes they have made.
Still, a look at the foreclosure process in three different spots around the country -- Cook County, Ill.; Collier County, Fla.; and Phoenix -- shows that delays have not eliminated the threat of foreclosure for homeowners.
Cook County, Ill.: A Sheriff Takes A Stance
Every weekday in Chicago, Fred Lappe runs an auction selling foreclosed homes. His company, Intercounty Judicial Sales, is one of the private firms appointed by the courts in Cook County to conduct mortgage foreclosure sales.
Sales of specific homes are often canceled. Sometimes homeowners get caught up on payments and pull their home out of auction. Other sales are delayed because of the robo-signing controversy that prompted several major banks to recently halt or delay foreclosures.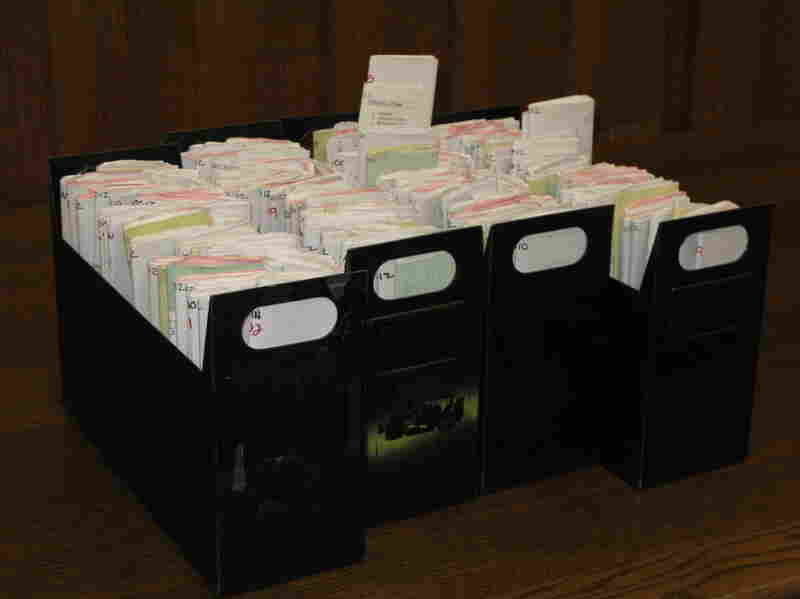 "My guess," Lappe says, "is while it will give these homeowners a number of weeks or possibly months more in their home, in the end, the result is quite likely to be the same — that these people will lose their homes."
Cook County officials expect foreclosures to total more than 50,000 by the end of 2010. Sheriff Tom Dart has more than 1,000 homes on his eviction list that belong to the banks that recently froze or delayed foreclosures.
Despite the fact that two banks have resumed foreclosure proceedings, Dart is still suspicious. The sheriff says he will refuse to evict anyone unless the banks produce an affidavit assuring that their foreclosures filed in Cook County are legal and proper.
"This is not the lotto," Dart says. "This isn't something where we're rolling the dice and saying, 'You know what? Possibly this has been done legally, maybe it hasn't, but in the meantime, you and your children go find someplace to live.'"
In 2008, Dart refused to carry out evictions at homes where renters had not been notified their landlord was in default. Now, Dart says unless he gets concrete assurance that lenders handled their foreclosure process properly, he plans to begin his latest eviction moratorium.
Collier County, Fla.: No 'Appreciable Change'
In the first two weeks of October, 122 foreclosed homes were auctioned off on the first floor of the courthouse in Naples, Fla. In other words, the foreclosure freezes announced by some of the nation's biggest banks did not exactly bring things to a screeching halt.
"I don't think they slowed down that much," says Dwight Brock, the clerk of the circuit court in Collier County, which, like much of Florida, has been hit hard by foreclosures.
Brock's office processes all the legal documents and schedules foreclosure sales once a judge has ruled. He says about 60 percent of the scheduled sales have been canceled in October — which may sound like a lot, but it's not much more than the norm.
"That's not quite like some of the perception that I've heard in the national media that, 'Oh, these were being stopped,' " Brock says. "That I don't think was the case at all, not in my jurisdiction."
County records show Bank of America, Chase and GMAC Mortgage all moved forward with auctions in Collier County after announcing they had halted foreclosures. Since the start of October, banks have launched foreclosure proceedings against nearly 200 Collier County homeowners.
"So there's not been an appreciable change [from] the number of cases that were filed last month," Brock says.
Spokespeople from Bank of America, Chase and GMAC Mortgage all say the banks have kept their word. It just turns out their pledges to stop foreclosures were not as wide-reaching as they may have originally seemed.
What's The Foreclosure Rate In Your County?
Maria Barbosa, a housing attorney with Legal Aid Service of Collier County, says it was never clear to her which, if any, of her clients would benefit from a temporary moratorium. So she has been telling them all along to assume that nothing has changed.
"We certainly don't want to give the clients false hope that it may mean that their cases are going to be dismissed," Barbosa says.
For his part, Brock says no one enjoys taking someone's home. But he finds the canceled foreclosure sales annoying. He expects most of those sales will be rescheduled eventually. And, Brock says, taxpayers will get to foot the bill a second time for the sales to be planned and advertised.
Phoenix: A Freeze Threatens Momentum
Dean Martin recently purchased a distressed home in Phoenix. But he isn't just your average investor; he is also Arizona's state treasurer.
"I think Arizona's long-term prospects are good," Martin says, adding that some homes are now going for less than the cost of the materials used to build them. But right now, the state's housing problem — a huge surplus of homes on the market — ranks as his biggest economic concern. He says Bank of America's temporary freeze on foreclosures, if it drags on for months, could make the problem worse.
The state of Maine is trying to use an in-person mediation program to help homeowners.
The freeze has been lifted in some states, but it is still halting some sales in states like Arizona, where courts do not oversee the foreclosure process. Bank of America purchased Countrywide, which had been a big lender in Arizona, the state with the third highest foreclosure rate in the country.
Related NPR Story
At least until recently, the high foreclosure rate was spurring home sales. Realtors had been doing swift business selling distressed homes to enthusiastic buyers like Martin. A study by Arizona State University showed 46 percent of existing home sales in September were foreclosures.
The slowdown of foreclosure sales, Martin says, threatens that momentum.
"It's like a snake's trying to swallow a rat, and it gets stuck halfway," he says. "We're trying to swallow this rat of all the foreclosures, and if we stop halfway, that's going to prevent us from recovering."
Federal agencies and state attorneys general are investigating allegation of improper or fraudulent paperwork. In an election year, Martin notes, there is plenty of political incentive to put lenders on the defensive. But, he says, those investigations might only serve to hurt the economy more.
Martin, himself, is not making any such campaign promises. The Republican says he plans to retire from public service after this year.