Clarence Thomas' Wife In Spotlight After Phone Call
A phone call from the wife of Supreme Court Justice Clarence Thomas has rekindled a steamy controversy that riveted the nation nearly two decades ago.
In 1991, the Senate Judiciary Committee reopened confirmation hearings for Thomas, after NPR disclosed that University of Oklahoma law professor Anita Hill -- a onetime aide to Thomas -– had accused her former boss of sexual harassment. At the hearing, Hill graphically detailed the events that she said eventually put her in the hospital with stress-related abdominal pain.
An enraged Thomas called the accusations a lie and called the proceedings "a circus," a "national disgrace" and "a high-tech lynching for uppity blacks who in any way deign to think for themselves."
Thomas was narrowly confirmed, and the matter has lain dormant, and unresolved, for 19 years -- until 11 days ago, when Virginia Thomas called Hill, now a professor at Brandeis University, at 7:30 a.m. and left a voice mail message. It said:
Good morning, Anita Hill; it's Ginni Thomas. I just wanted to reach across the airwaves and the years and ask you to consider something. I would love you to consider an apology sometime and some full explanation of why you did what you did with my husband. So give it some thought and certainly pray about this and come to understand why you did what you did. OK have a good day.
Hill apparently didn't get the message for several days because of the holiday weekend. When she did, she was unsure whether it really was Virginia Thomas calling or a crank. So she conferred with her longtime friend and onetime lawyer, Harvard Law professor Charles Ogletree, and decided to turn the matter over to the Brandeis campus police, who in turn referred it to the FBI. According to sources close to Hill, the bureau then contacted Virginia Thomas, who confirmed that she had made the call.
On Tuesday, Virginia Thomas issued a public statement, saying the call was an "olive branch" to Hill and that she had not intended any offense. But the Brandeis professor did take offense, declaring that Virginia Thomas "can't ask for an apology without suggesting that I did something wrong, and that is offensive." Hill said she has no intention of apologizing since she testified truthfully.
Theories abound as to why Virginia Thomas would have made such a bizarre call. Oct. 9 was close to the anniversary of the hearing. Was she just stewing? Was this an attempt to get more attention for the anti-Obama political group she founded this year? Or was it a reaction to a New York Times front page article that appeared that morning discussing her elevated political role, her links to the Tea Party movement and the problems that might or might not pose for her husband?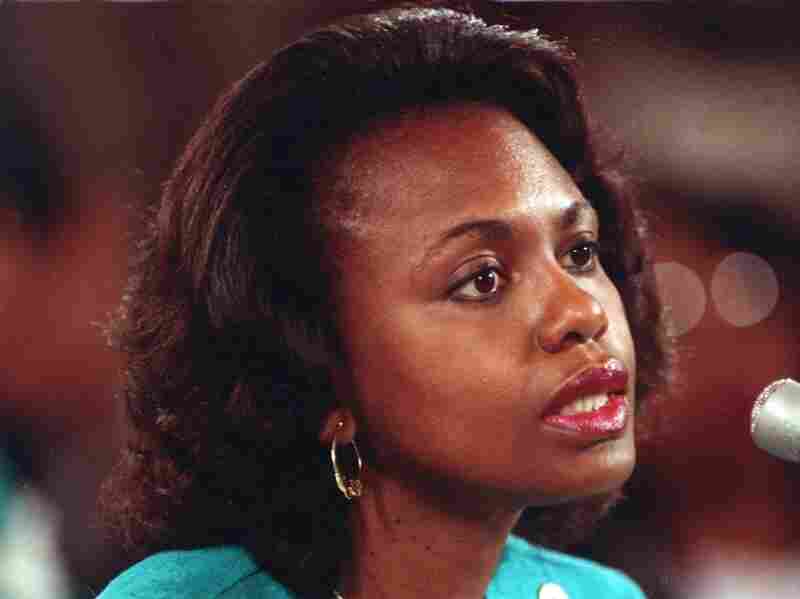 Long active in conservative politics, Virginia Thomas has assumed a far more visible role in the past year, founding a group called Liberty Central, which advertises itself as linked to the Tea Party. She has spoken publicly about opposing what she calls the "tyranny" of the Obama administration and congressional Democrats. As president and CEO of Liberty Central, she has raised money from secret donors -- more than $500,000 to begin with, and presumably much more since then; all of which has raised questions about a potential conflict of interest for her husband, Justice Thomas.
While some critics have said they are troubled by Virginia Thomas' political activities, the conflict-of-interest statute is aimed primarily at financial conflicts. Therefore, legal ethics experts say that a spouse's political opinions don't matter. That is particularly true in the modern age when spouses have their own careers and are free to express themselves politically. As Northwestern Law School legal ethics expert Steven Lubet observes, the conflict-of-interest law governs a justice's conduct, not his spouse's. New York University ethics expert Stephen Gillers agrees, noting that Supreme Court justices have an obligation to avoid recusal if they can. Unlike lower court judges, who can recuse themselves and be replaced by another judge, that is not true on the Supreme Court.
On the other hand, the conflict-of-interest law also counsels judges to avoid the appearance of conflict. Failure to do so could potentially cause the public to lose confidence in a justice or even in the impartiality of the court itself. Would the public, for example, come to regard the court with the same cynicism it regards other institutions if a justice's spouse is front and center, campaigning against the health care bill, and then that bill comes before the court, without the justice's stepping aside?
The ethics experts all say that the law does not impute a spouse's views to the justice she is married to. They say the only solution to the problem is restraint on the part of the spouse.
That assumes there is no financial conflict. In the case of Virginia Thomas, there is one fly in the ointment, according to professor Gillers.
Liberty Central, the organization founded by Virginia Thomas, has accepted a great deal of money from secret donors, all of which is legal under the Supreme Court's 2010 decision striking down many of the previous limits on campaign spending. But Gillers notes Virginia Thomas is CEO and president of the group and that an opportunistic donor, by giving money to an organization that pays Virginia Thomas' salary, is in fact giving a financial benefit to Justice Thomas, too. And that could constitute a financial conflict.
That raises one critical question: How will we know if such a conflict exists, when the donors' identities are secret?