Obama's Foreclosure Prevention Efforts Criticized
Obama's Foreclosure Prevention Efforts Criticized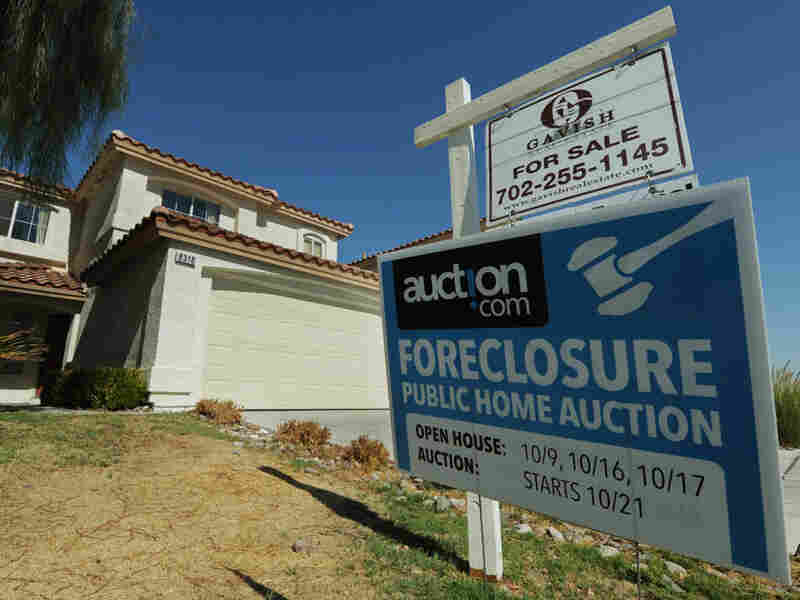 Mark Ralston/AFP/Getty Images
A federal auditor says the Obama administration's foreclosure-prevention program is reaching too few people and hurting some homeowners by stringing them along, then rejecting them. But new data show that the program is working well for those homeowners who actually manage to qualify.
Some in the mortgage industry have been pessimistic about efforts to help homeowners avoid foreclosure. They say people in such deep financial trouble will probably keep missing payments no matter what you do.
But the numbers out this week suggest otherwise. After nine months, nearly 90 percent of homeowners are still making their mortgage payments after getting more affordable terms through the Obama administration's program.
"I think these are very encouraging numbers and we're hopeful that they continue," says Tim Massad, acting assistant Treasury secretary for financial stability. He says the numbers show that the administration's Home Affordable Modification Program, or HAMP, is working. That is, it's helping people keep their houses while also saving the financial system from even greater losses from foreclosures. "It is having an impact," he says.
Analysts say the latest figures show that there's at least the kernel of a good program here. But critics say it's not reaching enough people.
The administration initially estimated the program would help 3 million to 4 million homeowners.  But so far, only 500,000 people have received permanent mortgage modifications. That's far short of what's needed, given that millions more are facing foreclosure.
"The program really is a failure," says Ira Rheingold, head of the National Association of Consumer Advocates. "While the numbers may be encouraging for the loan [modifications] that are being done, so much more should have been done that wasn't done."
This week, the federal Special Inspector General overseeing the government's bailout programs issued a report that was sharply critical of HAMP. It said homeowners get strung along for too many months, making loan payments during a trial period only to get rejected for a permanent, more affordable loan.
The report said the homeowners "end up unnecessarily depleting their dwindling savings in an ultimately futile effort."
Rheingold agrees. "So many people have gone through that system, have had hope that they could save their homes, and we've seen a lot of people lose their homes who should not have lost their homes," he says.
Rheingold says a big part of the problem is that the nation's largest banks and mortgage companies are in charge of qualifying people for the government program.
He says that system doesn't work. The banks' call centers lose documents, and they reject homeowners for the wrong reasons, Rheingold says. Basically, he says, homeowners find themselves slowly sinking into a paperwork tar pit.
For their part, the banks say they are doing all they can in the face of a massive wave of foreclosures. They say they're helping hundreds of thousands of people by working with the HAMP program and by conducting their own foreclosure-relief efforts.
Officials from all 50 states have launched a coordinated investigation of the mortgage-serving industry. Richard Cordray, Ohio's attorney general, says banks "have created this exposure for themselves. What they need to recognize is that they are now in a lot of trouble."
These investigations center around allegedly fraudulent foreclosure documents that the banks have filed with courts around the country. State prosecutors think they've got solid cases against the banks over the tarnished documents. But they also say they'd like to use that leverage to force lenders to do a better job at qualifying people for HAMP and other effective loan modification programs.
Iowa Attorney General Tom Miller says that rather than have the banks pay huge fines, it might make more sense to have them "put that money into adequately funding the modification process."
Another possibility, Miller says, might be to install an outside monitor to ensure that banks are meeting the commitments they've made to prevent further economic damage by avoiding foreclosures. All the major banks have signed agreements with the U.S. Treasury Department to do that, and to see if any troubled borrower can qualify for HAMP before foreclosing on them.