Indonesia Toll Surpasses 300 As Aid Arrives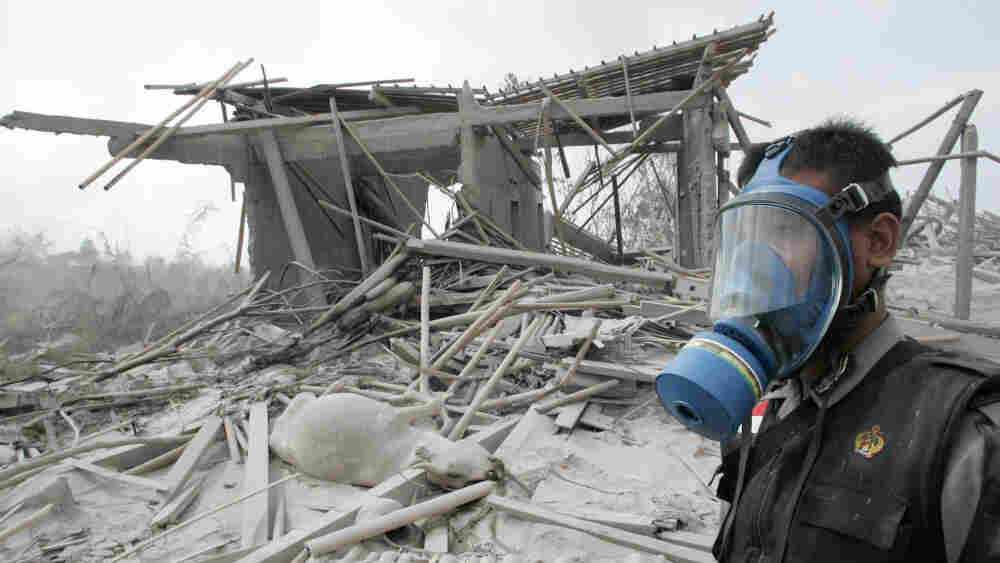 The first rescue workers arrived at a remote Indonesian island chain Wednesday where hundreds of villagers were killed and hundreds more were missing after an earthquake-triggered tsunami swamped their homes.
Planes and helicopters packed with aid workers and supplies landed at the Mentawai islands off the coast of Sumatra. Disaster officials were still trying to reach more than a dozen villages in the islands, which are a mecca for surfers and take about 12 hours to reach by boat.
Aerial surveys of the region revealed huge swaths of land underwater and the crumbled rubble of homes torn apart by the wave. One house lay tilted, resting on the edge of its red roof, with tires and slabs of concrete piled up on the surrounding sand.
The casualty count had more than doubled as of Wednesday evening after fresh reports from village chiefs, according to disaster official Ade Edward. He said Monday's powerful quake and tsunami has killed at least 311 people, with more than 400 missing.
Earlier attempts to reach survivors were hampered by rough seas and bad weather, and islanders were forced to fend for themselves. With not enough people to dig graves, corpses littered beaches and roads, according to district chief Edison Salelo Baja. Fishermen were scouring waters in search of survivors.
Indonesian President Susilo Bambang Yudhoyono interrupted a trip to a regional summit in Vietnam to inspect the damage and meet with survivors.
"I want to make sure the emergency response has been running well," Yudhoyono, a former four-star general, told reporters in Hanoi. "I want to see for myself the condition of the victims."
The magnitude-7.7 earthquake struck late Monday just 13 miles beneath the ocean floor. It was followed by at least 14 aftershocks, the largest measuring 6.2. The fault line on Sumatra island's coast is the same one that caused the 2004 quake and monster Indian Ocean tsunami that killed 230,000 people in a dozen countries.
Meanwhile, officials in eastern Java were urging farmers not to return to their homes on Mount Merapi, which erupted Tuesday and killed at least 30 people, including an old man who refused to abandon his ceremonial post as caretaker of the mountain's spirits. Dozens of others were injured by plumes of hot ash.
Authorities warned the thousands who fled Merapi's wrath not to return during a lull in volcanic activity Wednesday, but some villagers were desperate to check on crops and possessions left behind. In several areas, everything -- from the thinnest tree branch to couches and chairs inside homes -- was caked with ash that looked like powdery snow.
The disasters struck just hours and hundreds of miles apart. Indonesia is located along the Pacific Ring of Fire, one of the world's most seismically and volcanically active areas.
At Mentawai, the first cargo plane arrived Wednesday afternoon loaded with 16 tons of tents, medicine, food and clothes, Edward said. Four helicopters also landed in Sikakap, a town on North Pagai island, which will be the center of relief operations.
"Finally we have a break in the weather," Edward said, adding that he hoped search and rescue operations would pick up pace. "We have a chance now to look for the missing from the sky and also to survey the extent of the damage."
Disaster officials were preparing for the worst Wednesday, with hundreds of body bags being sent to the area, said Mujiharto, who heads the Health Ministry's crisis center.
Officials say hundreds of wooden and bamboo homes were washed away on the island of Pagai, with water flooding fields and roads up to 600 yards inland. In Muntei Baru, a village on Silabu island, 80 percent of the houses were badly damaged.
Eight Australian survivors, an American and a New Zealander recounted their harrowing brush with the tsunami when they arrived in the Sumatran city of Padang on Wednesday.
They said they were on the back deck of their anchored boat when the wall of water smashed them into a neighboring vessel, triggering a fire that quickly ripped through their cabin.
"They hit us directly in the side of the boat, piercing a fuel tank," said Daniel North, the U.S. crew member. "Almost immediately, the captain gave the order to abandon ship and everyone got off the boat."
They clung to anything that floated as they washed in the wetlands and then climbed the highest trees they could find and waited for more than 90 minutes until they felt safe.
Edward, the disaster official, also said crews from a tourist boat were found safe after more than 24 hours missing in the Indian Ocean.
NPR's Anthony Kuhn reported from Bangkok, Thailand, for this story, which contains material from The Associated Press