What's In A Name? For Iraq's Saddam Husseins, A Lot
What's In A Name? For Iraq's Saddam Husseins, A Lot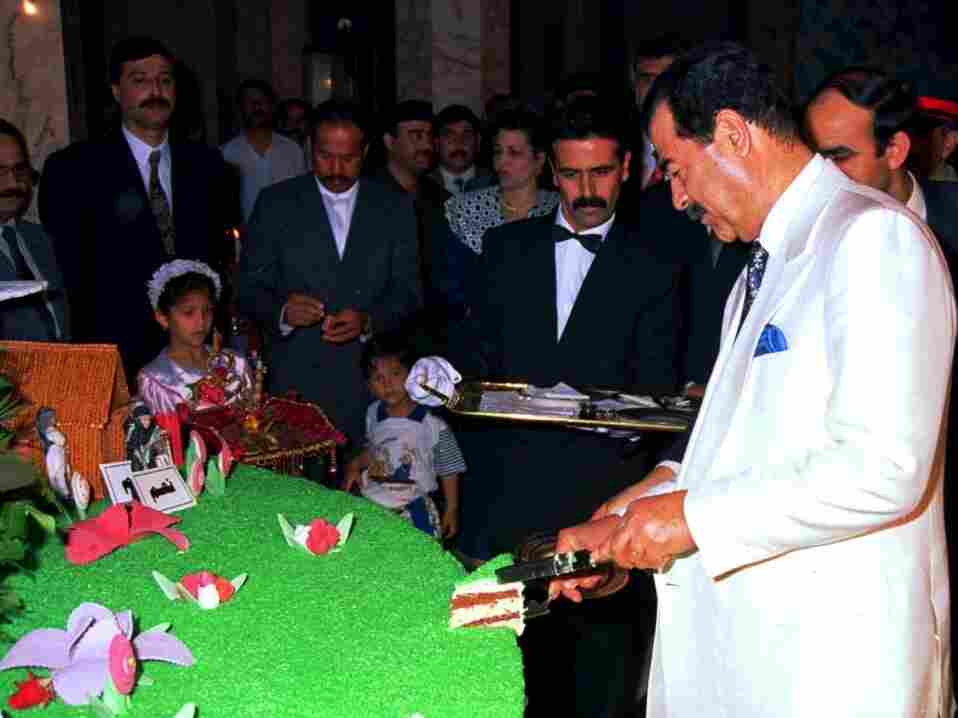 The bus driver named Saddam Hussein parks his dusty blue vehicle and waits for customers in a busy Baghdad neighborhood. He does not look like his namesake. He's short and thin and wears dirty green coveralls. He barely has a mustache.
In fact, he's so ashamed of being Saddam Hussein that at checkpoints, when he shows his ID, he prays that policemen won't say the name out loud.
"Whenever I go to a government office, they say I'm a bad man," Hussein said. "Once I was even arrested for my name."
In the Arab world, a name is often a word that has another meaning, like Falcon or Gazelle or a certain type of flower. In Iraq, a few generations ago, a man might be named Flood on a day that the banks of the Tigris River had burst. His son might have been named after a certain dictator.
Iraq has hundreds, maybe thousands, of Saddam Husseins. In the 1970s, '80s, and '90s, if a child was born on the former dictator's birthday, the family might get money as a reward from the government.
Nowadays, though, the name is so hated that a group of Saddam Husseins in Diyala province, just northeast of Baghdad, is petitioning the government, en masse, to change their names.
Another Saddam Hussein works as a security guard at a nursery school in Baghdad.
"One day, I was in the street. My father, he came out of the house and he was calling me, 'Saddam! Saddam! Come over here! Of course, I did not even turn my face toward my father," he said.
"What else could I do?" he added.
He had no choice but to let people think his father was crazy.
"I had to save my own skin," he said.
Marwan Hatem Adhab is a university student who also wants to change his name -- from that of a former Sunni caliph (Marwan ibn al-Hakam) to something that makes sense in his Shiite neighborhood and his Shiite family.
Back during the sectarian fighting in Iraq from 2006-2008, a person's name could mean life or death. A Shiite in a Sunni neighborhood could be killed, and vice versa. That forced many people to conceal or change their names.
But it also encouraged some to choose controversial names. Moqtada, after the firebrand Shiite cleric Moqtada al Sadr. Musab, after the Sunni al-Qaida leader, Abu Musab al Zarqawi.
Khalid Hantoosh Sajet, a professor of sociology at Baghdad University, says names in Iraq often represent who is in power. During the sectarian fighting, people naturally became more overtly religious.
"But now that starts to change because the Islamic wave is coming down," he said.
Now, he says, people are beginning to look outward and beyond Iraq's recent troubles to find their names.
At a government hospital in Baghdad, many of the patients are poor women from mostly Shiite slums. Some name their children after religious or sectarian figures.
But nurse Jinan Abdulelah Hamid says that's changing. Families are choosing more neutral names.
"Most of those people are young couples and you notice that sometimes they choose their baby's names from Turkish [soap operas]" that are popular in Iraq, she said.
In a room full of mothers who just gave birth, some have chosen religious names -- sisters of imams or companions of the prophet. One woman says she sees no reason to tell the world whether her baby is Shiite or Sunni, whether the baby supports one political group or another.
When asked what she's chosen for her new baby girl, she says, "Noor," which means, simply, light.