STATES: The GOP Wave Makes Local Ripples
Gene J. Puskar/AP

Sue Ogrocki/AP

Robert F. Bukaty/AP

Carlos Osorio/AP

Joe Giblin/AP

Kathy Willens/AP

Charlie Neibergall/AP

Jeffrey Phelps/AP

David Goldman/AP

Tony Dejak/AP
Voters on Tuesday not only gave Republicans large gains in Congress; they also elected a new crop of Republican governors and a record number of state legislators.
These just-elected state officials are poised to cut back on public spending, slow down implementation of the federal health care law and redraw congressional districts to help lock in GOP gains.
Early Wednesday, Republicans were on track to hold more than 30 governorships -- up from 24. Those GOP governors will be joined by new majorities in as many as a dozen legislative chambers. Republicans, in fact, appeared on course to win the most legislative seats they've held nationwide since World War II.
The new governors and state lawmakers are likely to pursue a conservative line on the budget questions that have dominated political debate at the state level over the past couple of years.
Many of them also ran on platforms nearly as skeptical about President Obama's domestic agenda as their congressional brethren. Some of the new governors and attorneys general have stated their opposition to the new federal health care law, which depends to a large extent on states for implementation.
"Clearly, midterm elections are largely a referendum on the president at the time," says Tim Storey, an election analyst with the National Conference of State Legislatures.
Redrawing Party Lines

These new state officials will help shape future congressional races as well. Congressional districts nationwide are due to be redrawn following this year's census. In most states, that job falls to governors and legislators.
Setting district lines -- and determining the populations that fall within them -- can have a huge impact on the partisan makeup of House seats over the course of a decade.
A decade ago, Democrats enjoyed unilateral control over the process of drawing lines for 135 districts, compared with 98 for the GOP.
Following Tuesday's elections, Republicans will have a far more dramatic advantage. With some state results still coming in, the GOP will draw the lines for roughly 180 congressional districts. Democrats will draw just 30. The rest will be mapped under divided control, or by commissions.
"If you're going to have a good year, have it in a year that ends in zero," says Ed Gillespie, chairman of the Republican State Leadership Committee.
Back To Normal?

To a certain extent, Tuesday's results reflected a number of states returning to normal voting patterns.
Republicans replaced Democratic incumbents in conservative states such as Kansas, Tennessee, Wyoming and Oklahoma. Democrats did better in more liberal states, retaking California and leading in Minnesota.
But Republicans succeeded in taking over the governorships in several Northeastern and Midwestern states that had favored Democrats over the past couple of election cycles, including Iowa, Pennsylvania, Ohio, Michigan and Wisconsin.
Voters in Rhode Island elected Lincoln Chafee, the first governor to run successfully as an independent since 1998. In Maine, Republican Paul LePage defeated independent Eliot Cutler.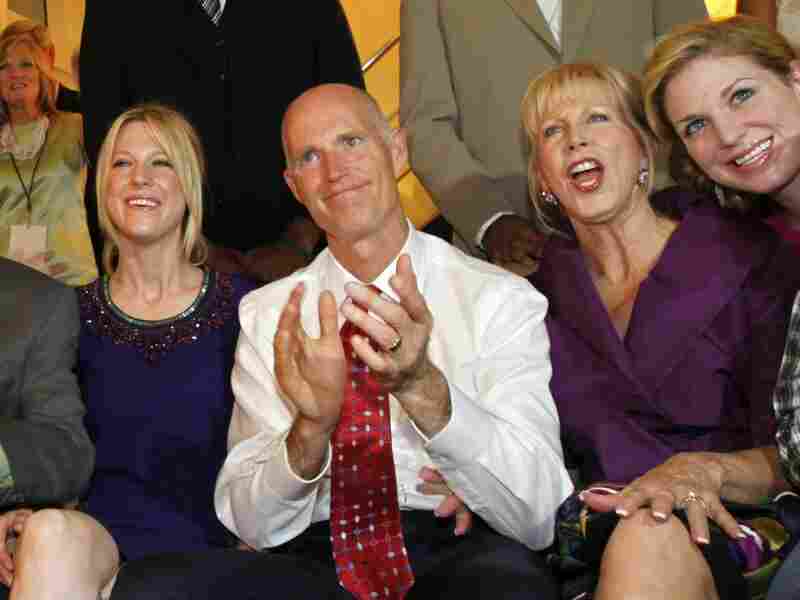 Spending Cuts To Come
The new class of governors will inherit enormously challenging budget problems. Collectively, states are looking at shortfalls next year of more than $100 billion next year, according to the National Association of State Budget Officers.
"All these people coming in are just going to have some really tough choices," says Scott Pattison, NASBO's executive director.
Many of the new Republican governors and legislators campaigned on pledges not to raise taxes, despite the budget mess.
"There are quite a few people who are trying to model themselves on Chris Christie," says Joseph Henchman, director of state projects for the conservative Tax Foundation. The Republican governor closed multibillion-dollar shortfalls in New Jersey this year without raising taxes.
"Nothing guarantees that Republicans will vote a certain way on taxes, but given the tenor of the times and Gov. Christie being the model, that will be the prevailing view -- that tackling spending is the way to cut deficits."
Even Andrew Cuomo, New York's newly elected Democratic governor, pledged to cap property-tax rates -- taking a page straight out of the Christie playbook.
But some observers noted that the sort of deep spending cuts that will be necessary if taxes are not increased could trigger a political backlash. In Illinois, Democratic Gov. Pat Quinn, who has proposed a major income tax increase, was leading narrowly.
Ballot Measures: Health And Taxes
Voters in numerous states were set to decide on a variety of tax measures. In Washington state, they defeated what would have been the first personal income tax since the Great Depression. Massachusetts voters, though, rejected a measure that would have cut the state sales tax rate by more than half.
In Oklahoma and Arizona, voters gave the thumbs down directly to the new federal health care law, approving measures that seek to block its implementation within their states' borders. A similar measure lost in Colorado.
Although more than 20 states have already entered into lawsuits seeking to block the law, health departments and other agencies have been getting ready to comply with its requirements.
"The only thing we can say with any confidence at this point is that there's a lot of activity to implement this at the state level, even as there's political opposition," says Alan Weil, executive director of the National Academy for State Health Policy.