The Annals Of Election Night Analysis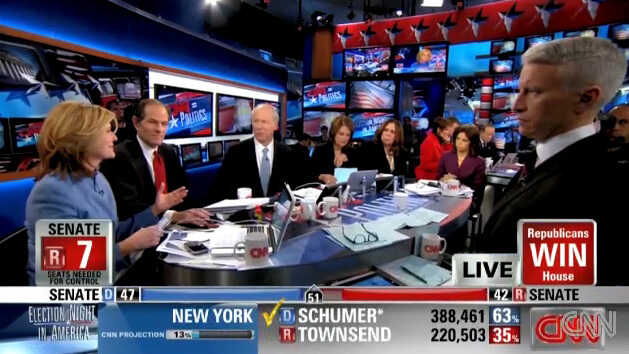 The majesty of the electoral process is such that the coverage by the nation's top news outlets Tuesday led organically to a vital question: Exactly when did the CNN studios turn into the cover of Sgt. Pepper's Lonely Hearts Club Band?
Seriously. I've never seen a studio packed so full. Were they on the buddy system -- one analyst for each viewer? There are fewer people at the Delta wing of Hartsfield-Jackson Atlanta International Airport after a storm grounds the planes.
And the insight offered was, shall we say, uneven. Anchor Wolf Blitzer informed viewers that the parents of South Carolina Gov.-elect Nikki Haley are "Indians from India." Helpful!
The big story was undoubtedly the congressional surge of the Republicans, particularly its conservative elements. It was a historic win, a shift in the House larger than any in a half-century.
In Tuesday night's early hours, The New York Times' media team tracked the metaphors unfurled by the various networks: from wave to tsunami to earthquake to runaway train.
The runaway train was a phrase invoked by Sarah Palin. But the Fox News contributor and former vice presidential nominee was part of one of the most intriguing exchanges involving the media.
For much of the evening, Fox News promoted the interview that anchor Shepard Smith conducted with Palin on its sister Fox broadcast network, its larger sibling, as though it were a big "get." And indeed, few political figures carry as much weight among the conservative faithful, especially those with Tea Party sympathies, as the self-professed "Mama Grizzly."
She was asked about the now unavoidable speculation over her interest in running for president in 2012. CNN was among several networks to show huge screen analyses of Palin "wins" and "losses" -- a tally of how well the big candidates she endorsed fared.
The media "get" was less impressive, however, once you consider that Palin is of course on the Fox roster as a paid contributor, serving as analyst and occasional host as well as newsmaker.
More remarkable was the way Smith directly questioned her about one of the implications of her gig with his own network:
Smith: "One of the things that that's afforded you is, if you will, protection from other media outlets. Your job as a Fox News contributor makes it such that you can't appear in front of other, you might say 'lame stream media.' You can't appear before other reporters. You get some degree of protection from all of that while still being able to express your feelings and thoughts.

"Will there come a time if you decide whether you will or won't run for president, where you'll go out of this role and into a campaign role?"
Palin replied that she can talk to whomever she wants but made it clear she would select any interviewers warily.
Palin: "I will not talk to reporters who have an obvious bias or vendetta or [are] going to turn my words into something that are not meant to be, and take things out of context.

"I would rather speak directly to the people without that 'lame stream' filter that would pervert what it is I'm trying to say. I've lived through it. I don't need it. And we have a lot of problems in the world of journalism today. Much more biased, I believe. Much more unethical than when I earned my broadcast degree."
They were pretty striking remarks at the close of an election season in which many candidates ignored or spurned the press, and a few were blatantly hostile.
Over at ABC, executives thought they had brought one of the media's most relentless critics inside the tent without turning the network's microphones over to him. The network invited the bombastic conservative blog impresario Andrew Breitbart to be a commentator for part of a seven-hour "digital town hall" sponsored with Facebook, some of which would be played on TV.
Apparently, it was a no-win position.
Breitbart announced on his websites that he would be serving as an analyst for the network's coverage.
The Huffington Post and liberal groups such as Media Matters reacted in outrage. They pointed to Breitbart's patronage of the conservative video provocateur James O'Keefe, who revealed questionable practices of ACORN organizers but was also blasted for doctoring his videos. They also pointed to Breitbart's more recent posting of abbreviated video footage that triggered the firing of a black federal agriculture official who seemed to endorse racism against a white farmer. It turned out the full anecdote occurred years before she took that post. It had a redemptive conclusion, too, in which she aided and befriended the farmer's family.
Some ABC journalists were also unhappy about the invitation.
Andrew Morse, the executive in charge of news content on ABCNews.com, put out a statement making clear Breitbart was only participating as one of several dozen guests in the online digital town hall, not as a paid network analyst.
Over the weekend, Breitbart mocked Morse and ABC, and did so publicly. Morse finally pulled the plug late Tuesday afternoon after facing a barrage of criticism, not just from liberals but from conservatives for distancing himself from Breitbart.
"As we are still unable to agree on your role, we feel it best for you not to participate," Morse wrote in an e-mail released by the network.
Breitbart offered a tart response. "This is about cowardice and caving into what was an overwhelming onslaught by Media Matters, The Huffington Post, TalkingPointsMemo and Daily Kos," he told Politico. "This is their bowing to left-wing pressure."
Later Tuesday evening, Breitbart tweeted: "I will most certainly not be watching Love Boat/Fantasy Island Saturday nights from here on in."
Ignore both Gopher and Tatoo? Breitbart sure knows how to make it hurt.
On the air, however, Dana Loesch, the editor of Breitbart's Big Journalism website, fit neatly enough into ABC's roundtable of analysts, who included former Democratic Party chairwoman Donna Brazile, conservative columnist George Will, former George W. Bush pollster Matt Dowd, National Journal columnist and editor Ron Brownstein, and NPR analyst Cokie Roberts, among others.
It was guided relatively smoothly by anchors George Stephanopoulos, an alumnus of the Clinton White House, and Diane Sawyer, an alumna of the Nixon White House.
On MSNBC, however, the voices vied to dominate. From left to right -- visually, not ideologically -- the channel's analysis was handled by Lawrence O'Donnell Jr., Eugene Robinson, Chris Matthews, Keith Olbermann and Rachel Maddow. (O'Donnell waited his turn to talk, but the others didn't stand on courtesy.) They made up a lively liberal bunch, but hardly a varied one, with nary a feint toward balance.
However, this week Olbermann did make a gesture toward conservatives. Inspired by Jon Stewart's Rally to Restore Sanity, he suspended his intentionally overblown "Worst Persons in the World" segment, saying, "its satire and whimsy have gradually gotten lost in some anger."
No little anger, and disgust, helped to fuel the Democratic takeover of Congress in 2006 and helped to swing things in the other direction this year.
The Washington Post's Karen Tumulty offered a sobering note for winners and losers Tuesday night.
"From the moment they lift their right hands to take the oath of office," she wrote Tuesday, "lawmakers are now on notice that their hard-won power may be short-lived."
So, more to cover. More to come. Better expand that CNN studio.