In House, Both Parties Do A Leadership Dance
House Republican leaders are pledging to run Congress differently than Democrats have — and they could hardly help doing otherwise.
Related NPR Stories
With more than 80 new GOP members coming to Washington in January — dozens of them without any experience in elected office — there's no question the place will be different. In addition, Democrats are struggling to respond to their run through the crucible on Nov. 2.
In a letter that is circulating among incoming GOP members of Congress, John Boehner, expected to be the next House speaker, and GOP Whip Eric Cantor write that this is "no ordinary freshman class, and this is no ordinary time" for the country.
That's why, they write, they are creating two new positions within the party specifically for incoming freshmen. One will be the group's representative on the leadership team; the other will sit on the panel that decides which congressmen get on which committees. That's pretty powerful.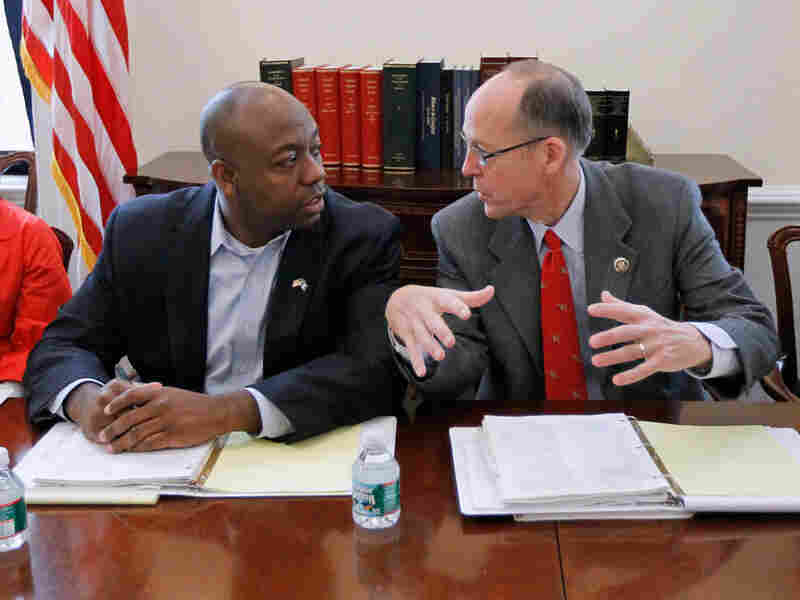 Oregon Republican Greg Walden, who is running the GOP majority transition team, told reporters before a meeting Tuesday: "We've got well over 80 members that will be new to our conference coming here. A lot of them bring a lot of energy, intelligence and experience that we want to incorporate into how we rewrite the rules of the House and the rules of the Republican Conference."
Several congressmen-elect have announced they will run for the new positions, including a few who have backing from Tea Party groups.
From The Majority To The Minority
Meanwhile, the Democrats are struggling to figure out how they will deal with one of the realities of losing control of the House: The majority has four official leadership positions, while the minority has only three.
Speaker Nancy Pelosi surprised Washington when she announced her bid to remain as the party's leader, and so far there have been no serious challenges to her.
That means the current No. 2, Maryland Democrat Steny Hoyer, is pitted against the No. 3 man, South Carolina's Jim Clyburn, for the position of Democratic whip.
Inside baseball? Yes. But there's a bigger point: Democrats say how they structure their leadership is critical. It must reflect an understanding of the message voters sent on Nov. 2 and launch the party toward new success in 2012.
The man who will be best at this, many members say, is Hoyer, the moderate. California Democrat Jane Harman calls Hoyer indispensible.
"He's a bridge builder, he's a unifier, he's inclusive, and he wants to solve problems," she says. "I don't want to throw spitballs. I think voters are sick of that. And the only recipe for Democrats ever to get back into the majority is to demonstrate that we can make Congress work, and we can join with others to solve problems."
Hoyer says he already has the votes to win the leadership seat. To which other Democrats say: Not so fast.
"It's absolutely essential that the Democratic Party reflect the constituencies and the concerns of all people in the country," says California's Barbara Lee, who heads the Congressional Black Caucus.
Lee says African-Americans and other minorities have fought long and hard for a seat in those closed leadership meetings. And they'll fight to keep Clyburn in the whip position. Voting him out, says Lee, would be a step backward for the party — and the country.
Of course, there's no reason this contest has to pit Hoyer against Clyburn. Some Democrats would like to see a fresh face in the leadership — some new ideas.
But if most want to keep their current leaders — Pelosi at the top and the current No. 4 guy, John Larson of Connecticut — they force themselves to choose between the one African-American in the Democratic leadership and the one moderate.