Hollywood's Dog Days, Less Shaggy Than Ever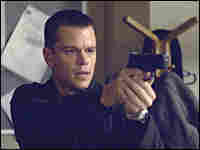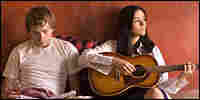 Bob Mondello On ...
Summer releases big and small, including a couple that opened as recently as mid-August:
The dog days of summer have traditionally been a movie wasteland, a time when Hollywood tends to release relatively few pictures. Mostly, what comes out in August are movies the studios hope will make a quick killing before Labor Day. Films expected to have "legs" — and good word-of-mouth — usually open earlier.
Or at least that's how it used to be. This year, studios have spread their substantial movies across the entire summer calendar. As recently as five years ago, nearly all the films that were expected to do well, opened shortly after Memorial Day.
I took to scheduling my vacation for right after the Fourth of July, in fact, because everything I needed to review had basically opened by then. But this year, by doing that, I missed Harry Potter, The Bourne Ultimatum, and The Simpsons.
The reason for the change? The theatrical "window" — the time it takes a film to earn most of its revenue at the box office — has shortened. A decade ago, films had to play for eight to 10 weeks before they'd exhausted their potential audience. Today, a typical blockbuster earns 80 percent of its total gross in the first three weeks of release.
So studios can open pictures much later and still have time to play them out before Labor Day, while movie patrons have lots of leisure time and theaters are playing matinees every day. That's good for Hollywood, because the studios keep more of the gross from the early weeks of a film's release.
And increasingly, the studios are opening films wider — showing them on more and more screens right out of the gate — to front-load the early grosses. A big release a decade ago was a film that opened on 1,000 screens. Today, most wide releases open on between 2,000 and 3,000, and a picture expected to do especially well — Spider-Man 3, say or the latest Harry Potter movie — opens on 5,000. That means a Bourne Ultimatum can open in August and still top $200 million by Labor Day.
Happily for audiences, this means that August is no longer a movie graveyard, filled with pictures the studios expect to tank quickly. Nine years ago, when Steven Spielberg opened Saving Private Ryan on July 22, observers thought he was crazy to open it so late. Today, there'd be lots of respectable competition.