Population in Flux Redefines New Orleans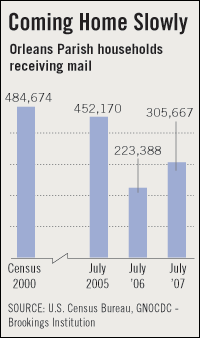 On New Orleans' devastated east side, postal worker Michele McMillan is the area's informal census taker, ambassador and welcome wagon.
Her daily route — filled with dilapidated houses that were once flooded with up to nine feet of water — is constantly changing as residents move back to the city. But McMillan is steadfast in her deliveries, greeting customers and checking up on the few elderly residents living in isolated FEMA trailers.
"I'm just trying to make a positive impact on this city to let the world know that New Orleans is coming back, and we are coming back strong," McMillan says.
Two years after Hurricane Katrina hit, the Crescent City's population is at 70 percent of its pre-hurricane level, but the city's population is constantly in flux, complicating postal delivery routes and redefining a city that was once majority black. Figures from 2006 showed that 58 percent of New Orleans' population was then black. But the Greater New Orleans Community Data Center estimates that 80,000 more people have moved back since then, complicating efforts to understand the current racial makeup of the city.
"It is such a rapid state of change. It's very hard to measure it," says Allison Plyer, co-director of the data center. "So to get a decent sense of who is here is really impossible."
Samuel Hernandez represents the new face of a changing city. Hernandez, 32, has been in New Orleans for almost two years and works as a day laborer. He sends nearly $1,000 a month home to his wife and three children in El Salvador, but he says the work is hard. Hernandez and other single men from New Orleans take weekly refuge at a church where he prays and receives English lessons.
Many immigrants like Hernandez who came to New Orleans to help in the cleanup have stayed behind. Public school enrollment figures show a slight decrease in black enrollment and a 2-percent rise in Hispanic students.
The city is also home to a wave of young newcomers like Nathan Rothstein. The 23-year-old came to New Orleans and gutted houses for 10 months. He now runs a Web site promoting the city to young professionals.
On a recent Friday night, he joined about 30 young professionals at the Balcony Bar on trendy Magazine Street. The group calls themselves YURPs, or Young Urban Rebuilding Professionals, and they say they're the city's real pioneers.
"The true patriots are the people who have come down here to rebuild an American city," Rothstein says.