Towns Across Midwest Battle Flooding, Heat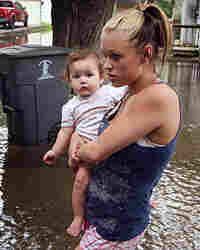 The waterlogged Midwest may see more flooding and suffer greater devastation as forecasts Thursday called for more of the heavy rainstorms that have lifted homes from foundations, displaced more than a thousand people, and claimed nearly two dozen lives.
Record rainfall has drenched the Midwest for the past several days in what the National Weather Service describes as a "persistent" pattern that is not expected to let up for several more days.
"There's a cluster of thunderstorms now over Nebraska, and it appears that it will likely track eastward ... resulting in even more heavy rainfall and potential flooding today, and then there's another chance of it tomorrow, and all the way until the middle of next week," said John Hart, a forecaster with the U.S. Storm Prediction Center in Norman, Okla., a division of the National Weather Service. "There's the threat of heavy rain across Midwest states."
He said at least 10 inches of rain had fallen in the past several days in parts of Iowa, Wisconsin, Illinois, Indiana and Michigan.
Consequently, swollen rivers were overflowing their banks, destroying homes, submerging cars and converting asphalt streets to waterways. Fire and rescue crews had to use boats and canoes on drenched streets to pull people from flooded homes and businesses.
Some 22 people were killed, and thousands were displaced.
Among the dead were a woman and her child in Madison, Wis., who were electrocuted. They were waiting at a bus stop Wednesday when lightning hit a utility pole at a flooded intersection, and a passenger who tried to save them was electrocuted as well, police said.
Ohio seemed to take the brunt of the storms. In Findlay, the Blanchard River topped 7 feet above flood stage — its highest level since a 1913 flood — and chased residents from their homes earlier this week. Also, about 130 inmates were moved from the county jail in Findlay to a regional prison.
Residents hoped to return to their water-soaked homes Thursday.
The high waters forced Gov. Ted Strickland to declare a state of emergency for nine northern Ohio counties, although 21 counties have been affected by flooding and wind damage.
"County and state emergency responders have been working around the clock since Monday, the start of the severe storms and flooding," he said. "With this emergency declaration, we can ensure that state resources will be used to help affected Ohioans recover from this disaster as quickly as possible."
In Mansfield, Ohio, flood water tipped over a gas can in an apartment garage, fueling a fire when the vapors reached the pilot light on a water heater, fire officials said. David Pollock, 74, was found dead in a room above the garage, according to assistant fire chief John Harsch.
In Bucyrus, which has received nearly 9 inches of rain since Monday, the Crawford County Department of Emergency Management estimated that at least 200 people were still displaced Wednesday.
"Reality is starting to set in about just how much damage there is in some of the flooded areas," said agency director Tim Flock.
A preliminary survey by the American Red Cross in Minnesota identified about 4,200 affected homes, including 256 complete losses, said Kris Eide, the state's director of homeland security and emergency management.
Preliminary damage reports in Wisconsin indicated 731 homes and 32 businesses were damaged, and 30 homes and 25 businesses were destroyed.
Meanwhile, other parts of the Midwest and South will continue to bake Thursday as a heatwave dogs the region. The death toll due to heat has grown to at least 50, with one new death reported in Missouri and two in Alabama.
From NPR reports and The Associated Press