New Book, Film Explore Sacco and Vanzetti Case
On this day in 1927 80 years ago, the state of Massachusetts executed two Italian immigrants for the murder of two payroll clerks that the men insisted they didn't commit. The executions of Nicola Sacco and Bartolemeo Vanzetti were considered a travesty. A new book and documentary draw parallels to our feelings about immigration then and now.
Excerpt: 'Sacco and Vanzetti'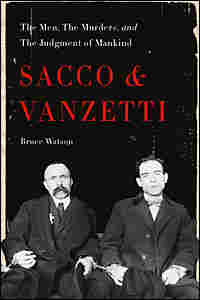 Late in the summer of 1927, a distant bell echoed throughout the world. Its tolling resounded from Europe to Australia, from Paraguay to Japan. And for one agonizing Monday in August, all talk of tomorrow ceased and all attention focused on a hulking granite prison in Massachusetts where Nicola Sacco and Bartolomeo Vanzetti were due to die at midnight.
Eulogized as "the good shoemaker and the poor fish peddler," they had become the most famous people on the planet. Some considered them demonic—murderers, anarchists, immigrants bent on savaging "all the institutions that Americans hold dear." Others saw them as "shining lights," gentle pacifists framed by a heartless judge and a ruthless prosecutor. Few knew them as men, one a dedicated father, the other a vagabond with the soul of a poet, both fierce militants. And at the approach of executions the whole world would witness, millions could not look but could not look away.
Outside the American embassy in Paris, tanks squared off against angry mobs. London's Hyde Park teemed with protestors. Across South America, widespread walkouts shut down factories and transportation. Restless crowds swarmed the streets of Sydney, Bucharest, Berlin, Amsterdam, Rome, Tokyo, Buenos Aires, Athens, Prague, Johannesburg, Marrakech...
Throughout America, the "Jazz Age" America of flappers and rumble seats, Babe Ruth and Charles Lindbergh, talk across back fences was of the two Italians, their eloquent pleas of innocence, the doubts clouding the verdict, the evidence of their guilt. Rank-and-file workers had contributed the modern equivalent of millions to free them. Now it all came down to midnight. Would there be another stay of execution? A last-minute pardon? Another bomb destroying a Manhattan subway or another juror's home? As darkness fell, lawyers raced to find a judge who might intervene. Radio stations promised to stay on the air late. Marchers outside the locked-down prison gazed at a watchtower were a light would dim when the switch was thrown.
The drama did not end that day, nor had it started with a 1920 gangland murder. The deepening saga of Sacco and Vanzetti, which descended into a deathwatch, opens like a package rigged with dynamite.
Reprinted by arrangement with Viking, a member of Penguin Group (USA) Inc., from SACCO AND VANZETTI by Bruce Watson. Copyright © Bruce Watson, 2007