DNA from Spit Helps Decode Lives of Early Settlers
DNA from Spit Helps Decode Lives of Early Settlers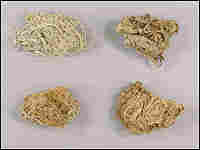 Scientists have made remarkable strides in recent years in analyzing ancient DNA.
Using the tools of molecular biology, they have been able to extract DNA from bones and teeth of early humans. Scientists have used that genetic data to track how people moved around the world.
But Steven LeBlanc figured there might be other places to find the DNA of our ancestors. LeBlanc is director of collections at the Peabody Museum of Archaeology and Ethnology at Harvard University.
"I can't quite remember how I got the idea," says LeBlanc. "I must have been in the museum somewhere, and saw the artifacts, and it just hit me that 'Wow, this is something we could possibly do.'"
Questioning the Quids
The artifacts to which LeBlanc is referring to are called quids — the technical term for something you chew on, and then spit out. LeBlanc wondered if he could extract human DNA from the quids — DNA that came from cells in the chewer's saliva.
Unlike bones and teeth, which can be hard to come by, quids are plentiful. It seems that about 2,000 years ago, chewing shredded yucca was all the rage, says LeBlanc.
"We're not really quite sure why people used to do this," LeBlanc says. "But quids have been found everywhere like this from caves in Oregon to central Mexico, from central Texas to California. So it was a widespread behavior. Some people think it was sort of like chewing gum, it was just something to do, and other people think that it doesn't actually taste all that good, so it might have been done for medicinal purposes."
As long as the quid-spitting took place in a dry environment, the quid hardened, so picking one up today isn't icky.
"It's a little softer than a rock," says LeBlanc. "It's a little closer to a dried sponge. [That] would be a better way of describing it."
So LeBlanc sent samples of these quids to molecular biology labs, asked them to look for human DNA, and sure enough, they found some.
Decoding the Past
Ripan Malhi is a molecular anthropologist from the University of Illinois at Urbana-Champaign. He says getting DNA from quids may solve a problem for anthropologists trying to learn how and when humans first arrived in North America.
"Many members of Native American communities believe that ancient remains — remains like skeletal remains or teeth — are sacred, and they should not be destroyed for scientific study," Malhi explains.
But he says fewer people will have problems with scientists destroying quids.
In his first study of DNA from quids, LeBlanc was really just trying to prove that DNA could be extracted from spit. But he says he did learn something useful from the experiment: that the DNA that came from quids in a cave in southwest Utah suggest the first people to farm in North America migrated there from the South.
LeBlanc says it will take many more quids to confirm his migration theory, and many of those quids have been sitting in museum storerooms for a century or more.
"We are always being asked why we keep all this stuff," says LeBlanc. "Why would anybody want to keep this little wad of yucca fibers for 100 years? DNA hadn't even been discovered when these quids were first put on the shelf. And the reasons we keep things in museums is because we come up with new ways to use them, and to address questions that we didn't know existed when they were first collected. And I think this is just a wonderful example of why we have museums."
Or looked at another way, there's another reason not to clean out the attic.