Swiss Resort Towns Promote Climate Friendliness
Swiss resort towns know their glaciers are retreating and that artificial snow eventually won't freeze at lower altitudes.
In an effort to survive, many are beginning to heavily push summer hiking and biking. In addition, some are promoting themselves as leading the fight against climate change. Tourism officials hope this will give them a new edge.
Here's a look at how a few resort areas have approached the issue:
St. Moritz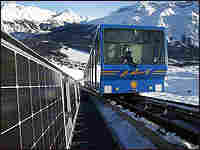 The famous luxury resort is still home to hedonism, says tourism board president Hans Peter Danusel. But he's also trying to use the St. Moritz image to show the world that alternative energy is chic and sexy.

The town has developed a "clean energy tour" that takes visitors up a cable car partially powered by the sun, past a windmill, and to see various hotels that are using alternative heating systems. And the region has put together a list of anything remotely environmentally oriented – local biogas power plants, a dinosaur tracks museum, the Ricola herb garden — and offers it as part of its self-promotion as an environmentally friendly area.
Arosa
Last winter season, this small resort in southern Switzerland started picking up the carbon tab of visitors.

To calculate this total, the tourism office asks participants how they traveled to town, where they stayed and what they did to amuse themselves. Hiking, for example, generally leaves a smaller carbon footprint than alpine skiing. Arosa then spends part of the money it collects through a local tourism tax to buy carbon credits from a German biogas plant.

It touts such visits as "carbon neutral," but no more expensive for the tourists. Participating guests get a certificate proving their vacation didn't hasten climate change.

"Of course it's also a way to promote Arosa," says tourism director Hans-Kasper Schwartzenbach. "But on the other side I have three children. And the global warming is a big problem to us. Normally in the Alps you make studies and studies and studies and no one makes a project, no one makes a real action to do something. We have to begin somewhere."

Last season, Arosa spent only about $600 to buy carbon credits to cover 50 tons of emissions. About 400 people participated in the carbon tab program. The most expensive? A visitor from New York. Schwartzenbach needed to buy 17 tons worth of emission credits to cover his flight alone.
Davos
The 2007 World Economic Forum in Davos focused on climate change at the global level. On the local level, the town compared its CO2 emissions with the amount of carbon-absorbing biomass in the area.

Davos' environmental protection officer, Gian Paul Calonder says there is no way to bring the two into balance, but he says Davos is trying to become "clean" by, for example, collecting the heat generated while cooling the indoor ice rink and using that to warm the indoor swimming pool.

Calonder is skeptical that the political will exists to really fight climate change. But he says vacation destinations need to act and market their climate protection efforts.

"Everyone is going to have to find ways to reduce emissions," he says. "And once this self-awareness has been established, then I think that vacation destinations will be selected on those grounds. That people will go to places that are pursuing the right measures."