River's Bounty Bypasses Families, Feeds Business
River's Bounty Bypasses Families, Feeds Business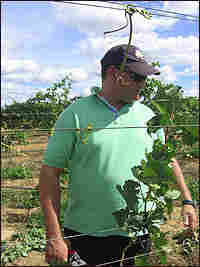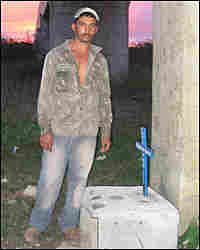 Brazil is a nation of haves and have nots. There are vast disparities between the rich and the great mass of Brazil's poor, from income to education to expectations — and even to water.
The differences in access to water are evident on a trip along the broad Sao Francisco River. It fans out across Brazil's arid northeast in a basin as big as California and Utah combined.
But the bounty of this great waterway passes by thousands of poor families. In the area around the city of Petrolina in the distressed state of Pernambuco, 90 percent of the water from the river goes to large-scale agriculture, according to officials from the federal agricultural research agency. And the agriculture is not for for local consumption but for export. One official said with a tinge of bitterness, "Brazil is exporting its water."
Lush fields of irrigated grapes, mangoes, and melons destined for the United States and Europe shimmer like a mirage across the highway from where Jose de Sousa, 30, lives with his wife and seven children. But in his bleak settlement of cinder-block homes ironically called "Living Waters," there is only an intermittent supply of running water.
De Sousa's eldest child, 12-year-old Gessia, died in February when she fell from a leaking irrigation canal while trying to collect water. A makeshift altar marks the spot where she fell. De Sousa says his children routinely climb the 30-foot-high concrete canal to get water for their families. His daughter died making her third trip of the day.
"The people who have families here have to go off to work where they usually earn just enough just to survive. So you have to have an older child go off and fetch the water. There is no other solution," de Sousa says.
His neighbor and friend Einaldo Barros stands listening like a protective older brother ready to jump in and punctuate a thought. The two men work side by side pruning grapes at a local vineyard for less than a dollar an hour. Rough-hewn with a keen mind, Barros gives the impression that he would be a successful businessman if given half the chance.
"This canal system irrigates the entire region," Barros says. "Water is all around us, and this is a great shame for our country that because of the lack of access to water ... this girl had to die."
Gessia's death mobilized the community. It organized a large protest and for a while, they had running water.
Less than an hour away, outside the town of Lagoa Grande, there appears to be no shortage of water for one of Brazil's most successful wineries. A home worthy of Architectural Digest stands on the riverfront beside the fields of grapes soaking up the sunshine. The churning waters of the Sao Francisco flow passed 500-acre vineyard. Owner Joao Santos, a native of Portugal, says the river is the lifeblood of his business.
"Each of the plants requires some 400 liters of water a year," or about 90 gallons, Santos says. He says he pays about $2,000 a year for water rights. At that rate, he's paying virtually pennies for millions of gallons of water.
Asked whether he feels that there is something out of balance in the way water is apportioned, Santos says it's not so simple.
"I've got so many problems within my own company. I have a hard enough time getting the government's attention for myself," Santos says. "My responsibility lies with the 30 people on my payroll. They are guaranteed a meal, housing if they want it, medical care and education for their children. They are treated with dignity."
The mayor of Lagoa Grande says he's angry that nearly half of his town's 25,000 residents don't have running water. But in this harsh and depressed region, he is also gladdened that businesses like the wineries are here creating jobs and new opportunities, he says.