Drumming Up a Protest in a Harlem Park
Drumming Up a Protest in a Harlem Park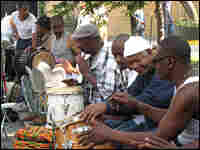 If you happen to be in Marcus Garvey Park in Harlem on a Saturday late afternoon or evening during the summer, you can drop in on the neighborhood's African drumming circle.
Longtime residents and African drumming enthusiasts have held an informal, hours-long, drum circle there for more than 30 years.
But new residents of the rapidly gentrifying neighborhood are not as keen on the pulsating rhythmic sessions that sometimes last more than four hours-- and are complaining, loudly.