Phylicia Rashad's 'Gem' of a Role
Phylicia Rashad Plays Aunt Ester in 'Role of a Lifetime'
Phylicia Rashad's 'Gem' of a Role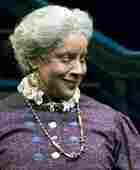 Phylicia Rashad is best known for her portrayal of Clair Huxtable on the The Cosby Show. These days she's working in live theater, taking on yet another "role of a lifetime" -- this one penned by one of the nation's most important playwrights.
The Tavis Smiley Show producer Roy Hurst looks at August Wilson's latest play, Gem of the Ocean, through the eyes of its leading lady, Phylicia Rashad. Rashad plays a character named Aunt Ester in turn-of-the-century Pittsburgh, when the first generation born after Emancipation felt the sting of white backlash.
"This is a writer who is devoted entirely to truth," Rashad says. "Here is a writer who is not interested in creating a femme fatale or a bouncy ingénue for the sake of commercial whatever... The Emancipation Proclamation was signed almost 40 years (earlier), and they are still holding the people in bondage, as it were."
Up until now, the character of Aunt Ester had only been talked about in Wilson's previous plays. With Gem of the Ocean, Rashad undergoes a physical transformation to bring the older, less slim stage character to life.
"I feel that I've been entrusted with something and someone who's very dear and very precious, because (Wilson's) characters are very dear and very precious to him."