Arctic Businesses Learn to Adapt to Climate Change
Arctic Businesses Learn to Adapt to Climate Change
Blasting for Diamonds in Yellowknife
Diamonds are at the heart of the economy in Yellowknife, in Canada's Northwest Territories. In a Reporter's Notebook, Steve Inskeep writes about the people who work in the mines whose customers include Tiffany's.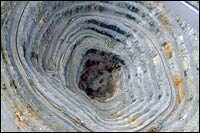 Kevin LaFramboise for NPR
Gordon Van Tieghem is the mayor of Yellowknife in northern Canada near the Arctic Circle.
He's also a hunter. And as the weather grows warmer, he's noticing more animals drifting up from the south.
"In our area, we've seen cougars, we have crows. It's just in the last 10 years that crows (appeared) — the last 15 years that we've had magpie, white-tailed deer. It's all indicative that something's changing," Van Tieghem says.
Climate change is not only affecting wildlife in the area, it's affecting the economy. Van Tieghem says he has also noticed signs of change in the region's business.
The Arslanian Cutting Works is one small part of a multibillion-dollar Canadian diamond industry. This company at the top of the world has grown from nothing to something in less than two decades.
Its manager, Bob Bees, says some diamonds are imprinted with a microscopic polar bear.
"Our diamonds are special, because not only are they mined in Canada, they're manufactured in Canada," Bees says.
And it's implied that part of the value of these diamonds is that they are not from a war zone.
The diamonds can remind you of little fragments of ice, which is appropriate when you consider how this booming industry has adapted to Canada's harsh climate. The big mines get their supplies trucked in over the ice.
Tom Hoefer, a spokesman for the Diavik mine, says this process makes his industry sensitive to the climate.
Every winter, the mines truck in supplies across a string of frozen lakes. It's the only connection between Yellowknife and mines that may be hundreds of miles away.
During one recent winter, the ice wasn't thick enough. In order to keep running, the owners of Hoefer's mine spent millions of dollars on a kind of Berlin airlift for gemstones.
Yellowknife has turned into a boomtown, where everybody seems to want a piece of the diamond business. Consider the local diner, where half the customers seem to be prospectors.
Even the woman pouring coffee has invested in a project managed by a customer. This customer, John Dalton, hopes he's about to find diamonds.
Consider the local contractors Dalton's company hired to pound holes in the rock outside town. The region's economy revolves around projects like this.
In 2006, a truck on the way to this exploration site broke through the ice on the Great Slave Lake. It sank.
Though this past winter was colder, Van Tieghem says entrepreneurs have been arriving in town, offering solutions to keep business going amid changes in climate.
Some mining companies are proposing a permanent road on land, not ice.
Hoefer says it would reach from the mines to a place even farther north — to the seaways of the Arctic. It could encourage even more yawning mines.
From an airplane, Canadian Glen Warner comments on one large mine.
"You see the open pit down below, down to the lower left there, you can see the great big multi-ton trucks, looking tiny at the bottom of the pit — and the road going around on the inside of the kimberlite pipe getting narrower as it gets to the bottom," Warner says.
Warner owns a tourist lodge at Bathurst Inlet on the northern shore of mainland Canada. This is the spot where some mining companies speak of opening a port.
Warner says he has trouble believing that the world has really changed that much.
Decades ago, he was a Canadian Mountie and his patrols took him across the sea routes that people now speak of using for cargo ships.
Northern Canada's new warmer winter is still pretty cold by American standards. But compared with decades past, one Canadian climatologist describes the region as "on fire."
Multibillion-dollar businesses are seeking solutions to make sure they don't get burned.
Blasting for Diamonds in Yellowknife
Steve Inskeep recently returned from a trip to the Arctic Circle, where he reported on how a warming climate is creating business opportunities. In this Reporter's Notebook, he writes about the people who work in the diamond mines near Yellowknife, in Canada's Northwest Territories.
Aug. 15, 2007 — I went to a diamond mine today. Well, not a mine, not yet, it's just a big hole in the ground. But its investors hope they have an immense find on their hands.
The only way to reach the Snowfield project is by float plane, called a "single Otter," single referring to the single engine, I think. The float plane splashed down in the Great Slave Lake and pulled up to a rude dock. Soon we were standing in the pit, near a compressed-air drill that was pounding holes for explosives.
The crew was blasting down to kimberlite, which is just a rock but, in theory, a diamond could be hidden in any hunk of it. The plan is to rip out 500 tons of rock, crush it all to gravel, then sift for diamonds.
Even if they find some, a full-blown mine may not be worthwhile. I've been reading the quarterly and annual reports of one of the big mines up here, the Jericho mine. It has produced diamonds as large as 59 carats, and Tiffany's has been buying them; yet the mine has been losing $10 million per quarter. It's costing them $17 million to bring up $7 million worth of diamonds. The first-quarter report contained a reference to some executives who were leaving the company "to pursue other business interests."
Still, there's the allure of 59 carats...
At dinner tonight, at a restaurant called the Wildcat, I met a diamond worker and asked him how big 59 carats would be. He pointed at the slice of strawberry on his plate.
The man was sitting with his wife, children and another man who'd taken them all to dinner. The family was celebrating its last night in Yellowknife, this boomtown by the lake.
The man with the strawberry on his plate had just finished working at the Diavik mine, spending his days in the processing plant about 180 miles to the northeast. People worked two weeks on and two weeks off. Security was so tight that when the man arrived for work he had to strip to his underwear, and put on company clothes. He'd strip again on the way out, and submit to search that included a look up his nose.
Nobody questioned such procedures; the mines are the heart of the economy. The man's wife had been teaching at the local college, which had a diamond processing course. One of their kids had been allowed to cut a diamond on career day at school.
I've heard several times today that there is a drastic labor shortage, and apparently a kid out of high school can get his trucker's license and make $100,000 a year. Still people don't come. This place isn't for everybody. Even in summertime the vast landscape is disorienting.
But people get used to it, including the folks at my table who were leaving town. Their furniture had already been taken by the moving company; they would be on a flight at 7:15 the next morning. They seemed sad to be moving to Fort McMurray, another boomtown — oil sands.
They started talking about the annual fair on the lake in Yellowknife. It happens in the winter, when there's almost no daylight, and the lake freezes so hard you can walk on it. They cut holes in the ice that are deep enough to support light poles, and they string up streetlights on the lake. They have dog races. They have singing contests. And they have a local delicacy that calls for you to take syrup and pour it on the snow. Then you roll up the snow and eat it.
Yellowknife, they said, was a surprising place to live, and they seemed like they would miss it.