StoryCorps Griot: Dedicated to Service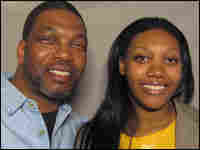 In this week's StoryCorps Griot Initiative, Clayton Hall remembers his first day as one of the few blacks enrolled at Virginia Military Institute.
In 1975, Hall enrolled at VMI, where he was one of a few black students in his class.
When Hall came to StoryCorps with his daughter, Breana, he remembered his first day at the southern military college.
The Story Corps Griot Booth is currently in Oakland, Calif. All the Griot Initiative recordings are archived at the Library of Congress. A copy of each interview will also go to the National Museum of African American History and Culture in Washington, D.C.
This story was produced by Selly Thiam. Senior Producer for StoryCorps is Michael Garofalo.