Violinist Addicted to Making Music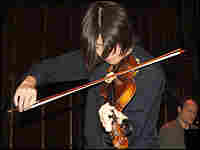 You might say 18-year-old Charles Yang was born to play violin. His mother—a violinist with the Austin Symphony—was onstage playing in a concert only hours before giving birth to him. Shortly after he came into the world, Charles instinctively took to the violin. He began taking lessons at the age of three, and now, if a day goes by when he doesn't play, he feels like something is definitely missing.
"The Violin is like caffeine to me," says Yang. "I'm addicted to it!"
Charles' mother has been his violin teacher since the very beginning. He says she's a great instructor, but he can't help arguing with her nonetheless. "My mom will say something like, 'Your intonation is wrong,' and I'll shoot back, 'No, your intonation is wrong!'" says Charles. "It can get pretty harsh."
In addition to being a musician, Charles has had a brief stint as an actor. He was in the movie Spy Kids II. "I had a total of two syllables to speak," says Charles. "Basically, I said 'hi' in Chinese and got paid for it!"
He plays Souvenir d'Amérique, based on the tune "Yankee Doodle," by Henri Vieuxtemps.