New Film Casts Doubt on 'Made in USA' Label
Listen to this 'Talk of the Nation' topic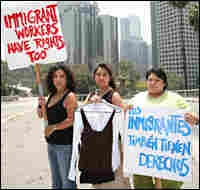 More on 'Made in LA'
"Made in USA" is a label that is meant to inspire trust in American manufacturing. But a new film about the Los Angeles garment district documents the struggles of immigrants who work long hours in poor conditions for sub-minimum wages.
Filmmaker Almudena Carracedo shadowed three garment workers as they waged a three-year battle for workers' rights. After months of protests and boycotts, the women forced a major clothing retailer to negotiate.
Carracedo's film, Made in LA, debuted Tuesday evening on PBS as part of the POV series.
Almudena Carracedo, director, producer, cinematographer, and co-editor of Made in LA