Hall and Oates Still Shaping Soul Music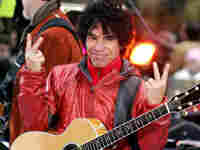 The duo Hall and Oates has been a platinum-selling rock and soul act for more than three decades.
John Oates talks to Farai Chideya about being one of the most popular blue-eyed soul groups, their continued success with black fans, and the group's influence on modern-day music.
"A lot of these newer, younger artists are paying tribute to us in a lot of ways," said Oates, "and because of that, we're starting to even collaborate with them."