Sharif Deported Hours After Arriving in Pakistan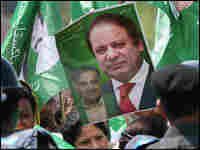 Pedro Ugarte/AFP/Getty Images
Former Pakistani Prime Minister Nawaz Sharif was deported Monday hours after returning to his home country from seven years in exile, vowing to campaign against the military ruler.
Within about four hours of stepping off a flight from London, Sharif was taken into custody and charged with corruption, but then quickly spirited to another plane and flown out of Pakistan toward Jiddah, Saudi Arabia, a close aide to President Gen. Pervez Musharraf said.
An intelligence official confirmed the information. Both officials spoke on condition of anonymity. There was no immediate formal announcement from the government.
Sharif's deportation apparently sidelines a powerful political enemy of the general. It came despite a landmark Supreme Court ruling last month that the two-time former premier, whose elected government was ousted by Musharraf in a 1999 coup, had the right to return to Pakistan and that authorities should not obstruct him.
Sharif's return was widely seen as a challenge to Musharraf's efforts to reach a possible power-sharing deal with another exiled former Prime Minister Benazir Bhutto that would allow him to extend his rule.
But Bhutto herself now will likely face growing opposition within her own party to the idea of joining forces with the military leader. Like Sharif, she wants to contest general elections due by mid-January 2008.
Bhutto said she also plans to return to Pakistan, regardless of the outcome of the talks with Musharraf. She is due to announce her return date on Sept. 14.
Sharif's brother Shahbaz said their party would submit a petition with the court to challenge the deportation.
"This will be counted as the blackest day in Pakistan's history," he told Geo TV. "I do not have words to describe my grief. This is a tragedy for Pakistan that a dictator is disregarding the people."
Musharraf's grip on power has faltered after a failed attempt to oust the country's top judge ignited mass protests, but he is still plans to seek a new five-year term in office by mid-October.
His government is also struggling to combat surging Islamic extremism that has spread from the Afghan border where al-Qaida leader Osama bin Laden is believed to be hiding.
The deportation is likely to stoke confrontation with opposition activists, who battled police Monday morning on roads leading to Islamabad airport that authorities had blockaded with trucks, tractors and barbed wire.
Police fired tear gas and supporters threw rocks in at least two locations near Islamabad and also a bridge on main highway leading to the capital from Pakistan's northwest frontier. Several people were injured at each clash, Associated Press reporters said.
"We wanted to get to the airport to welcome the person who has challenged the dictator," said Asif Ali, one of the Sharif supporters near Islamabad. "We were tear-gassed and baton-charged."
Former President Rafiq Tarar, a Sharif loyalist, said he was roughed up in one confrontation.
At least four other senior opposition leaders were also put under house arrest, officials said.
Interior Ministry spokesman Brig. Iqbal Cheema said they were arrested "to ensure the maintenance of public order," under a regulation that allows authorities to detain suspects for up to three months without charge.
Sharif was sent into exile in Saudi Arabia seven years ago after he was convicted of terrorism and hijacking charges in Pakistan following the coup. Under a deal with Musharraf, Sharif allegedly promised to stay away for 10 years. Saudi intelligence chief Prince Muqrin bin Abdulaziz Al Saud said Saturday in Islamabad that Sharif should respect the agreement and that Saudi Arabia was ready to take him back.
From NPR reports and The Associated Press
Musharraf Resignation Ends Nine-Year Reign
Who Will Replace Pervez Musharraf?
Pakistan's constitution requires the country's parliament and provincial assemblies to elect a replacement for President Pervez Musharraf within 30 days. In the meantime, the chairman of the upper house of parliament, Mohammedmian Soomro, has taken over as acting president.
There is speculation that the leaders of the two main parties in the ruling coalition, Asif Ali Zardari and Nawaz Sharif, may both be considering a bid for the presidency. Neither man has announced his intentions.
Both have said recently that they favored stripping away some of the powers that Musharraf garnered for the office during his nine-year rule, but a less-powerful presidency may also be less desirable to the political leaders.
Hours after Pervez Musharraf announced his resignation as Pakistan's president, Secretary of State Condoleezza Rice praised him as "one of the world's most committed partners in the war against terrorism." But the former general leaves office in disgrace with most of his own people, narrowly avoiding impeachment after nine years of often heavy-handed rule.
Musharraf now faces an uncertain future. Even when he had the protection of the presidency, the 65-year-old leader was the target of multiple assassination attempts by Islamic extremists. Now that he's out of power, he may be forced into exile for his own safety.
The resignation avoids a politically volatile impeachment on charges that Musharraf illegally suspended Pakistan's constitution and imposed emergency rule last November, firing dozens of judges who disagreed with him.
Some Pakistani officials feared an impeachment trial would produce embarrassing revelations about corruption in the government — and about connections between Pakistan's intelligence agencies and Islamist fighters in the country's tribal areas bordering Afghanistan.
Most of Musharraf's power derived from his control of Pakistan's army. As army chief of staff, he seized power in a 1999 coup, and he held on to his position as the country's top general until November 2007. He finally resigned his military post in the face of domestic and international pressure that painted him as a military strongman with no legitimacy as a civilian ruler.
Musharraf ultimately proved unable to control the resurgence of the Taliban and al-Qaida in northwest Pakistan. But he succeeded in convincing the Bush administration that he was the "indispensable man" – the only one who could do it.
'Indispensable' Ally
Few leaders outside the United States have seen their destinies as intimately tied to the Sept. 11, 2001, attacks as Musharraf.
Two years before the attacks, Musharraf had seized power in a bloodless coup. He was largely viewed in the West as just another ambitious general who had muscled his way to the top in Pakistan, a nation that had seen more military rulers than civilian ones in its short history.
But Sept. 11 changed all of that. Suddenly, Musharraf was on the frontlines of America's war on terrorism, with President Bush frequently invoking his name as a key ally in the fight against the Taliban and al-Qaida.
This new role, however, put one of Musharraf's leadership challenges into sharp relief: namely, how to square growing demands from the country's Muslim fundamentalists with Pakistan's tradition of nominally secular government.
This balancing act has not been an easy one for a man whose skills were honed in the military rather than political arena.
A Military Man's Rise to Power
After graduating from the Pakistan Military Academy, the country's equivalent of West Point, Musharraf was commissioned in the elite Artillery Regiment in 1964 and saw action the next year against India in the second of three full-scale wars between the rival nations.
By 1971, when India and Pakistan would come to blows again, Musharraf was a company commander in the Special Service Group "Commandos."
In the coming years, he commanded both infantry and artillery divisions and filled various staff positions. As army chief of staff, Musharraf played the lead role in orchestrating a conflict with India in the rugged mountains of Kargil, Kashmir, in 1999. The handling of the conflict, which brought the two nations to the brink of a fourth all-out war, led to disagreement between the military and the government of Prime Minister Nawaz Sharif.
The tension between the government and powerful military prompted Sharif to dismiss Musharraf as army chief of staff in October 1999, while Musharraf was out of the country. On Musharraf's return to Pakistan, Sharif refused to allow his plane to land, forcing it into a holding pattern above Karachi airport. But a coup led by generals loyal to Musharraf toppled Sharif's government and allowed the plane to land.
Sharif and his predecessor as prime minister, Benazir Bhutto, were widely viewed as corrupt, and many Pakistanis initially believed Musharraf's power grab marked an opportunity to put the country on the path to stability.
Musharraf also seemed eager to shed the outward appearances of military rule, preferring to appear in public in a western-style suit rather than his medal-clad general's uniform.
Despite Musharraf's early efforts to downplay the authoritarian nature of his rule, it took the nation's Supreme Court, in a May 2000 ruling, to force a return to parliamentary elections. Even so, President Gen. Musharraf maintained a firm hand on the reins of government.
From Pariah to Ally
During the 1980s, Pakistan had been a key U.S. partner in efforts to drive Soviet forces out of Afghanistan. Islamabad was enlisted to funnel American-funded weapons and technical support to mujahedeen fighters, some of whom went on to form the Taliban and al-Qaida, in the fighters' battle to end Moscow's decade-long occupation.
As the Cold War drew to a close, however, Pakistan was increasingly seen as an economic basket case with little promise of political stability. The Musharraf-led coup reinforced the notion. Meanwhile, the economic clout of Pakistan's bitter rival, India, was increasingly on the radar screen of Washington policymakers.
But Islamabad's fortunes were revived by the attacks of Sept. 11, 2001, and almost overnight, Musharraf went from pariah to ally. Pakistan's cooperation was imperative for any U.S. intervention in Afghanistan, and Musharraf was quick to oblige.
An attack on the Indian parliament building in December 2001, which India blamed on Pakistani militants, brought relations with New Delhi to a new low. The attack was quickly condemned by Musharraf.
The whereabouts of Osama bin Laden also presented continuing headaches for Musharraf's government. Despite intelligence reports that the al-Qaida leader is being sheltered by locals in western Pakistan — a hotbed of Muslim extremism — Pakistan's army has been unable to find him.
Musharraf's alliance with the United States angered religious fundamentalists in Pakistan, some of whom wanted a Taliban-style Islamic government in Islamabad and viewed their president as a puppet of Washington.