Hagel Departure Adds to List of GOP Woes
Eric Francis/Getty Images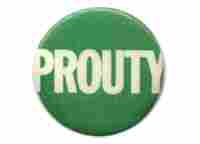 Sen. Larry Craig (R-ID) remains the fodder of would-be comedians everywhere, but when all is said and done, his Senate seat will almost assuredly remain in Republican hands. Despite the flurry of excitement of last week, it still seems inconceivable that the three-term Idaho senator will recant on his decision to resign his seat by the end of the month. In what will most likely become an orderly transition, Gov. Butch Otter (R) will name a Republican replacement for Craig (perhaps Lt. Gov. Jim Risch); that person will be the GOP nominee for the seat in 2008, and he will win comfortably. End of story.
Idaho is the least of the party's worries. Since Craig's political career imploded (see Aug. 29 column), two Republican senators have decided to call it quits. In Virginia, 80-year-old Sen. John Warner announced on Aug. 31 that he would not run for a sixth term. And today, Nebraska Sen. Chuck Hagel announced he has had enough. No third term, and no bid for the White House either (as he had earlier hinted — see March 14 column). Both the Warner and Hagel decisions are bad news for the GOP, which already has the unenviable task of having to defend 22 of the 34 Senate seats up in 2008. Both were clear favorites had they run again.
With Warner gone, Virginia Republicans could find themselves in an ideological slugfest for the nomination. Rep. Tom Davis, a moderate who has always said he would run if Warner retired, is all but in the race. His brand of politics works fine in his Democratic-leaning district (the northern Virginia suburbs outside of Washington, D.C.), but statewide might be another matter. Conservatives don't particularly like him and are not about to cede the nomination to him. They will assuredly rally behind someone on the right, most likely former Gov. Jim Gilmore, a recent casualty of the presidential contest.
It's a different story on the Democratic side. The Dems' dream candidate is Mark Warner, also a former governor, who left Richmond after 2005 with extremely high approval numbers and who toyed with a presidential bid until last year. (He is no relation to John Warner, whom he challenged in the 1996 Senate race and came within 120,000 votes of defeating.) The Senate nomination would be his if he wants it, and, some say, that goes for the general election as well. But the question is whether or not he wants it; he is also thought to be eyeing a return to the governorship when it comes up in '09. There is a tremendous deal of pressure to get him to decide on a Senate bid.
Hagel's decision to quit in Nebraska could also open the doors for a comeback by Democrat Bob Kerrey, a former senator and governor who has been holding the fort in NYC as president of New School University. As rumors of Hagel's retirement had been circulating in recent months, Kerrey — who sought the Democratic presidential nomination in 1992 — said he would not rule out running for the seat. (He also said that if Hagel were to run again, he would contribute to his campaign.) If Kerrey is a no-go, Omaha Mayor Mike Fahey would be a potential candidate. On the Republican side, state Attorney General Jon Bruning had already indicated that he would challenge Hagel in next year's primary. But with the incumbent now stepping aside, the GOP establishment might prefer a different candidate, perhaps U.S. Agriculture Secretary (and former governor) Mike Johanns.
These are two seats that in the blink of an eye went from Safe Republican to Up for Grabs.
And there is tremendous irony in the party's deep disappointment over Warner and Hagel's decisions to leave. Neither was particularly loved by conservatives. Warner has often clashed with the right, dating back to his 1987 vote against confirming President Reagan's choice for the Supreme Court, Robert Bork. There was also his active campaigning against Oliver North, the party's 1994 Virginia Senate nominee, and his vote against convicting President Clinton over the Monica Lewinsky matter in 1999.
Hagel, a solid conservative, has nonetheless fallen into disfavor with many in the party over his strong criticism of President Bush's handling of Iraq. While he initially voted to give the president the power to remove Saddam Hussein, Hagel has grown increasingly disenchanted with the course of the war, criticizing Bush and his party, and even joining those (mostly Democrats) who want a pullout of U.S. troops by next spring. Both Hagel and Warner have given many Republicans countless sleepless nights and gray hairs. But boy do they wish the two were running for another term.
And with that, I take your questions.
Q: Does Fred Thompson's presidential candidacy split the conservative vote, giving Ron Paul a real chance at winning the nomination? — Don Venardos, Thousand Oaks, Calif.
A: I'm not sure what Fred Thompson brings to the race, but we should see pretty soon if the hype behind his candidacy — and his impressive polling numbers — is justified. While the eight other Republicans have been spending money and beating each other up in debates, the wily Thompson has been very happy talking to the folks at Fox News, blogging away on his Web site, and doing radio commentaries. At some point he is going to be challenged, on everything from his lobbying activities to the vagueness of his campaign statements. There has been lots of ink written about his campaign staff upheavals and his disappointing fundraising. I'm very interested to see if voters will dismiss the widespread doubts about Thompson that seem to have infested most political journalists.
I don't know whom he hurts or helps. But there is a widespread feeling that Thompson might have been able to make a bigger impact had he jumped in the race in early summer, when questions about Mitt Romney's true philosophy might have led the way for Thompson to sell himself as the "real" conservative in the race. Such questions about Romney continue, but he has opened up an early but strong lead in both Iowa and New Hampshire thanks to deep pockets and strong organization, and Thompson has more catching up than perhaps he needed to.
Ron Paul's take on Thompson's candidacy is simpler. Asked at last week's debate what effect Thompson will have, Paul said that it's just one more pro-war Republican who will split the pro-war vote, ultimately helping Paul's chances at the nomination.
And speaking of Paul — which we did at length in our July 26 column— here are some opinions of the Texas congressman:
From Paul Landis of Chicago: "It seems clear to me that with every debate, Ron Paul edges closer to the Republican nomination. I'm not a Republican myself — I'm more of an independent — but Ron Paul is the only candidate I could get excited about for next year."
From Daniel Kurikesu of Detroit: "According to the results of the Fox News post-debate messaging poll where only one vote was allowed per phone, Ron Paul was a clear winner. He had more than double the votes of each of the 'top tier' candidates. You should have Congressman Paul on your Political Junkie segment on Talk of the Nation."
From Steve Koval of San Mateo, Calif.: "For all those who think Ron Paul or any other of the fringe candidates have a shot at the nomination, I have a simple way to test that belief. Put up $200 that he will win the nomination. I'll take the other side of that bet. And I'll enjoy a first-class meal toasting Ron Paul's campaign while they eat crow."
Q: I see that the late Michigan Gov. George Romney — Mitt's father — was born in Mexico. So how was he able to run for the Republican nomination in 1968? — Dale Patterson, Ajax, Ontario, Canada
A: While Article II of the Constitution states that one must be a "natural-born citizen" (in addition to being at least 35 years of age and a resident of the U.S. for at least 14 years) to be president, there is the sense — though never tested in the courts — that being born abroad to American parents would be considered to be "natural born." Romney was born in Chihuahua, Mexico, to American Mormon missionary parents.
Q: In your June 6 column, there was a reference to Dean Barkley of Minnesota running in 1996 as a "future senator." His name is not familiar to me. Who is he? — Eli Taub, Los Angeles
A: After Sen. Paul Wellstone (D) died in a plane crash on Oct. 25, 2002, Gov. Jesse Ventura (I) appointed Barkley, who had been his campaign manager and a veteran of the Minnesota Reform Party, to the vacancy. Barkley had earlier run for the Senate as a third-party candidate in '94 and '96. Barkley served only from Nov. 5, 2002, until Jan. 3, 2003, when Norm Coleman (R), who won the seat in 2002, was sworn in.
MASSACHUSETTS 5TH DISTRICT (Sept. 4 primary): This is for the seat vacated by Rep. Marty Meehan (D), who apparently got tired of waiting for an opportunity to move up to the Senate and instead accepted the post of chancellor at the University of Massachusetts at Lowell. The Democratic nomination went to Niki Tsongas, the widow of Paul Tsongas, who held this seat for two terms before winning a Senate seat in '78. In a contest that became closer than polls indicated, Niki Tsongas defeated Lowell city council member Eileen Donoghue, 36-32 percent, with three other candidates trailing. The GOP nod went to Jim Ogonowski, a retired Air Force officer whose brother was the pilot of hijacked Flight 11, which rammed into the World Trade Center on Sept. 11. Tsongas and Ogonowski square off in the Oct. 16 special general election. Republicans haven't won this seat since 1972, when they defeated a fellow by the name of John Kerry.
IN PASSING: Two Republicans, one a current member of the House and one a former member, both died on Sept. 5. Rep. Paul Gillmor (R-OH 5th), 68, had represented northwest Ohio (Bowling Green) in the House since 1989. Previously he served as Ohio state Senate President, and in 1986 sought the GOP nomination for governor.
Jennifer Dunn (R-WA), who did not seek re-election in 2004, was one of the first women ever to be part of the Republican House leadership. Previously she served as the Washington State GOP chair, where she had to referee the battles between the Christian conservative and more moderate wings of the party. In June of 2001 — which also feels like a lifetime ago — I did a tongue-in-cheek piece for NPR's Morning Edition about an ice cream social in the Capitol, sponsored by then-House Rules Committee chair David Dreier (R-CA). Jennifer Dunn was one of the lawmakers who played along with me — a straight-faced discussion about taking fat out of government but not out of ice cream.
Passing away on Thursday was the Italian tenor Luciano Pavarotti. He merits mention in this column not for any political accomplishments. And, having been born in Modena, Italy, Pavarotti had no plans to run for president. But, alas, a button exists, and that's good enough for us.
ON THE CALENDAR:
Sept. 11 - Baltimore mayoral primary.
Sept. 20 - Democratic presidential forum in Davenport, Iowa, hosted by Iowa AARP.
Sept. 21-22 - Republican Leadership Conference in Mackinac Island, Mich.
Sept. 26 - Democratic presidential debate, Dartmouth College, Hanover, N.H. (MSNBC).
Sept. 27 - Republican presidential debate, Morgan State University, Baltimore (PBS).
WE'RE ON THE AIR EVERY WEDNESDAY: Reading this column is bad enough; you can also hear a "Political Junkie" segment every Wednesday on Talk of the Nation, NPR's live call-in program, at 2:40 p.m. ET. If your local NPR station doesn't carry TOTN, you can still hear it on the Web.
IT'S ALL POLITICS: That's the name of our weekly political podcast. It's a combination of brilliant analysis and sophisticated humor, hosted each week by NPR's Ron Elving and myself. It goes up on the Web site every Thursday. (Ron was out last week, so I played the straight man for that wacky Linda Wertheimer!)
******* Don't Forget: If you are sending in a question to be used in this column, please don't forget to include your city and state. *********
This day in political history: Vermont Sen. Winston Prouty (R), first elected in 1958 following four terms in the House, dies at the age of 65 (Sept. 10, 1971).
Got a question? Ask Ken Rudin: politicaljunkie@npr.org