Sept. 11 Message Challenges Young Imam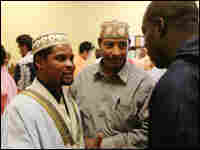 Sheikh Rashid Lamptey has been wrestling with this sermon for weeks. It's not just any Friday sermon, after all. It's the one he'll be delivering just before Sept. 11.
"It's a day of great disaster to the entire country," said Lamptey, imam at Dar Al Noor mosque in Manassas, Va. "A disaster for the Muslims as well, actually. And so it is a day of great importance to me."
The young imam jumped from his chair, plucked a leather-bound Koran from the shelf and began flipping though the pages. He has the kernel of the sermon; now to find the verses. He opened the Koran to the chapter of Isra, verse 33, and traced the Arabic with his finger:
"We are not permitted to kill. Killing is not right. And whoever kills somebody intentionally, his reward is hellfire," he read.
Four hours later, the imam had honed the sermon, or khutba. He paced in front of 300 men and women sitting on the floor of the mosque in rapt silence. Even the babies keep still. His delivery was emphatic.
"Whoever kills somebody out of hatred and animosity and sin and aggression," he said, quoting the Koran in English and Arabic, "I will cause this person to taste hellfire. Whoever kills somebody out of aggression and hatred, I will cause that person to taste hellfire. This is what Allah says, and that is very easy for Allah to accomplish. That is not very difficult."
Bombing buildings in America and trains in Britain violates a central law of Islam, Lamptey said. But more than that, each act of aggression rains down punishment on every innocent Muslim in this room.
"We hate stereotyping," he continued. "We hate to be treated as different people. We are citizens of the United States of America and we want to be treated as such. Let us also behave like citizens of the United States of America. So let us show the true quality of a true believer, so that when people look at you, they will know you are a Muslim, indicating that you are a better person."
In other words, a true believer must be without a whiff of misconduct.
After the sermon, the crowd gathered around him like a rock star, waiting for a chance to talk. Member Tareq Kakar said he heartily agrees with the message. But as the dreaded anniversary rolls around for the 6th time, Kakar said he's weary of guilt by association.
"We still have to look over our shoulder," he said. "I've had eggs thrown at my car. They are definitely making more comments about my wife," who covers her hair. "And that's unfortunate. But it is a reality."
Kakar said when you add to the Sept. 11 anniversary the 2008 political campaign, you have a perfect storm of anti-Muslim rhetoric. People here were rankled when Democratic candidate Barack Obama said he would send troops into Pakistan to chase Osama bin Laden. On this day, most of the buzz is about a comment Republican Tom Tancredo made on a Florida radio station. In an interview, Tancredo suggested the U.S. could bomb Muslim holy sites in retaliation for a terrorist attack by Islamic extremists.
"If you're trying to provoke Muslims," said Mubarikah Faruk, who's been a member of the mosque for a year, "then you are already doing half the job, because they're already provoked since 9/11. Or are you putting more petrol on the fire?"
Faruk said candidates should be courting Muslims, not tarring them.
Most of the congregants at Dar Al Noor said the imam hit just the right note in his message, but not all. After the sermon, a young man approached Sheikh Lamptey and mentions a movie called Loose Change that claimed the U.S. government carried out the Sept. 11 attacks, not Muslims.
"I want to tell people, we're not the ones to blame," he told the imam. "Your government set you up, not us."
As a small crowd forms around the two men, the imam cuts him off. Muslims perpetrated the Sept. 11 and other terrorist acts, Lamptey said firmly, and that is anathema to Islam.
"We fight those who fight us," he counseled the man. "We don't go out there and look at people who are not fighting us and then throw things and kill them. I'm educating the Muslims not to even condone that, because that makes our lives miserable, that goes against our religion. That's not what our religion teaches."
Later, Imam Lamptey said he's not surprised to hear this theory, even at Dar Al Noor, whose members are highly educated and mainstream.
"In fact I wasn't surprised that somebody would show some sort of resentment to what I said," he acknowledged. "I expected a lot of opposition from some people, but fortunately it seems my message went home."
He rose from his chair; it is time for evening prayers.
Six years after that pivotal day, the imam's message to his fellow believers is this: The way to win over Americans is not with violence but faithfulness and patience.