Wounded Soldier's Care Tangled in Military System
Wounded Soldier's Care Tangled in Military System
This is the second of a two-part report.
Hear Part 1 of This Report
Reece Hinkle on Receiving Her Husband's Photo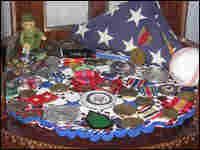 Four months after Army Spc. Ronald Hinkle left his ranch and family in Colorado to serve his country in Iraq, he was injured in an IED blast. He now suffers from a traumatic brain injury and is unable to think clearly. He suffers from seizures and cannot be left alone.
Ron's wife, Reece, quit her high-paying job to care for him. They live on their Byers, Colo., ranch with their two daughters, Rebecka, 14, and Cally, 13, and Reece's mother, Lois White.
The Hinkles' home is filled with memories. Photographs and display cases chronicle a military career cut short by the bomb blast. There's a Purple Heart and a Bronze Star, and a special Army snapshot Reece was only supposed to receive if Ron never made it home. Reece said it took her a long time to even look at the photo. But over time, she has come to see the picture as an achievement: Not many families who receive the photo end up seeing the soldier pull through injuries.
"You know, we conquered a hurdle that very few do," she says.
Ron Hinkle survived his wounds, but he'll probably never work again. Meanwhile, Reece has serious health concerns of her own: She awaits a kidney and pancreas transplant. And their two daughters are just past bouts with cancer. That means that, along with a plunge in income, the family is dealing with crushing medical bills.
Roger Stradley is a retired Army command sergeant major who now directs a military family support group called USACares. Stradley predicts that the Hinkles will lose their family ranch.
"When we first heard the [Hinkles'] story, it was just incomprehensible that so many things could happen to a family in such a short period of time," Stradley says. "It was not to be believed."
Tangled System
Some of the things that went wrong are beyond the Army's control, but some are not. Confusing advice put the Hinkles in the wrong military insurance plan, leaving them with $18,000 in family medical bills. Misinformation left them with $5,000 in unpaid travel expenses for Ron's medical care. Bureaucratic errors cost Ron half his military pay last month. And the Army failed to properly document Ron's war injury, costing the family $70,000 in special payments reserved for wounded soldiers.
The Hinkles may never see most of this money. And that has them at the brink of financial ruin.
Stradley sees military families struggling like this all the time. A big problem seems to be the Army's reliance on an injured soldier's regular unit for family and logistical support, once the soldier is out of the hospital. It's all left to rear detachment commanders, like Capt. Matt Staton, who commanded Ron Hinkle's home unit until he retired from Fort Carson last month.
Staton himself suffered a traumatic brain injury, complicating his rear detachment work.
Staton says that the Hinkles were somewhat isolated from the military support system because they live 120 miles from Fort Carson, Colo. And Hinkle's wounds in Iraq weren't recognized as serious until he was home on leave and was rushed to a civilian hospital, 70 miles from the base.
Deborah Berthold focused on the Hinkles when she worked for the Army's new Wounded Warrior program, an attempt at providing systematic support. She said there was no single agency or organization that was able to look at the whole picture and provide them services.
"I don't think any one person understood the scope of what was going on in this family's life," Berthold said. "I don't think they fell through the cracks. I think their situation was unique," Berthold said.
The Army has an even newer program called the Warrior Transition Unit. It gathers wounded soldiers in special units devoted solely to them and their families. But that won't help Hinkle, who retires from the Army this month.
'Good Enough to Fight'
Although Hinkle generally shrugs his shoulders at his problems, his family is frustrated.
"Basically what the military made us feel like is, 'You're good enough to fight for me, but you're not good enough for me when you lay down on the bed and you're dying,'" said Rebecka.
The Secretary of the Army and the senior command at Fort Carson declined to speak with NPR for this story. But they seem to be trying now to fix the mistakes. USACares and other groups have been raising money and providing other assistance.
But it all may be too late to keep the Hinkles from losing the life Ron fought to protect.
This story was produced for broadcast by Marisa Penaloza and edited by Andrea de Leon. Part 1 of this report looked at the Hinkles' life after the IED blast.
UPDATE: Since NPR spoke with Hinkle last month, his financial situation has become more precarious. He is now owed two paychecks from the Army. It's not clear when the checks will resume or whether he'll receive back pay. The family is missing close to $2,500 in back salary. In addition, last week Hinkle was notified by the finance department at Fort Carson that a $3,000 enlistment bonus will not be honored because "he failed to fulfill his contract" due to his injury in Iraq.