1980 Race Set Tone for Richardson's Political Future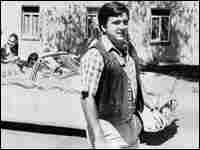 Courtesy Albuquerque Tribune
Read about Bill Richardson's political career and his prospects as a presidential candidate.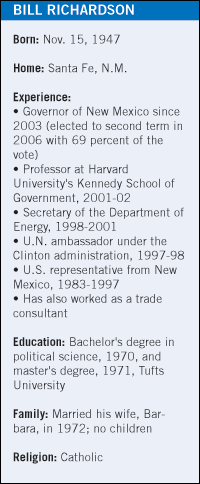 In New Mexico, few people remember Bill Richardson's first campaign. It was in 1980, just two years after he came to the state from Washington, D.C. The son of a Mexican mother and a naturalized American father, Richardson was a Senate staffer when he talked his way into the job of executive director of the New Mexico Democratic Party. Jerry Apodaca was governor of New Mexico at the time. He warned Richardson the job didn't pay much and might not last.
"He said, 'Well, I'll take that chance,'" remembers Apodaca.
Sure enough, less than a year later, there was a new governor running the party and Richardson was out of a job. But it didn't matter; Bill Richardson had really come to New Mexico to run for office.
"I think he was just looking for something to hold him off, or hold him over until he had that opportunity," says Apodaca.
Tallying the Handshakes
The opportunity came the very next year, when he decided to challenge Manuel Lujan, a popular incumbent Republican congressman, who had won six times with big margins in a Democratic district. Lujan remembers the young Richardson well.
"He saw an opportunity," says Lujan. "He was looking around the country to see where he would fit best. So he spoke Spanish, he saw a Democratic district."
Lujan says he didn't take Richardson seriously in 1980, but the newcomer worked hard.
"That's the main thing I remember about him then and now," recalls Lujan. "He is a tireless worker — works early morning to late at night."
Richardson spent much of that time shaking hands.
"Anywhere you went there was Bill Richardson shaking hands," says Jerry Apodaca. He remembers one football game, where Richardson kept a counter that tallied all the handshakes he was involved in.
Richardson set a goal of 1,000 handshakes a day, then 2,000. He was everywhere in the district, which took up most of northern New Mexico, including Albuquerque and Santa Fe. He raised a lot of money and won the Democratic primary.
Richardson lost in November. But in a heavily Republican year, Lujan beat him by just one percent of the vote. "He outworked me, no question about that," says Lujan.
Ready for the Next Opportunity
Richardson's campaign impressed nearly everyone and it set the stage for what came just two years later. As Jerry Apodaca says, it didn't take a genius, even before 1980, to realize that New Mexico's population growth would bring it a new congressional seat.
"I guarantee you," Apodaca says, "when Bill Richardson was in Washington, D.C., scouting around where to look and he looked at New Mexico, he probably saw it then."
Richardson ran again in 1982 in a brand new, wide-open district. He won by nearly two-to-one. Once again, his trademark was energetic retail campaigning — just like he does now.
"New Hampshire is very grass-roots oriented, like New Mexico," Richardson recently told a New Hampshire TV interviewer. "It's a small state. Voters want to see you face to face. They don't want to see you on TV ads or in big gyms. They want to touch you. They want to ask you questions."
That may be one reason Bill Richardson was the first to pledge not to campaign in states if they leapfrog Iowa and New Hampshire. He knows his best chance to keep his campaign alive is to finish near the top in those two states. And the way to do that is by doing what he knows best: meeting voters and shaking hands like it's 1980.