Chef Shares Tips for Netting Freshest Catch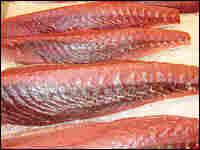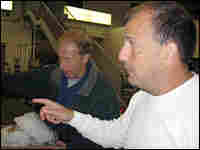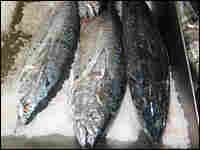 Over the summer, seafood chef David Pasternack paid NPR a visit. He owns Esca, a popular seafood restaurant in New York City. His signature dish there is crudo — raw fish served Italian style, with a drizzle of olive oil and lemon juice and a sprinkling of salt.
Now, Pasternack takes Michele Norris on a 2 a.m. shopping trip at the Fulton Fish Market in the Bronx and shares advice on picking up fresh seafood.
The 400,000-square-foot warehouse is filled with rows and rows of fishmongers, and it is freezing. Everything is on ice, since freshness is key. Scores of forklifts, stacked high with crates, buzz around like dragonflies, forward and backward.
Pasternack is right at home, greeting various vendors by name and getting the rundown of what's available.
For whole salmon, the chef advises looking for intact scales that have a natural slime. Touch the fish: It should be nice and firm. For filets, he says to look for firm flesh that has a clear shine to it.
The best cut is the belly, Pasternack says. It has more fat and therefore is tastier and more forgiving when it's cooked — it's less likely to get too dry.
For halibut, Pasternack checks the coloring of the flesh to make sure it's not milky. He wants to be able to see right through the meat.
One of the worst things you can do while shopping for seafood is to come to the market already set on what you plan to buy.
"You can't always go to a store and say, 'OK, I'm going to buy swordfish.' If the swordfish doesn't look good, maybe you should try something else," Pasternack says.
Another piece of advice: Fish should be kept well chilled.
When it comes to seafood, Pasternack says 50 percent to 75 percent of what you buy is the quality of the purchase. The other 25 percent to 50 percent is how you handle it.
But Pasternack's No. 1 rule is get to know the person who handles seafood at your local market. Find out what they would serve with pride at their table, and don't be shy about asking questions and requesting special cuts.
Albacore Crudo with Caperberries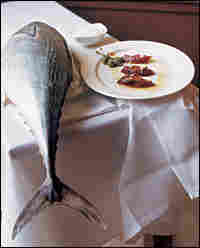 Albacore tuna is the same species used in common canned tuna like Bumble Bee and Chicken of the Sea. It's fished in local waters on the East Coast in the summer, so that's when I serve it at the restaurant. It's a fatty fish, and that fat gives albacore a ton of flavor. I like to serve it as crudo with caperberries, which add just the right touch of acidity. Serves 6
3 lemons, halved
1 pound albacore fillet
Fine sea salt
Freshly ground black pepper
High-quality extra-virgin olive oil, for drizzling
16 Sicilian caperberries
Put a small puddle of lemon juice — about 1 tablespoon each — in the center of six small serving plates then drizzle the lemon juice around the sides of the plates. The lemon juice is put under the fish so that it will not discolor it.
Slice the albacore thinly. Arrange the slices on the serving plates atop the puddles of lemon juice.
Sprinkle a few crunchy grains of sea salt on each slice of fish. Follow with a light grinding of black pepper on each piece and then a light drizzle of high-quality olive oil over the top. Add 4 caperberries to each plate and serve immediately.
Fluke with Sea Beans and Radishes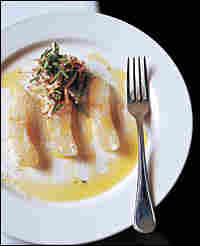 Fluke is fished year-round where I live, even though it is also known as summer flounder. Although it's a common, relatively inexpensive fish, fluke actually makes the most surprisingly tender, cleanly flavored, and firm-fleshed crudo. Sea beans are those weird green things you see right off the shore at the beach. They add great crunch and saltiness to the dish. If you can't find sea beans, use additional thinly cut radish slices instead. The radishes add just the right touch of acidity. Serves 4
4 ounces sea beans
4 ounces radishes, cut into matchsticks
Coarse sea salt
Juice of 1/2 lime
One 8-ounce fluke fillet
High-quality extra-virgin olive oil, for drizzling
In a small mixing bowl, combine the sea beans, radishes, a pinch of sea salt, and a squeeze of lime juice.
Using a knife with a thin sharp blade, begin cutting the fluke into thin slices on the diagonal. Transfer the slices to four serving plates as they are cut, forming a fan pattern, about four slices per plate.
Place a small mound of the sea bean salad on top of the fanned fluke in the center of each plate. Drizzle each serving with olive oil and a sprinkling of sea salt. Serve immediately.
Tips for Sourcing Crudo Ingredients
David Pasternack, chef at New York City's Esca, offers advice on places to find high-quality ingredients for crudo.
Favorite Olive Oils:
Primo D.O.P. Extra Virgin Olive Oil
Whole Foods Stores Nationwide

Olio Verde Olive Oil (Sicilian)
Manicaretti Food Imports
5332 College Ave # 200
Oakland, CA 94618
(510) 655-0911
Favorite Wines to Pair with Crudo:
2003 Bastianich Tocai Plus (Friuli, Italy)
Verdicchio dei Castelli di Jesi (Marche, Italy)
Favorite Fish Purveyors for Crudo Fish:
Browne Trading Company
(800) 944.7848

Honolulu Fish Company
(888) 475-MAHI
Favorite Sicilian Sea Salt:
Di Palo Fine Foods
200 Grand Street
NY, NY 10013
(212) 226-1033
Recipes: 'The Young Man and The Sea'
Back to Main Story
Get more recommendations from T. Susan Chang.
These recipes appear in The Young Man & the Sea: Recipes & Crispy Fish Tales from Esca by David Pasternack and Ed Levine, Artisan, 2007.
Related NPR Stories
Web Resources