Patriots Punished in Video-Spying Scandal
Patriots Punished in Video-Spying Scandal
The NFL will fine the New England Patriots $250,000 and their coach, Bill Belichick, $500,000 for videotaping the New York Jets' signals last Sunday. The Patriots will also lose a first-draft pick. Michele Norris talks with Wall Street Journal sportswriter Stefan Fatsis.
MELISSA BLOCK, host:
From NPR News, this is ALL THINGS CONSIDERED. I'm Melissa Block.
MICHELE NORRIS, host:
And I'm Michele Norris.
He's been fined $500,000 by the NFL. His team will pay a fine and lose their first draft pick. So it wasn't much of a surprise today when New England Patriot's Coach Bill Belichick went before the media. He made it clear, over and over again, that he didn't want to talk about spying on opposing coaches with video cameras.
Mr. BILL BELICHICK (Coach, New England Patriots): It's over. I'm moving forward and we're moving on. All my energy is on the San Diego Chargers. It's in the past. We're done with it. It doesn't matter. And we're moving on. I said what I have to say about, I'm moving forward. I'm moving on.
NORRIS: He's moving on. The Patriots were caught secretly videotaping the New York Jet's defensive signals last Sunday. In a written statement, Belichick called that a mistake. And since it's Friday, we called Wall Street Journal's sportswriter, Stefan Fatsis, to talk about this. Hello, Stefan.
Mr. STEFAN FATSIS (Sportswriter, The Wall Street Journal): Hey, Michele.
NORRIS: Bill Belichick says it was a mistake. Was it?
Mr. FATSIS: What's the opposite of a mistake? In the NFL, everything, and I mean everything, is coordinated to within an inch of everyone's sanity. Coaches like Belichick are control freaks, they're granted virtually blanket power and they command the kind of respect and fear that you'd associate with a third-world dictator. This was, as Commissioner Roger Goodall said, "a calculated and deliberate attempt to gain a competitive advantage in clear violation of league policy."
NORRIS: Now, it might help to explain, Stefan, what Belichick and the Patriots were accused of trying to do, that is decoding the signals that defensive coaches relay from the sidelines to the field. Doesn't this happen anyway?
Mr. FATSIS: Yeah, it does. And in broadest terms, this is what teams do. They spend the week leading up to games trying to predict what the opposition is going to do, and then designing plays and formations that they think will work best. That's why coaches and scouts spend so many hours deconstructing videotapes. And they also do study signals. There are members of the coaching staff who sit in a booth on the stadium press level with binoculars writing down signals and trying to match them against what happens on the field.
But coaches try to mask their signals by sending in maybe two or three different sets of them. It is hard to break the code. But if you do, it can help. And I don't think you can legislate against watching the game, and you shouldn't. But taking video close up on the field level kind of makes that strategizing pointless.
NORRIS: Apparently, there were rumors throughout the league for years that the Patriots had been doing this kind of thing. Why wouldn't they have been caught before now?
Mr. FATSIS: Well, one reason, I think, is just the chaos of the sidelines. There are well over 100 people on each side of the field, players, coaches, equipment managers, trainers, doctors, ball boys, photographers, TV cameramen. TV cameramen wear NFL-issued vests, but those are not hard to come by. Any organization can grab one or two of them and slip them on one of their employees. According to one report, six teams, including the Jets, have complained in the past to the NFL about the Patriots. But you need a smoking gun.
Jet's coach Eric Mangini and the Jet's video director worked under Belichick in New England. They knew the Patriots had done this in the past. And according to some media reports, Mangini was on the lookout and just waited for the right time to ambush his old boss.
NORRIS: So what's the reaction around the league and what might this mean for Belichick and the Patriots?
Mr. FATSIS: Well, I talked to a couple of assistant coaches this morning. Neither was surprised. Belichick is considered tactically brilliant. He looks for edges in places that others don't. But his organization is viewed as arrogant. And what he did here is so clearly against the rules in a very rules-bound league, that there is a fair amount of gloating going on. Mostly, coaches are wondering about specific games that their teams have played against the Patriots, including, at least, one or more of their Super Bowl victories.
NORRIS: Does the punishment fit the offence?
Mr. FATSIS: I think it's a slap on the wrist. Goodall suspended an assistant coach who bought human growth hormones for five games. He suspended players for up to a year for running afoul of the law off the field. Here, you've got an organization trying to win games by cheating. Now, the loss of the draft pick will hurt a little bit. The money, though, is largely meaningless. And it feels, to me, like the commissioner is just not coming down as hard on management as he has on the players.
Look at it this way, a Formula One racing team in Europe was fined $100 million yesterday for obtaining a secret dossier that belonged to a rival. I think a slightly larger fine against the Patriots might have served as a better deterrent.
NORRIS: Thank you, Stefan. Have a good weekend.
Mr. FATSIS: Thanks, Michele.
NORRIS: That's sportswriter Stefan Fatsis who covers sports and the business of sports for the Wall Street Journal.
NPR transcripts are created on a rush deadline by Verb8tm, Inc., an NPR contractor, and produced using a proprietary transcription process developed with NPR. This text may not be in its final form and may be updated or revised in the future. Accuracy and availability may vary. The authoritative record of NPR's programming is the audio record.
The Wide World of Sports Cheating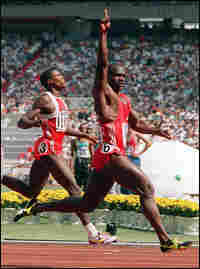 Romeo Gacad/AFP/Getty Images
The apparent widespread use of steroids — in baseball and elsewhere — calls to mind the rich history of cheating in sports.
Here are some of the most notorious instances of sports cheaters:
Chicago White Sox: Eight members of the team – forever known as the Black Sox – were barred from baseball for their role in a plot to throw the World Series to the Cincinnati Reds in 1919. Legend has it that a youngster pleaded with Sox star outfielder Shoeless Joe Jackson as he left a grand jury, saying, "Say it ain't so, Joe. Say it ain't so."
City College of New York: The school won both the NIT and NCAA college basketball tournaments in 1950. Players from four New York schools — including CCNY — were arrested and charged with shaving points the following year.
Paul Hornung and Alex Karras: Hornung, a Green Bay Packers halfback, and Karras, a Detroit Lions defensive tackle, were suspended by the NFL in 1963 for betting on their own games. They were reinstated the next year.
Dancer's Image: The only winner in the Kentucky Derby's 133-year-old history to be disqualified for using a banned substance, in 1968.
East German Athletes: As many as 10,000 East German athletes were subjected to a systematic doping program between 1968 and 1988, according to evidence in a series of court cases in Germany.
Pete Rose: Baseball's career leader in hits was banned from the game in 1989 for gambling on sports. At the time he denied that he had bet on baseball. In 2004, he admitted that he did bet on baseball while he was managing the Cincinnati Reds. But Rose said he only wagered on the team to win.
Ben Johnson: The Canadian sprinter was stripped of his Olympic gold medal in 1988 after testing positive for steroids. Johnson was then banned for life after a second positive test in 1993.
Danny Almonte: A native of the Dominican Republic, Almonte threw the first no-hitter in Little League World Series history in 2001. His feat was erased from the record books after it was discovered that he was 14 at the time, two years older than what rules allowed.
Juventus: The Italian soccer team was stripped of its title in 2006 as part of an investigation into a match-fixing scandal.
Floyd Landis: Landis' victory at the 2006 Tour de France was revoked by cycling's governing body after the revelation that he tested positive for doping. In 2007, several more riders were dismissed from the race on charges of using banned substances.
Rick Tocchet: "Operation Slapshot" snared a half-dozen NHL players who bet on pro and college sports – including Tocchet, the assistant coach of the Phoenix Coyotes and a former Philadelphia Flyers all-star. He pleaded guilty in May 2007 to charges of conspiracy and promoting gambling.
Tim Donaghy: The NBA referee bet on pro basketball games, including games in which he refereed. He also tipped off gamblers with inside information. He pleaded guilty in August 2007 to two felony charges.
Bill Belichick: The head coach of the New England Patriots was fined $500,000 — and the team was fined $250,000 — for videotaping the signals of the New York Jets during a game in September 2007. The Patriots also lost a first-round draft pick.
Marion Jones: The track star pleaded guilty in October 2007 to using performance-enhancing drugs. She apologized, retired and returned her five Olympic medals. She was sentenced in January 2008 to six months in prison.
Barry Bonds: The most prodigious home-run hitter in baseball history has been overshadowed by allegations that he is also the most high-profile user of steroids in baseball history. Bonds was indicted for perjury and obstruction of justice in November 2007. He is accused of lying under oath in December 2003, when he told the grand jury investigating the BALCO steroid ring that he never used banned performance-enhancing drugs. A report issued by George Mitchell in December 2007 mentions dozens more players as having used steroids and says their use in baseball is "widespread."