Iraq War Stirs Memories for Vietnam Vets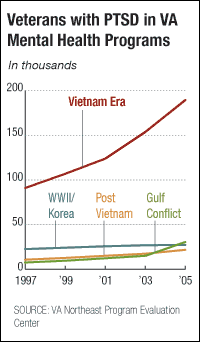 Read excerpts from letters that Jim Hale's friends sent to the Department of Veterans Affairs in support of his PTSD benefits.
Audio Excerpt of Jim Hale
Hear Jim Hale talk about how his fears about Iraq are rooted in his experience in Vietnam.
The number of Vietnam veterans seeking help for post-traumatic stress disorder has been steadily rising since the 1990s, and the rate has spiked since the United States prepared to invade Iraq in 2003.
Experts say a number of factors could be at play, including that America's present is rekindling ideas of its past and the Iraq war is triggering Vietnam memories.
For Jim Hale, a Vietnam veteran who ran electrical generators on Phu Quoc Island for the U.S. military, the Iraq war is almost like "watching a rerun" of the Vietnam War.
Since 1987, Hale has lived off the grid with his wife, Deena, in the Ozarks, 10 miles from the nearest paved road. He said that for years he thought he was doing all right.
He's always been a bad sleeper, and he tends to get nervous when he's alone at night. But four years ago, Hale got pulled emotionally into helping two old war buddies whose feelings about Vietnam were resurfacing as the United States began laying the groundwork to invade Iraq. All the while, he said, he listened to the news about Iraq on his battery-powered radio.
Then Hale, too, found feelings of anger and betrayal creeping up on him. Deena pushed him to get help.
Vietnam Veterans and PTSD
In 2003, more than 153,600 Vietnam veterans sought treatment for PTSD. Some of those veterans were diagnosed years ago; some were new diagnoses.
There are plenty of theories about the reason for the spike: from aging veterans with more time on their hands, to veterans trying to game the system for government benefits. A number of experts, including those at the Department of Veterans Affairs, said Iraq has had a role in the numbers.
John Wilson is an expert on Vietnam veterans with PTSD. He's convinced Iraq is a significant factor in the spike.
"It brings back to them their own experiences in Vietnam, and it brings back their pain and frustration since they were discharged three decades ago," Wilson said.
Wilson thinks the parallels between Iraq and Vietnam figure into it. For example, neither war offers a front or safe place, and there is often little certainty when trying to identify the enemy in the field, he says.
Steve Harris, an Arkansas psychologist who works with the Department of Veterans Affairs, said veterans of both wars have seen and done things that they can't accept.
"And that's where the problems seem to lie," Harris said.
Back of the Mind
Harris diagnosed Hale with PTSD two years ago. Hale said Iraq was the trigger that brought him in for treatment. Since his diagnosis, Hale has been going for counseling twice a month.
Hale said the counseling has helped him bring things from the back of his mind to a place where he can deal with them.
Like the time he remembered in late '68 on Phu Quoc Island.
The military was shutting down the air base and turning it over to the Vietnamese. Hale said he was one of the last airmen left on the base.
Hale remembered what they thought was enemy fire. He remembered firing his M-16 into the jungle. And he remembered finding out it was civilians — not Viet Cong soldiers — he and his buddies had shot.
"And it was so bad, the air force flew in a C-130 Medevac," Hale said.
He didn't remember much else for all those years, until he'd told the story to Harris about 10 times.
Then the rest came back to him. Hale remembered he turned his head so that he didn't have to watch the grisly scene. He said not being able to watch made him feel like a coward.
"I couldn't look," Hale said. "I told myself I'm here to guard, I'm not here to watch this happen. I'm going to turn around the face the dark. I don't have to see it."
Hale said he feels like he's dealing with it now.
And Hale is not alone. At the local VA mental health clinic in Fayetteville, Ark., the parking lot is packed with old cars and small pick up trucks — many with bumper stickers indicating the driver is a Vietnam veteran.
'Perfect Storm' Triggers PTSD in Vietnam Vets
Iraq isn't the only reason Vietnam veterans are pouring in to the Department of Veterans Affairs for help for post-traumatic stress disorder decades after the war.
While there is no empirical study examining the reasons for the large increase in PTSD cases decades after the Vietnam war, experts say a lot of hypotheses have been formed. Some of the hypotheses are based on studies that offer pieces of a puzzle. Some experts cite aging and demographics as potential reasons for the recent influx.
Ira Katz, head of the U.S. Department of Veterans Affairs mental health programs, said that many Vietnam vets might have been coping with mild or moderate post-traumatic stress symptoms throughout their lives.
"And they've lost the ability to deal with them, as their health has become affected," Katz said, "as workaholics have retired, or they've lost friends or husbands or wives."
Katz said another theory has to do with the aging brain.
"As brain changes occur later in life, the ability to keep the symptoms under control, from a neural perspective, may have been affected," Katz said.
Rich McNally is a psychologist at Harvard who helped redefine the signs of PTSD for the Diagnostic and Statistical Manual of Mental Disorders. McNally said at least some veterans may be diagnosed with PTSD when they really have depression or panic disorder.
McNally said it is possible that some veterans are exaggerating trauma histories, PTSD symptoms, or both, to obtain service-connected disability compensation.
Epidemiologist Bill Schlenger is a principal author of the National Vietnam Veterans Readjustment Study, a study of the prevalence of PTSD and other psychological effects of the war on Vietnam veterans.
Schlenger said any system with financial compensation attached to it is going to draw some people who try to take advantage of it. But, he said, "The overwhelming evidence from epidemiologic studies of Vietnam veterans is that that's a relatively minor problem."
Schlenger said the facts of those veterans' lives are likely a bigger factor.
"They're getting older, their children have grown up and gone, sometimes even their grandchildren have grown — and they're nearing or have already retired. So there's less going on in their life to distract them from their combat experience and what happened to them," Schlenger said. "The hypothesis goes, when one is less distracted, it's harder to contain the intrusion."
John Wilson, a psychologist at Cleveland State University and an expert on PTSD and Vietnam veterans, said he doesn't buy the idea that aging and retirement are major factors in and of themselves. He said he believes the war in Iraq is a major factor.
Wilson said he does know how things get revisited. For example, he notes that when Stephen Spielberg's movie Saving Private Ryan was released, World War II veterans flooded the VA for help.
"It got to the point where the VA had to create a crisis line for vets having flashbacks of their war experiences," Wilson said.
These veterans may have been approaching the end of their lives, but it's not only the issue of aging, Wilson said.
"There's the whole question of meaning. There are more existential questions about the meaning of life, the meaning of sacrifice, the meaning of what the war did to one's life," Wilson said. "In my experience with Vietnam veterans, there's not a day that goes by that they don't think about the war."
When you combine the issue of aging, Wilson said, "The search for meaning of life at this age, and the rekindling of questions about one's own war experiences because of what's going on in Iraq, you have a kind of a perfect storm to aggravate the questions of, What's this all about, anyway?"