Bid to Give Detainees Right to Appeal Falls Short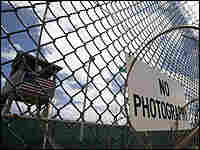 Paul J. Richards/AFP/Getty Images
The Senate on Wednesday voted against legislation that would have given Guantanamo detainees and other terrorism suspects the right to challenge their detentions in federal court.
The 56-43 vote fell four shy of the 60 votes needed to cut off debate on the bill, co-sponsored by Democrat Patrick Leahy, of Vermont, and Pennsylvania Republican Arlen Specter.
The defeat was a blow to human rights groups that say a current ban on habeas corpus petitions could lead to the indefinite detention of individuals wrongfully suspected of terrorism.
President Bush and conservative Republicans have said the ban, which was enacted last year, was necessary to stem the tide of legal challenges that were flooding civilian courts.
Six Republican senators were among those who favored expanding detainees' rights. Leahy said he would try again to repeal the ban, although he said he was not sure when he would get another chance.
"The truth is that casting aside the time-honored protection of habeas corpus makes us more vulnerable as a nation because it leads us away from our core American values," Leahy said. "It calls into question our historic role as a defender of human rights around the world."
In 2006, Congress passed and President Bush signed into law the Military Commissions Act, which established a military-run tribunal system for prosecuting enemy combatants. The provision bars habeas corpus petitions, which means that only detainees selected for trial are able to confront charges against them. That leaves most military detainees in custody without a chance to plead their case.
Sen. Lindsey Graham (R-SC), who was one of the architects of the ban, said the system includes checks and balances to determine whether a person is being held unlawfully.
In June, the Supreme Court agreed to consider whether the ban is constitutional, although no date for arguments has been set.
Specter, the lone Republican to co-sponsor the bill, has said he anticipates the court will rule the ban unconstitutional.
Habeas corpus "is a constitutional right that has existed since the Magna Carta in 1215," Specter said.
From NPR reports and The Associated Press
Senate Debates Restoring Habeas Corpus
Paul J. Richards/AFP/Getty Images
Last year, in the final days of a Republican-led Congress, lawmakers made what some consider a serious mistake.
In a law establishing military commissions, Congress did away with habeas corpus protections for all foreigners detained by the United States as suspected terrorists. That means that, unlike U.S. citizens, these people do not have access to federal courts to challenge their detention.
A bipartisan bill before the Senate would restore those habeas corpus rights, but President Bush's allies are blocking it with a filibuster that faces a make or break vote today.
Leading the push to restore habeas corpus protections for those held in places like Guantanamo Bay, Cuba, is the Democratic chairman of the Senate Judiciary Committee, Patrick Leahy.
This is a time of testing — future generations will look back to examine the choices we've made during a time when security was too often invoked as a watchword to convince us to slacken our defense of liberty and the rule of law," Leahy said.
Leahy's co-sponsors are Republican Arlen Specter and Democrat Christopher Dodd. Dodd reminded colleagues that his father, Thomas, who was also a senator, once served as a prosecutor at the Nazi war criminal trials in Nuremberg, Germany. Dodd told colleagues the Soviet Union was not alone in wanting to kill the accused Germans:
"Winston Churchill, the former British prime minister, also advocated summary executions for the defendants at Nuremberg. The United States — (former Supreme Court Justice) Robert Jackson, Henry Stimson, the Republican secretary of war under (former President) Franklin Roosevelt, Ben Rosen and others — argued as long along with Robert Jackson and my father that, no, we were different; that we're going to demonstrate to the world that civility and the rule of law was what was at stake in the war with Germany and Japan; that we were not going to succumb to the same kind of treatment that they gave to their victims," Dodd said.
Dodd failed to move Alabama Republican Jeff Sessions, who insisted the U.S is still a model for the rule of law:
"These kind of dictators and communists and Nazis, they go out and grab people and put them in jail and never charge them, never announce where they are even," Sessions said. "So, that's not what we want to do here. Never in the history, however, of the writ's existence has an English or American court granted habeas to enemy combatants held during a time of war," Sessions argued.
But Jen Daskal, the senior counterterrorism adviser for Human Rights Watch, said that is not so. Daskal said German saboteurs detained during World War II were, in fact, allowed to challenge their detention in a U.S. court.
Daskal said, like them, many current detainees were picked up far from any battlefield:
"In such a situation, the possibility of mistakes and the need for an independent check is significantly higher and critical to ensure that the United States is detaining who it says they're detaining, and that the United States is in fact detaining the right people," she said.
It will take at least 60 votes to break the Republican-led filibuster blocking the habeas corpus measure. In an almost evenly divided Senate, that could be a hard number to reach. The White House has already threatened to veto the Defense Authorization Bill if the habeas corpus issue is added as an amendment.
Arizona Republican Jon Kyl called that defense bill enormously important for U.S. troops:
"To add a totally extraneous provision amending a different bill to the Defense Authorization Bill, especially one which carries the suggestion of a presidential veto, would be the height of irresponsibility on the part of the United States Senate," Kyl said.
Whatever the outcome, the Supreme Court now plans to weigh in on the habeas corpus debate.
Primer: Guantanamo Detainees' Rights
About the Author
Anne Hawke is an editor and producer with NPR. She is a graduate of New York University's School of Law.
In a highly unusual reversal, the Supreme Court has agreed to review whether detainees at Guantanamo Bay, Cuba, can challenge their confinement in federal court by filing what is known as a writ of habeas corpus. The announcement represents a rare change of course for the nation's high court, which earlier decided not to take on the case.
Here, a guide to some of the legal issues involved:
What is habeas corpus?
"Habeas corpus" is a Latin phrase meaning "you have the body." It's an ancient concept. In old English law, it was used to refer to a judge's order (or "writ") to bring a prisoner before a court to determine whether his imprisonment was unlawful.
In modern times, death row inmates have used this process to get access to federal court to challenge their confinement. In 1996, however, Congress passed a law cutting back on habeas petitions in death-penalty cases, reasoning that those appeals had become so numerous that they were eroding the effectiveness of the death penalty.
What does habeas mean for a Guantanamo detainee?
For a detainee in the prison at the U.S. Naval base in Cuba, habeas corpus refers to the right to get direct access to federal court to challenge his imprisonment. Habeas is a process that challenges the lawfulness of how or why a detainee is confined at Guantanamo.
What is the current status of habeas review?
Detainees do not currently have access to federal courts through habeas corpus to challenge the lawfulness of their confinement. In 2005, Congress passed the Detainee Treatment Act, which eliminated habeas corpus for all detainees at Guantanamo.
The Guantanamo military tribunals, called military commissions, were created by executive order in November 2001, but in June 2006, the Supreme Court struck down the system. In October 2006, Congress passed the Military Commissions Act, establishing a new system of military tribunals to hear cases involving Guantanamo detainees. Those cases include allegations of war crimes, and determinations of whether a detainee is an enemy combatant. Access to federal court is available under the Detainee Treatment Act only if a detainee is appealing the determination of his status as an enemy combatant or a war crime conviction. (See accompanying chart.)
What has the Supreme Court said regarding habeas corpus and detainees?
The Supreme Court reversed itself Friday by deciding to hear a case involving 45 men at Guantanamo who filed writs of habeas corpus. The detainees are asking that a federal judge review whether it is constitutional to keep them locked up indefinitely as enemy combatants — without being charged or having access to lawyers.
But Congress has barred detainees from filing writs of habeas corpus. The detainees challenged that law in court, but a federal appeals court ruled against them in February. In April, the Supreme Court declined to review the appeals court's decision.
In changing course now, the high court ordered that new briefs be filed and said it would hear the cases later this year.
Meanwhile, Democrats on Capitol Hill are calling for Congress to restore detainees' rights to file habeas corpus lawsuits in federal court.
What changes are congressional Democrats calling for?
Democrats want to restore the right of habeas review to Guantanamo detainees. In early June, the Senate Judiciary Committee voted 11-8 for a proposal that would do just that. Sen. Arlen Specter of Pennsylvania was the only Republican to join the panel's Democrats in voting for the bill.
In response, the Justice Department issued a statement indicating that President Bush's senior advisers will recommend that he veto the bill.
Why does the Justice Department oppose these changes?
In a letter to Judiciary Committee Chairman Patrick Leahy (D-VT) in early June, Attorney General Alberto Gonzales said that granting detainees greater access to U.S. courts would overburden those courts. It would also delay the process of "bringing enemy combatants to justice." Quoting a 1950 Supreme Court ruling, Gonzales warned that "the extension of habeas corpus to alien combatants captured abroad 'would hamper the war effort and bring aid and comfort to the enemy.'"
Gonzales said the system of military tribunals created last year already offers Guantanamo detainees "an unprecedented degree of process."
Does the U.S. Constitution require that detainees be granted habeas review?
The Bush administration and many Republicans argue that the rights guaranteed under the U.S. Constitution — including the right to access the courts — extends only to individuals present on U.S. territory and to U.S. citizens who are terrorism suspects, not to alien detainees at Guantanamo.
Democrats and other critics of the Detainee Treatment Act argue that the removal of habeas corpus is unconstitutional. They claim that habeas is fundamental to civilized society, and that stripping Guantanamo detainees of that right has diminished America's moral standing abroad.
What other judicial processes are in place for Guantanamo detainees?
Only three cases have been brought under the new system of military commissions at Guantanamo Bay. Two of those cases were recently dismissed. In the third case, the detainee pleaded guilty and was repatriated to Australia.
Without habeas corpus, there are currently two routes to the federal courts. (See accompanying chart.) The Combatant Status Review Tribunal determines whether a detainee is an enemy combatant. The Court of Military Commissions decides whether a detainee committed war crimes. Both of those decisions are ultimately reviewable by the U.S. Circuit Court of Appeals for the District of Columbia and the Supreme Court of the United States.
To be released from Guantanamo, a detainee must either be deemed not an enemy combatant, or successfully challenge his detention on some other grounds through habeas review. If acquitted on war crimes charges, a detainee remains at Guantanamo as an enemy combatant. If convicted of war crimes, a detainee stays at Guantanamo until the end of his criminal sentence, even if the remaining detainees are released.
Sources: U.S. Department of Justice; Madeline Morris, a law professor at Duke University and chief counsel to the Office of the Chief Defense Counsel for Military Commissions.