Israel Gives Gaza 'Enemy' Status
Israel Gives Gaza 'Enemy' Status
Israel's security cabinet declares Gaza an "enemy entity," paving the way for cuts in gas supplies into the already isolated coastal strip. These and other punitive measures are a bid to isolate Hamas in response to rocket fire aimed at southern Israel.
ROBERT SIEGEL, host:
Angered by Palestinian rocket attacks from the Gaza Strip, Israel today turned up the pressure on the militant Islamist group Hamas. It declared the Hamas-controlled territory an enemy entity. The move paves the way for Israel to isolate Gaza further, cutting off fuel and other vital supplies. U.S. Secretary of State Condoleezza Rice arrived back in Jerusalem today to build support for a peace conference in November.
NPR's Eric Westervelt reports, Israel's decision could complicate her efforts.
ERIC WESTERVELT: The 1.5 million Palestinians living in the Gaza Strip are almost entirely dependent on Israeli suppliers for fuel and electricity. Today's Israeli decision to declare the Hamas-controlled Gaza an enemy entity is likely to lead a reduction of supplies to an area the World Bank warned earlier this week was sinking deeper into economic disarray.
A senior Israeli official told NPR that supplies would be cut, quote, "to hold Hamas accountable for exporting terror."
Israel's foreign minister, Tzipi Livni, addressed the issue at a joint press conference with Secretary of State Rice.
Ms. TZIPI LIVNI (Foreign Affairs Minister, Israel): We need to give an answer to daily attacks on Israel coming from Gaza Strip.
WESTERVELT: Secretary Rice pledged that the U.S. will not abandon Palestinians in Gaza. But Rice also said, Hamas, quote, "is a hostile entity to us, as well." Israel's army has been unable to halt the rocket fire from Gaza. And today's move could open the door for a broader Israeli military operation inside the territory.
Since Hamas forcibly took control of all of Gaza from rival Fatah in June, Israel's army has carried out only small in-and-out attacks inside the strip. In Gaza, Hamas official Faouzi Barhoum called the Israeli threat to curtail fuel and other basic supplies a declaration of war.
And another official, Ahmed Yousef, threatened to ratchet up the violence if Israel carries out its threat.
Mr. AHMED YOUSEF (Hamas Official): That will cause a lot of suffering to our people. We have our own way how to respond to these Israeli and making them also bleeding and suffering the ways in we are suffering.
WESTERVELT: Palestinian President Mahmoud Abbas, now a bitter foe of Hamas, nonetheless denounced the Israeli move as oppressive. And Israel's move could complicate Secretary Rice's efforts to build support for a fall peace meeting in the U.S. The U.S.-backed caretaker government in the West Bank, led by Abbas, wants the meeting to result in a clear framework and timetable for establishing a Palestinian state.
Israel's Prime Minister Ehud Olmert recently told members of his ruling Kadima party that Israel favors a far more general statement of principles. Some in Abbas's inner circle are now urging the president to skip the meeting if it won't deliver specifics. Saudi Arabia, a key regional U.S. ally, has voiced similar concerns.
Mustafa Barghouti an independent member of the Palestinian parliament, says Israel's move today could derail a meeting that Palestinians already viewed with skepticism.
Dr. MUSTAFA BARGHOUTI (Independent Member of Palestinian Parliament): What we see from the Israeli side is unfortunately an effort to abort the conference before it takes place. The Israelis have just declared that they're considering the whole area of Gaza the hostile area. They're attacking various parts of the West Bank. And Mr. Olmert has just declared that he has not in - he has no intention of reaching an agreement. All he wants is just a declaration of intentions.
WESTERVELT: Meantime, the Israeli prime minister's office said in a statement that any sanctions against Gaza would be enacted after evaluating the legal and humanitarian ramifications. A senior United Nations official warned that cutting essential services to Gaza's civilian population, like the militants' indiscriminate rocket attacks, would be a violation of international law.
Eric Westervelt, NPR News, Jerusalem.
NPR transcripts are created on a rush deadline by Verb8tm, Inc., an NPR contractor, and produced using a proprietary transcription process developed with NPR. This text may not be in its final form and may be updated or revised in the future. Accuracy and availability may vary. The authoritative record of NPR's programming is the audio record.
Israel to Cut Off Power, Supplies to Gaza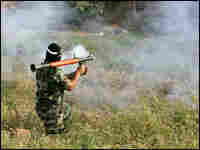 Mahmud Hams/AFP/Getty Images
Israel's Security Cabinet has declared the Gaza Strip an "enemy entity" as a first step toward cutting off power and fuel supplies to the coastal strip, a move sure to put a damper on Secretary of State Condoleezza Rice's peacemaking mission.
A statement from Prime Minister Ehud Olmert's office said Israel did not intend to provoke a humanitarian crisis and set no timetable for cutting off vital supplies to the Palestinian territory.
Rice arrived on Wednesday to mediate on key issues dividing Israel and the Palestinians ahead of a broader U.S.-sponsored peace conference.
Asked about Israel's declaration, Rice did not criticize it. "Hamas is a hostile entity to the United States as well," she
said at a news conference. "We will not abandon the innocent Palestinians in Gaza, and indeed will make every effort to deal with their humanitarian needs."
The conference tentatively is scheduled for Washington in November, but an official in the office of Palestinian President Mahmoud Abbas said the leader would ask Rice not to set a firm date for the peace gathering until it is clear he and Israeli Prime Minister Ehud Olmert can agree upon a joint statement setting out their goals.
The U.S. thinks Abbas has a freer hand to reach a final accord with Israel now that he has expelled Islamic Hamas militants from power for violently seizing control of Gaza in June. Abbas has set up a new government of moderates in the West Bank.
The Israeli Security Cabinet's declaration of Gaza as an "enemy entity" could become the most severe retaliatory measure Israel has taken recently against rocket fire from the strip into southern Israel.
"Additional restrictions will be imposed on the Hamas regime, limiting the transfer of goods to the Gaza Strip, cutting back fuel and electricity, and restricting the movement of people to and from the strip," a statement from Olmert's office said.
The statement said the sanctions would be enacted "following a legal review" and would be designed to avoid a humanitarian crisis.
Impoverished Gaza's 1.4 million people are almost entirely dependent on Israeli suppliers for power and fuel, and a cutoff would draw international condemnation.
"The objective is to weaken Hamas," Defense Minister Ehud Barak told the Security Cabinet meeting, according to one participant.
Israel's current policy of airstrikes and brief ground incursions has been ineffective. Barak said Israel was moving closer to a large-scale military operation in Gaza - an option that has not halted rocket fire in the past and would likely mean heavy casualties on both sides.
"Every day that passes brings us closer to an operation in Gaza," Barak was quoted as saying.
Hamas and Abbas' government both condemned the Security Cabinet's move.
"It is collective punishment against the people of Gaza, and discourages serious political discussion,' said Ashraf Ajrami, a minister in Abbas' government.
Sami Abu Zuhri, a Hamas spokesman, said his group would "confront the new aggression and escalation with all possible means." A cutoff of resources, he said, would doom the Washington conference.
From NPR reports and The Associated Press