Demonstrators March in Solidarity with 'Jena 6'
Thousands of people marched though the streets of Jena, La. on Thursday in support of six black teens arrested for allegedly attacking a white classmate. Blogger Shawn Williams explains how African-American bloggers have helped drive the public outcry.
Guest:
Sean Williams, publisher of the Dallas South Blog
Bloggers a Force Behind Jena Protests
For months, the story of the so-called "Jena Six" unfolded largely out of sight of the mainstream media. But in the emerging "Afro-Sphere," as some call the loose network of black bloggers, the story of six black teenagers initially charged with attempted murder in the beating of a white classmate passed from blog to blog, taking on a life of its own. Petitions were signed, money was raised and protests were organized — all online.
"I think a lot of people ignored the story but the African-American blogosphere has been on it from early on, and it has really caught steam recently," said Shawn Williams, who writes the popular Dallas South blog.
Thursday's demonstration, the largest civil-rights protest in years, owes its existence, in part, to the power of the Internet, says Williams. That's not to say that it couldn't have happened without the Web, but "once something gets out there, the action is immediate — here's what we're going to write about, here's the petition, here's the protest. It takes place within minutes, hours and days, not weeks or months," he says.
Recently, a group of black bloggers organized a "blog-in." They agreed to write about the Jena Six case on one day, raising the profile of the story. Within a matter of weeks, African-American bloggers had helped collect 220,000 signatures and raised $130,000 in donations, they say.
"Ten years ago this couldn't have happened," the Rev. Al Sharpton was quoted in the Chicago Tribune. "You didn't have the Internet and you didn't have black blogs and you didn't have national radio shows. Now we can talk to all of black America every day."
Sharpton says he first heard about the Jena case on the Internet.
Both Sides on Facebook
On Facebook.com, the social networking site, nearly 2,000 people have formed a group called "Free the Jena 6." They share not only outrage but also petitions and details about rallies.
Many of those posting comments said they first learned of the Jena Six on the Internet. "I am so disappointed with the media right now. I live in Connecticut and I never even heard of this. Honestly if it wasn't for Facebook, I still wouldn't know," wrote Jennifer Hightower.
Both sides of this emotionally charged issue are represented online. Another group, considerably smaller, recently formed on Facebook. It calls itself the "Anti-Jena–Six" and says it was founded "for those who are AGAINST the Jena Six and believe that they are little more than criminals who committed assault because they could not take an insult that posed no danger on their own lives. End of story."
A New Underground Railroad
Most of the online voices, though, express support for the Jena Six.
Williams says the Afro-sphere is "akin to the underground railroad. A lot of people are faceless and nameless. So just like the underground railroad, you know where to go but you don't know who might be there once you arrive."
Williams is attending the rally in Jena. His attempts to blog from there have been scuttled by the fact that he can't find an Internet connection.
This isn't the first time that black bloggers have rallied behind a cause. They did so in the 2005 case of Shaquanda Cotton, a 14-year-old black girl from the Texas town of Paris. Cotton was sentenced to up to 7 years in juvenile prison for shoving a hall monitor at her high school. Bloggers and their readers bombarded the Texas governor with protest letters and petitions. Eventually, the authorities freed Cotton.
"That's when [African-American bloggers] first came together," says Williams. "There was a shared outrage."
Likewise, in Jena, where black bloggers have used the Internet to vent their anger at a criminal justice system that they feel let them down.
Protesters March in Support of Jena Six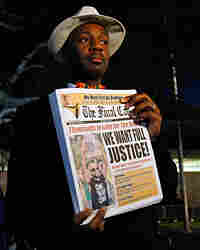 Demonstrators filled the streets of Jena, La., Thursday in support of six black teenagers charged in the beating of a white classmate.
The crowd chanted "free the Jena six," as the Rev. Al Sharpton arrived at the courthouse with family members of the jailed teens.
Sharpton said he and Reps. Maxine Waters (D-CA) Sheila Jackson Lee (D-TX) and William Jefferson (D-LA) will press the House Judiciary Committee next week to summon the Jena district attorney to explain his actions before Congress.
He said it could mark the beginning of 21st century challenge of disparities in the justice system. He also said he planned a November march in Washington.
Meanwhile, a state appeals court on Thursday ordered a hearing on why one of the defendants is still in jail, even though his conviction has been overtured.
The 3rd Circuit Court of Appeal last week reversed the second-degree battery conviction of 17-year-old Mychal Bell, saying he should not have been tried as an adult.
Bell has remained in jail following the district attorney's decision to appeal.
The Rev. Jesse Jackson addressed the demonstrators, harkening back to the civil rights movement of the 1950s and 1960s.
He then led the crowd in a prayer to "solve this crisis without the madness of confrontation."
"Here we are today looking back on Selma," he said referring to the 1965 Selma-to-Montgomery, Ala., marches that became a touchstone of the civil rights movement.
In Washington, President Bush said he is concerned about the racial tensions in Jena, adding that federal law enforcement agencies are monitoring the situation.
"The events in Louisiana have saddened me, and I understand the emotions," he said. "The Justice Department and the FBI are monitoring the situation down there. And all of us in America want there to be, you know, fairness when it comes to justice."
The tensions began a few months ago after three white teens were accused of hanging nooses in a tree on their high school grounds. They were suspended from school, but they were not criminally prosecuted.
Later, the six black teens were accused of beating a white classmate. Five of the black teens were initially charged with attempted murder. That charge was reduced to battery for all but one, who has yet to be arraigned; the sixth teen was charged as a juvenile.
Acknowledging the Attack Vicitm
District Attorney Reed Walters has denied that racism was involved in the decision to prosecute the teenagers. He said the suffering of Barker has been largely ignored. The teen was knocked unconscious and his face was badly swollen and bloodied, although he was able to attend a school function that night.
"With all the emphasis on the defendant, the injury done to him and the serious threat to his existence has become a footnote," Walters said of Barker.
Also on hand at Thursday's rally was Martin Luther King III, son of the slain civil rights leader. Like many of the participants, King said the scene was reminiscent of earlier civil rights struggles.
King at times sounded conciliatory, saying punishment of some sort may be in order for the defendants, but adding "the justice system isn't applied the same to all crimes and all people."
It was a similar scene a few blocks away where the NAACP staged a similar gathering at a local park. Dennis Courtland Hayes, interim president and CEO of the NAACP's national headquarters, compared the outcry over the Jena teens to the controversy that followed racial remarks by radio shock-jock Don Imus.
'We're Not Taking it Any More'
"People are saying, 'That's enough and we're not taking it any more,"' Hayes said.
Tina Cheatham, 24, was among those expected to turn out in support of the six teens. The event was heavily promoted on black Web sites, blogs, radio and publications. Cheatham missed the civil rights marches at Selma and Montgomery, Ala., and Little Rock, Ark., but she had no intention of missing another brush with history.
"It was a good chance to be part of something historic since I wasn't around for the civil rights movement," she said. "This is kind of the 21st century version of it."
Critics allege the teens' cases show authorities in the predominantly white town are disproportionately harsh toward blacks.
"This is not about race," Sharpton said Wednesday. "This is not about politics. It's not about black and white. It's about equal justice for all."
Walters denied racism was involved.
"This case has been portrayed by the news media as being about race," Walters said. "And the fact that it takes place in a small southern town lends itself to that portrayal. But it is not and never has been about race. It is about finding justice for an innocent victim and holding people accountable for their actions."
"I cannot overemphasize what a villainous act that was. The people that did it should be ashamed of what they unleashed on this town," Walters said.
Teen Remains in Jail
He also noted that four defendants in the beating case were of adult age under Louisiana law, and that the only juvenile charged as an adult, Mychal Bell, had a prior criminal record.
Bell, who was 16 at the time of the attack, is the only one of the teens to be tried so far. He was convicted on an aggravated second-degree battery count that could have sent him to prison for 15 years, but the conviction was overturned last week when a state appeals court said he should not have been tried as an adult.
Thursday's protest had been planned to coincide with Bell's sentencing, but organizers decided to press ahead after the conviction was thrown out. Bell remains in jail while prosecutors prepare an appeal.
From NPR reports and The Associated Press