The Tony Rich Project: 'Resurrected'
Multi-Talented Musician and Producer's First CD in Five Years
The Tony Rich Project: 'Resurrected'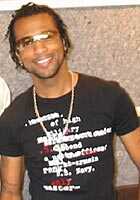 From 'Resurrected'
Listen to samples of songs from Tony Rich's latest CD:
'Future Daze'
'Red Wine'
Tony Rich is a man of many talents -- producer, songwriter, guitar player and Grammy-winning singer. He's opened for Sting, Tina Turner and Mariah Carey.
His first CD, Words, reached Gold and then Platinum within four months of its release in 1996. That year, he received four Grammy nominations and took home the Grammy for Best R&B Album of the Year. His second album, Birdseye, featured Eric Clapton on guitar.
He's also written and produced music for some of the biggest names in music today, including Toni Braxton, Boyz II Men, Elton John, CeCe Winans and TLC.
But it's been almost five years since his last CD. Rich is back, performing as The Tony Rich Project, with his third collection of tunes, Resurrected. He recently joined NPR's Tony Cox to talk about the album, and why he was so long out of the spotlight.
Rich practically made Resurrected by himself -- he wrote every song, played most of the instruments, and even engineered and mixed the record, blending the sounds of soul, funk, rock and pop.
Resurrected pays homage to the artists Rich says he grew up admiring -- Prince, Bruce Springsteen, Tina Turner, Madonna, Depeche Mode and Run DMC.