Weekly Standard: Newt Chooses To Go Lunar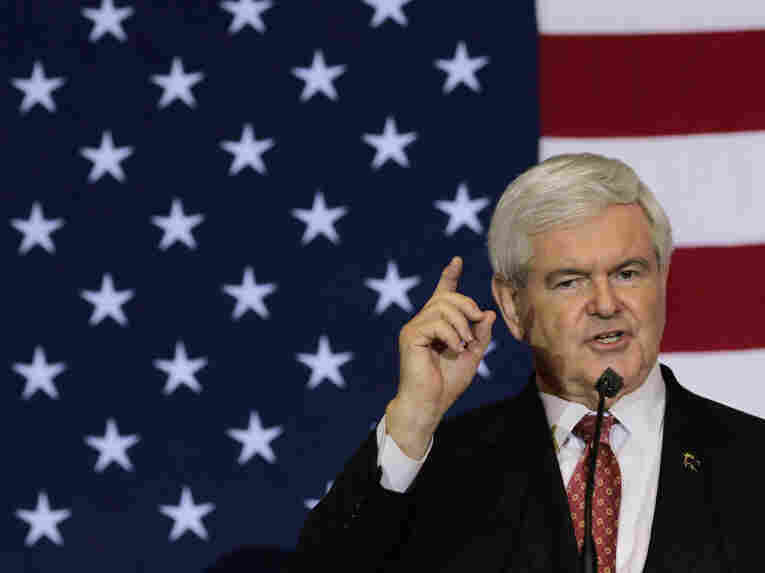 Michael Warren is a reporter for The Weekly Standard.
Newt Gingrich is promising voters the moon — or a moon base, at least.
During what his campaign dubbed its "Space Coast Town Hall Meeting," Gingrich told a packed Holiday Inn Express conference room on Wednesday evening that one of his goals at the end of two terms in the White House is to have the "first permanent base on the moon." He also invoked John F. Kennedy just miles from the former president's eponymous space center about the challenges and the potential of a reinvigorated space program.
Afterward, Gingrich chatted with reporters about the scientific benefits of a moon base. "I think there are a lot of different things you would want to learn," Gingrich said. "How to live in low gravity, how to create certain capabilities that lead beyond the moon, how to develop assets that the moon has, how to do manufacturing in low-gravity environments, how to do scientific geostudies. There may well be instrumentation in that kind of environment with no atmosphere that is less expensive than putting it up as a satellite."
Gingrich has long had an interest in space, famously founding the "Space Caucus" as a young member of Congress. But reporters did not want to just talk about space with Gingrich—they also wanted to talk about the election.
A reporter asked how the establishment would react to a Gingrich victory in Florida. The establishment has been in "panic mode" since he won in South Carolina, Gingrich claimed. "I think you guys will have some of the most fun coverage of your entire career. Watching distinguished people melt down at the thought that we would actually change Washington and they'd have to find new games."
Gingrich's confidence notwithstanding, new Florida primary polls show Mitt Romney regaining a slight lead in the state. That may have come from Romney's relentless efforts, in the wake of the South Carolina primary, to focus on Gingrich's past, both in Congress and out. Romney ally John McCain has said that abuse of earmarks "dramatically expanded on Newt Gingrich's watch" as House speaker (Gingrich himself says he has "no idea what [McCain]'s talking about"), while the Romney campaign has been heavily pushing stories about Gingrich's ethics investigation by the House of Representatives. (Byron York explans the ethics allegations here.)
Romney himself revived the issue of Gingrich's work for Freddie Mac in the years after Gingrich left Congress, an inconvenient fact for the former speaker in a state devastated by the 2008 housing crisis. "I don't think we can possibly retake the White House if the person who's leading our party is the person who was working for the chief lobbyist of Freddie Mac," Romney said in Monday night's debate in Tampa.
Additionally, Romney surrogate Congressman Connie Mack is following the Gingrich campaign around in South Florida — he appeared again at an event Wednesday morning in Coral Springs — talking with reporters about the need for Gingrich to release more documents about his consulting work with federal home mortgage company.
But Gingrich seemed unfazed and was even dismissive of these attacks and the issues they might raise. "Just think about it," he told reporters. "[Romney] has a Swiss bank account. He has Cayman Islands accounts. He owns stock in Fannie and Freddie. He's put on the air a lobbyist for Freddie Mac to attack me. One of his senior advisers is another lobbyist for Freddie Mac. His campaign manager came from an office that had two million dollars in lobbying to help Freddie Mac and Fannie Mae. And with great cheerfulness he wants to pick a fight over transparency."
"I mean, this is a candidate who is so funny," he added. "I've been wrestling with the right words to describe his campaign because the more we learn, the funnier it is."