Gravel Pioneered Poll-Driven Ads and Videos
In a 1968 U.S. Senate campaign ad, Mike Gravel criticized plans to pull out of Vietnam. Gravel later said his rhetoric belied his true feelings about U.S. involvement in the war. The 1968 ad stands in stark contrast to his views on the current conflict in Iraq, expressed in a 2007 presidential campaign ad. Compare the two ads:
Gravel Profile
Read about Mike Gravel's political career and his prospects as a presidential candidate.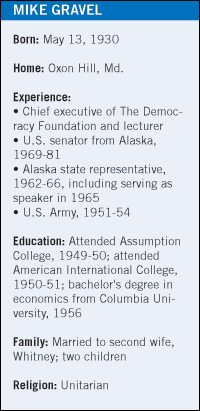 Long-shot presidential candidate Sen. Mike Gravel recently produced Internet videos that have attracted him a loyal following among some younger voters. But his eye for cutting-edge media dates back to his first campaign for U.S. Senate in 1968, when he was among the pioneers of poll-driven advertising and video packaging.
In 1968, Gravel was an upstart challenger to Sen. Ernest Gruening, a former territorial governor and a giant of Alaska politics. Gravel was trying to take Gruening down in the Democratic primary and he needed an edge — so he made a movie.
The movie, A Man for Alaska, was a half-hour version of his life story.
Francine Lastufka Taylor, who volunteered four decades ago on that campaign, said Gravel's movie was one the most watchable political ads on the air in Fairbanks and Anchorage. And the campaign made sure the movie also got to places that didn't have TV.
"They'd get on a bush airplane, and they'd fly to Nome, Kotzebue, Bethel, and they would show it," Taylor said. "They would show it in the school or whatever room was big enough for it to be seen."
Taylor, who now makes documentaries and founded the Alaska Moving Image Preservation Association, said watching Gravel's online videos remind her that Gravel is a "great talent."
Gravel's most famous Internet video features a close-up on him silently staring into the camera for 70 seconds; then he turns around and throws a rock into a lake, making a big splash and sending ripples across the water. Gravel then walks away, brushes off his hands, and leaves the viewer to figure out what it means.
Another — more verbal — Gravel video compares the Iraq war to the Vietnam War. In a 3-minute-long speech to the camera, Gravel describes the similarities between the rhetoric policymakers used to justify both wars. Gravel also explains that as a U.S. senator, he entered the Pentagon Papers — leaked by Defense Department analyst Daniel Ellsberg — into the public record, an act he said made him "no friend of either political party."
'Era of Image'
Gravel also pioneered the polling-driven, media-style campaign. Chancy Croft, a former Democratic state legislator, says in 1968, Gravel didn't bother with the fusty old gimmicks like campaign buttons and bumper stickers.
"They just weren't spending their money on that. It was a media campaign," Croft said. "It was the era of image — appearance is reality."
The issue of the day was Vietnam. And Gruening was one of very few senators who opposed the war at that time. In the shorthand of the '60s, Gruening was a "dove," but Alaska voters tended to be more hawkish.
So Gravel ran TV spots that criticized proposals to leave Vietnam as unsound and immature.
However, even as Gravel was making these ads, he privately shared Gruening's dovish position on Vietnam.
Now, decades later, Gravel said he was simply telling Alaska voters what they wanted to hear.
"I said what I said back in 1968 because it was to advance my career," Gravel said.
Maturing in Office
The strategy worked. Gravel beat Gruening in the primary and won the Senate seat in the fall. Since then, he's been frank about how he passed Gruening on the right. What's important, Gravel said, is what he did with his Senate seat after he won it.
"I now become opposed to the war, as vigorously as Ernest Gruening was. I released the Pentagon Papers in my efforts," Gravel said.
Gravel defied a government ban that prevented newspapers from publishing the Pentagon Papers — which outlined the secret history of the Vietnam War — by entering them into the Congressional Record.
In light of the admitted insincerity of Gravel's 1968 Vietnam ads, what should young voters make of his online videos today?
"Well, here's what they should do. They should take the sincerity of the fact that I have grown in office. I have matured. And now I come to the scene with a higher degree of maturity than anyone else in office," Gravel said.
Voter skepticism has also matured since 1968. Clicking around on the Internet, young voters have learned to doubt the sincerity of pretty much any overt political message they hear, which might explain the appeal of a wordless video featuring a man tossing a rock into a lake.